The birth of my oldest daughter was a moment when a lot of prayers and wishes came true. I looked at her and instantly started making my list of things I wanted to teach her. It seemed endless. How to listen, how to love, forgive, and make all her dreams come true. I was excited, anxious and nervous all in one moment. Never in those first few moments of gazing into her eyes did I realize how much she would teach me. As her Mother, I've taught my daughter many things this past 10 years. Yet in being her Mother she has taught me so many things simply by being her.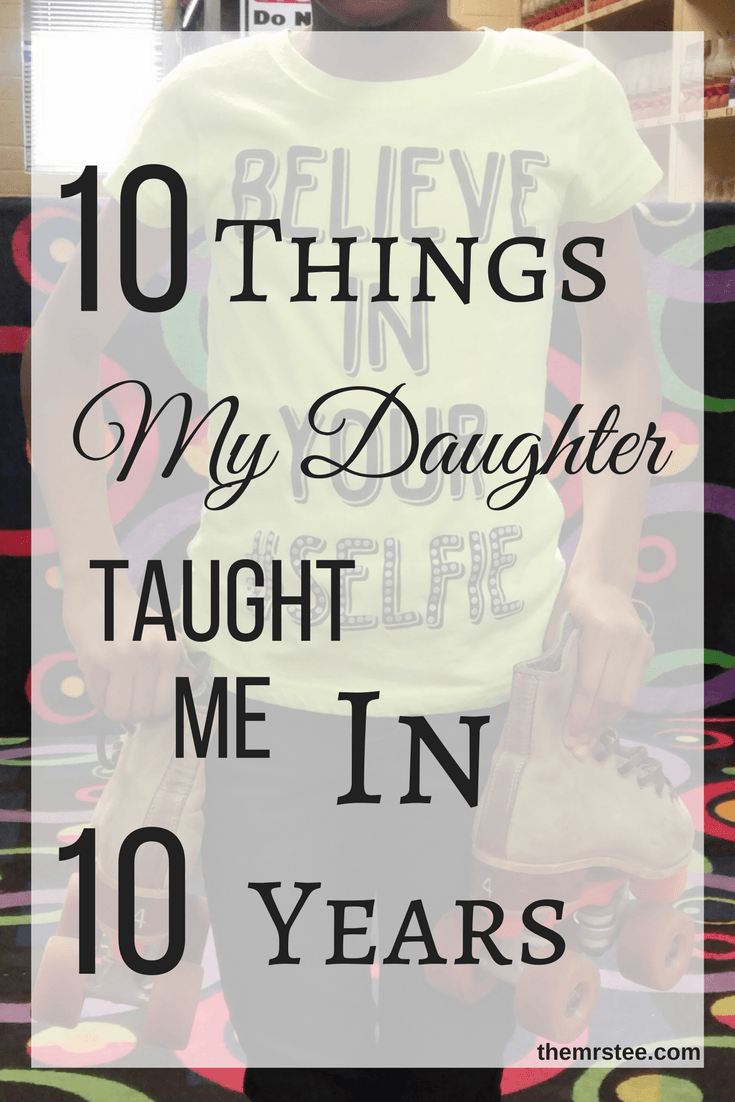 10 Years old. Double Digits. Pre-Teen. Tween. Oh so many things I'm so not ready for. Yet, she seems to be as prepared as ever. To be honest she always seems ready for so much more than her years would give her credit for. From the first moment I saw her I felt she had this knowing about her. A wisdom of sorts – like an old soul.
The past 10 years seem like a brief moment in time. I still remember holding her in my arms, watching her take her first steps and hearing her contagious laughter as she discovered each new thing she could do on her own. She's always been independent. Looking and searching for a way to do it 'by herself' and most times doing just that.  She would sit a think on things, have questions and answers you would never expect from a child her age. Just like an old soul…
True Happiness
I remember when she went through this phase of asking everyone if they were happy. It wasn't a light hearted question. She was so intense and serious in her 2 year old little body. "Are you happy?" she would ask. It was amazing to see many adults stumped by this simple question from this teeny little girl. One friend was brought to tears as she tried to answer –was she happy. I learned that true happiness isn't something that has an easy answer. Sometimes it takes a bit of searching but once you find it – you treasure it.
Go For The Hard Things
This little girl has always wanted to do the biggest, hardest and most daring things for her age. If you tell her she can't she'll always figure a way to prove she can and she will. Watching her make her dreams come true has taught me to try for the hard things in life and in your trying you can make them your reality.
I remember a few years ago she struggled with the courage to do the things she loved regardless of whether other people thought it was a girl thing. She grew from that and has since become a little girl confident in her likes and dislikes. I learned through her that doing the hard things is less about the getting it done and more about doing it for yourself.
Believe in Yourself
Have you ever heard yourself telling your child that maybe they shouldn't or couldn't do something. I have. I'm not always proud of those moments. The times when I let my fears become the rules for my children. Still with this little girl. It never seems to work. She believes in herself in spite of all my fears. Each time I think she isn't ready for something – she proves me wrong through shear will power. I love it. She teaches me that if you believe it – it doesn't really matter what anyone else says or thinks. You can do it!
Be Uniquely You
Like most Moms I bought up everything pink I could find when I realized I was having a girl. Yet in her typical style my daughter has defied the typical. She can't stand pink. At all. She will frown upon it in every form. Her favorite colors are Neon Green and Purple and she's good with that. For her being true to herself comes above everything else.
She's uniquely her and totally okay with it. I love every time I hear her declare "I hate pink" because I know she doesn't care if it isn't the norm for most girls. She loves neon green, basketball, Star Wars and all things her. She's who she is and that's that. Watching her embrace who she is growing to be has taught me to do the same in my life. Something I probably should have known but somehow the lesson became that much clearer as I watch her conquer childhood in her own uniqueness with a strength I envy and hope to find within myself. She's taught me to embrace what makes me different because it's what will draw people to me the most.
Love Always
Being unique isn't always easy or fun. There are times people don't understand it and can be mean in how they react to someone else's differences. This is something my daughter has struggled with in school.
Bullies are everywhere
. Yet in watching how she handled this pain I learned yet another lesson. Love always. I saw my daughter endure bullying that went from emotional to physical. Yet she did not let it ruin her. She grew from it. The next time she came up against a bully she forgave. Now she calls that same bully one of her best friends. As an adult, I tend to hold grudges a bit longer than I should.
Watching her turn a bully into a friend has taught me that love is always the better choice.
Create Your Own Joy
I have watched my daughter take baking a cake and create an entire day full of pure joy. From baking to creating gifts for her friends with things like paper, string and glitter. She uses her creativity to not only bring joy to others but create her own as well.  Learning that joy doesn't need to rely on those around you is a lesson I will always be grateful for.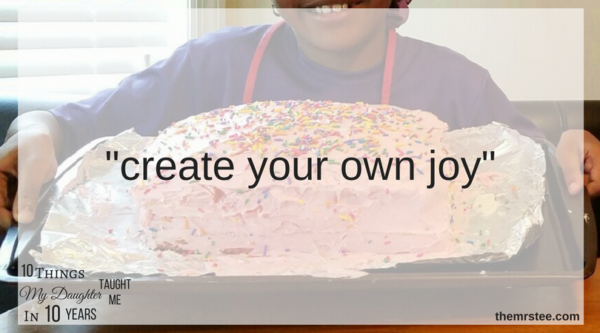 Live Every Moment
Before my daughter I never thought about each moment on it's own. I had a tendency to take a bunch of moments and just lump them into one memory. My daughter has a way of making every single moment a big deal. She squeezes every drop of joy from it she can and then makes it special by making it a memory she will never ever forget. It's because of her I started trying to make every moment count. Every single one a memory all it's own. She's taught me that no moment should be wasted.
Put In The Effort
Things don't always come easy. School has been an up hill battle at times because she has such a creative personality but when it comes to details and trying to do things that take her away from her creative side she struggles. she struggles but she never gives up. I've watched her take a math problem and make it into something creative that she gets. Her effort to learn no matter what has taught me that effort always pays off in the end.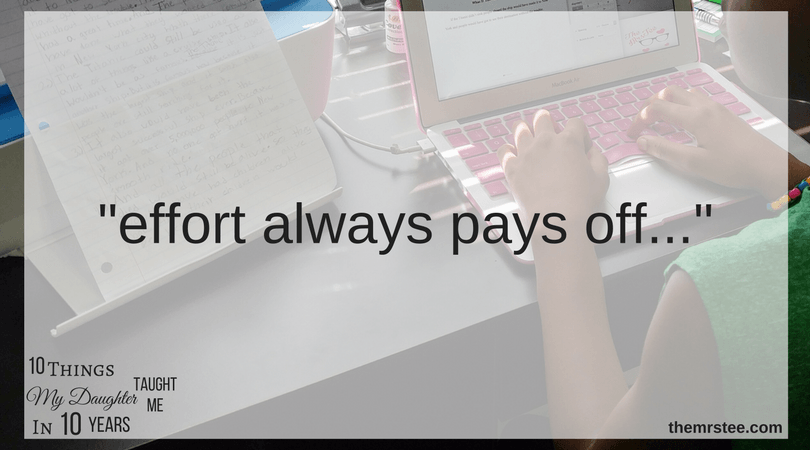 I'm A Good Mom
That's right. I know I had my son but I still didn't truly believe I was a good mom. I had my Grandmother when he was born and she helped me get through a lot. So somehow I didn't give myself full credit for mothering him in the beginning. Having my daughter was all me. I was a mother all on my own and I did it! Every time she would come to me for comfort, protection, help – mothering. She taught me that I am a good mom. I could do this and she is living proof that I'm not screwing this mom thing up completely.
I've Got This
Parenthood. It isn't always obvious when you're doing it right but when you can look at your child begin to make choices, decisions and changes in their own lives and realize that the lessons you teach are actually having an impact. It's a big deal. For me, seeing her develop into a pre-teen who has common sense, love for herself and others as well as confidence helps me know I've got this!

Lifestyle Blogger & Media Influencer
at
TheMrsTee
Tiffany is the ' Tee' behind TheMrsTee. Tiffany is a BlogHer VOTY Award Honoree as well as a Contributing Author with Modern Social f/k/a iBlog Magazine and BlogHer. Growing herself as a Brand and Influencer are always at the center of Tiffany's passion. As a Brand Ambassador, Tiffany has the opportunity to promote and support the brands she loves the most with her own unique perspective. Tiffany has extended her presence beyond her URL to Television as a Panelist for the MomsEveryday TV Show for 2 Seasons and to the stage as a Cast Member of the Finale Season of The Listen To Your Mother Show.
Latest posts by TheMrsTee (see all)