Themes are great and today I'm working with a prompt that is all about 5. It's called 5 Things and I must admit when I first read the prompt the first title I thought of was I Got 5 On It…yeah I did. Still, I decided to not go there but it was just too fun not to mention…LOL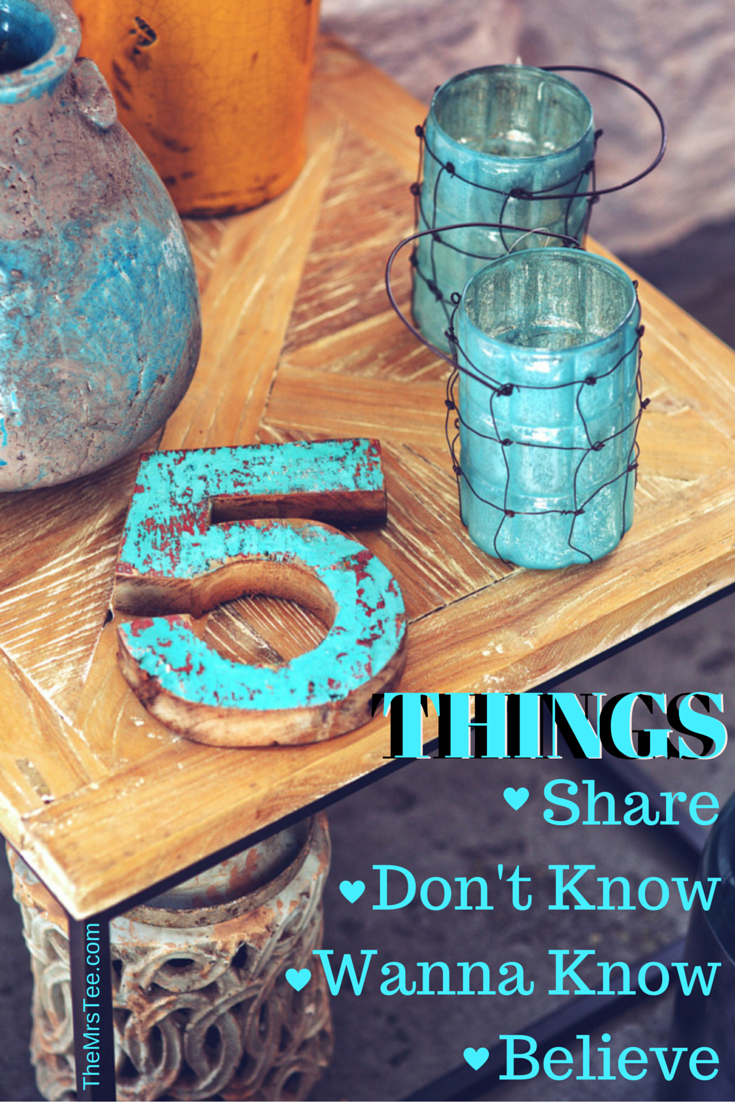 5 Things…
I Wanna Share (That You May Not Know)
I sang with a community choir for nearly 10 years and even recorded an album with them. So yeah I can hold a note or two 🙂
I'm a licensed minister
I've traveled to different states to speak as a minister
I used to teach Sunday school
I've been a minister since 18
I know (A Bit About)
I Love all things Comics and we often have family nights full of  Marvel Trivia…Check out this Marvel Quiz I had a blast creating for SheKnows!
I definitely love learning and sharing different tips on bringing the best you to your YouTube Channel
Blogging is not only my passion but something I have enjoyed learning more about how to take your brand beyond your URL
I'm not a perfect parent but I am the perfect parent for my Kiddies. It took me a long time to realize that even though I don't know it all I definitely know enough to raise some pretty awesome Kids (yeah I'm a bit biased) including a Teenager and 3 Kiddies.
Surviving – being a military spouse hasn't been an easy journey but I've learned a lot about myself, my husband and the strength we have together to help us give our family a firm and true foundation.
I Don't Know (A Lot About A Lot But Here's 5 Things)
International Travel – I just got my passport this year and I am determined to break it in within the next 3 years!
Homeschooling – I admire and envy all the great parents out there who take on this challenge. I just don't think I have the patience or the know how to give my Kiddies what they deserve.
DIY – I can get my craft on in a pinch but that desire to make something I can buy off a shelf…yeah that I know nothing about. *BUT I admire everyone who can and does.
Common Core Math – can I just say I think I need to hire a tutor to teach me how to help my Kiddies with their homework. What's so wrong with borrowing? #JustSayin
I Believe 
In God – first and always most importantly my faith is what grounds me and helps make me who I am.
The good in others – if I didn't have hope in what other people could be I don't think I would make it at all. I know there are bad people in the world but I have to believe there are good as well.
Hard work pays off – "Nothing Beats A Failure But A Try" If I put no effort into something how can I expect anything to come of it. I've learned that when I put in as much or even more than what I want out I am never disappointed. In the end my hard work always pays off.
Dreams come true – I don't have to fit in with the ordinary. I can be who I want and do something different and it's okay.
Myself – I believe in me because if I don't what other people believe won't even matter. It all starts with self-confidence.
Lifestyle Blogger, Brand Ambassador, YouTuber & Media Influencer
at
TheMrsTee
Tiffany is the ' Tee' behind TheMrsTee - a Lifestyle Blog created as a place to share her love of all things Faith, Family, Fashion, Food, Fun, Tech & Travel. Tiffany has established her influence within both the Blogging & Vlogging Communities. As a Brand Ambassador, Tiffany has the opportunity to promote and support the brands she loves the most with her own unique perspective. Tiffany has extended her presence beyond her URL to Television as a Panelist for the MomsEveryday TV Show for 2 Seasons and to the stage as a Cast Member of the Finale Season of The Listen To Your Mother Show. A 2016 BlogHer VOTY Award Honoree, Contributing Author with Modern Social f/k/a iBlog Magazine and BlogHer. Growing herself as a Brand and Influencer are always at the center of Tiffany's passion.
Latest posts by TheMrsTee (see all)