No Material Connection Disclosure
Exposure. Finding a way to make sure your Blog is seen in as many places by as many people as possible. As a Blogger, the desire to increase our blog's exposure is something I am sure we all have. Writing, Sharing, Supporting others are all ways to help bring more eyes back to our content but they aren't the only ways. Your Readers can play a key role in increasing your exposure in a click and a tweet.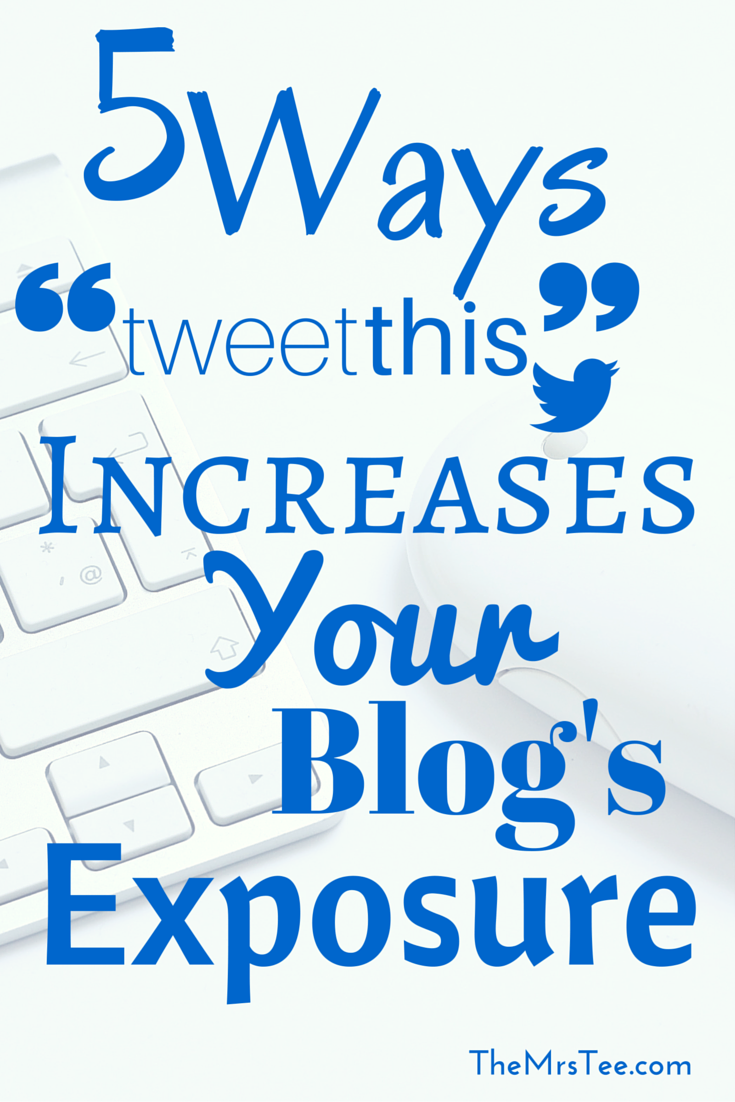 What is TweetThis?
PlugIns are available through WordPress to help add certain features, tools and unique designs to your site. tweetthis is one of those amazing Plugin that when added to your site allows you to offer your Reader specific quotes, points and phrases and more within your post in a simple to use share style hoping they choose to TweetThis and share with their own audience.

Once installed the tweetthis button will appear within your post dashboard as a cute little birdie. You simply click, insert your text for your post and then select Add Tweet This Box.

The Plugin gives you a preview of the Tweet as well as an estimated character count. I always test my tweets to be certain I have stayed within the Twitter 140 character limit. It can be easy to over-shoot because you have to account for both your handle as well as the post URL (in shortlink form).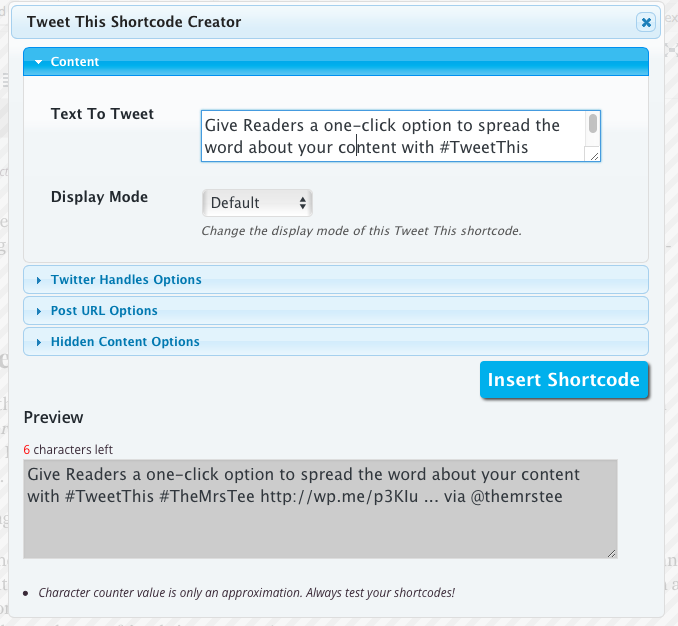 Once you have inserted the tweetthis box that's it! Your on your way to increasing your post's exposure by giving your Readers a one-click option to share and spread the word about your content – just like this ↓
Highlight Key Points
I've often been in the midst of writing posts when I've known a certain point will be key to drawing in my audience. Before tweetthis I would just highlight them by underline, bold or italics. BORING. After  tweetthis, I can highlight those key points by offering my Reader a chance to share those points in one click.
Twitter is one of the biggest social media networks and it's with good reason. In 140 characters you can  share your thoughts, reactions and tips as well as the direct link to the post you found them on. When a Reader shares a portion of your post on twitter it can draw new Readers in to click that link and find out what more is there. That my friends, is Exposure!
Spark Engagement
Key moments in a Blog post also spark engagement they draw the Reader in and most times encourage them to share. With tweetthis you can highlight those moments and offer your Reader an easy way to do it. With just a click they can share not only key points but your post as well.
Have you ever been reading a post and thought "Wow! This is a really good point! I should share it…" But then you think "I don't feel like copy and pasting or opening a new tab to tweet." Well that's when tweetthis can become your Blog's best tool.
See that right there? That is tweetthis in action! You Reader becomes engaged with your content and shares that engagement with their followers triggering a cycle of exposure.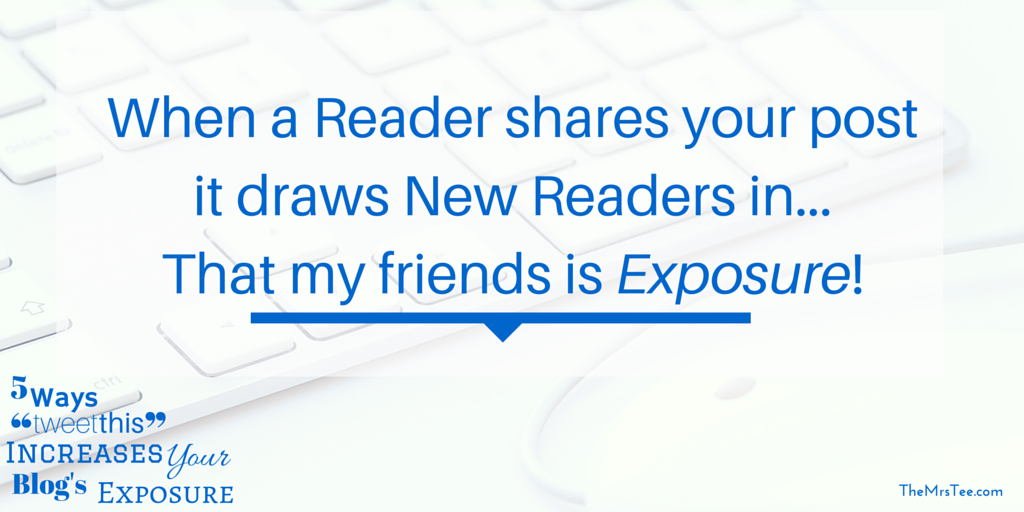 Expose Your Blog To NEW Readers
As Readers hit that sweet little tweetthis button they send your content, your ideas and your blog to their followers – the eyes of a whole new set of potential readers.
Just think… if you have 1,000 Twitter Followers and they have 1,000 Twitter Followers you just increased your exposure by 100%! That's the beauty of giving Readers an easy way to share content. Instead of simply noting how awesome something you said was and moving on they will share that reaction and give you a twitter presence you could not have achieved on your own.
Strengthen Your Twitter Presence
Right. Your Twitter presence can grow each time your Readers click a #tweetthis birdie giving not only your post but your Twitter – a larger and broader impact!
Twitter reads your influence by impressions, engagements, clicks and likes. How many people have seen your tweet, how many have shared it, clicked it and liked it. Each time a tweet from your post is shared, reshared, liked and seen by not only your followers but your followers' followers (yup…I typed it right) you Twitter presence increases.
Custom Advertisement
As you see above, you can customize your tweet according to your post. Whether you want to share a quote, a tip or a bit of humor – it's all up to you. You can approach your audience in whatever way you choose by composing your tweet your way.
The benefit of custom tweets is that you can add your Brand's hashtag, post hashtags and even tag specific twitter accounts and in just one click your Reader can #TweetThis.

FREE Promotion
Each time someone shares your tweets you gain promotion not only for your site and your post but for your entire online identity and it's all FREE! We make investments into our Blogs but why spend if you don't need to? You can strategically word, place and choose 2-3 within a post and have them shared organically through Readers who truly relate to your content?
I'm Not Only A #TweetThis Fan I'm a User Too…

I CoHost The Mommy Monday Blog Hop with 2 amazing Bloggers, Squishable Baby and Mrs.AOK, A Work In Progress. A few months ago I decided to add a #tweetthis box into our weekly link up. I have personally seen a noticeable increase not only in engagement for the linkup but for my Twitter account as well!

Instead of paying for a Sponsored tweet to help promote our Weekly LinkUp we gain the benefit of FREE Promotion each week thanks to those who love the LinkUp the most!
How often do you share posts on Twitter?
What ways do you increase your Blog's exposure?
Lifestyle Blogger & Media Influencer
at
TheMrsTee
Tiffany is the ' Tee' behind TheMrsTee. Tiffany is a BlogHer VOTY Award Honoree as well as a Contributing Author with Modern Social f/k/a iBlog Magazine and BlogHer. Growing herself as a Brand and Influencer are always at the center of Tiffany's passion. As a Brand Ambassador, Tiffany has the opportunity to promote and support the brands she loves the most with her own unique perspective. Tiffany has extended her presence beyond her URL to Television as a Panelist for the MomsEveryday TV Show for 2 Seasons and to the stage as a Cast Member of the Finale Season of The Listen To Your Mother Show.
Latest posts by TheMrsTee (see all)