No Material Connection Disclosure

5 more days 'til Christmas! I can hardly believe it! As I sit here and look in awe at my already wrapped gifts for my family – that doesn't happen often. I feel joy and all I love most about this season. I mean being done with things this early almost deserves a reward…wait! That's a good idea.  A reward(s) just for me straight off my own all i want for Christmas wish list…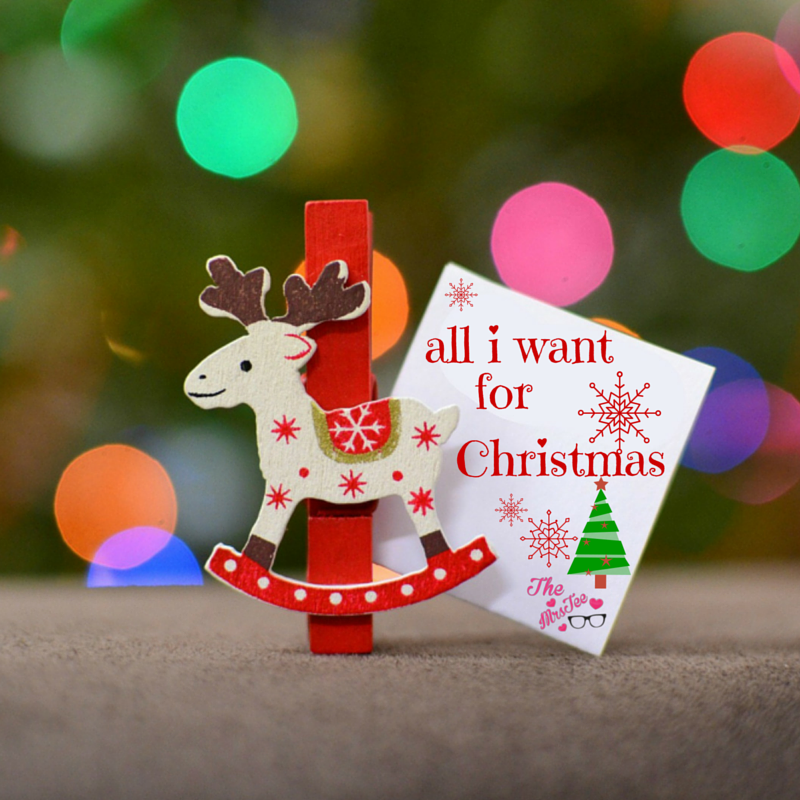 Being online as a Blogger is awesome…until You start seeing all the amazing and totally unique things you can get there. Among them are a few things I have been drooling ummm wishing for this year. Who knows…maybe I'll treat myself to a few and leave a few hints for the Hubby for the rest 🙂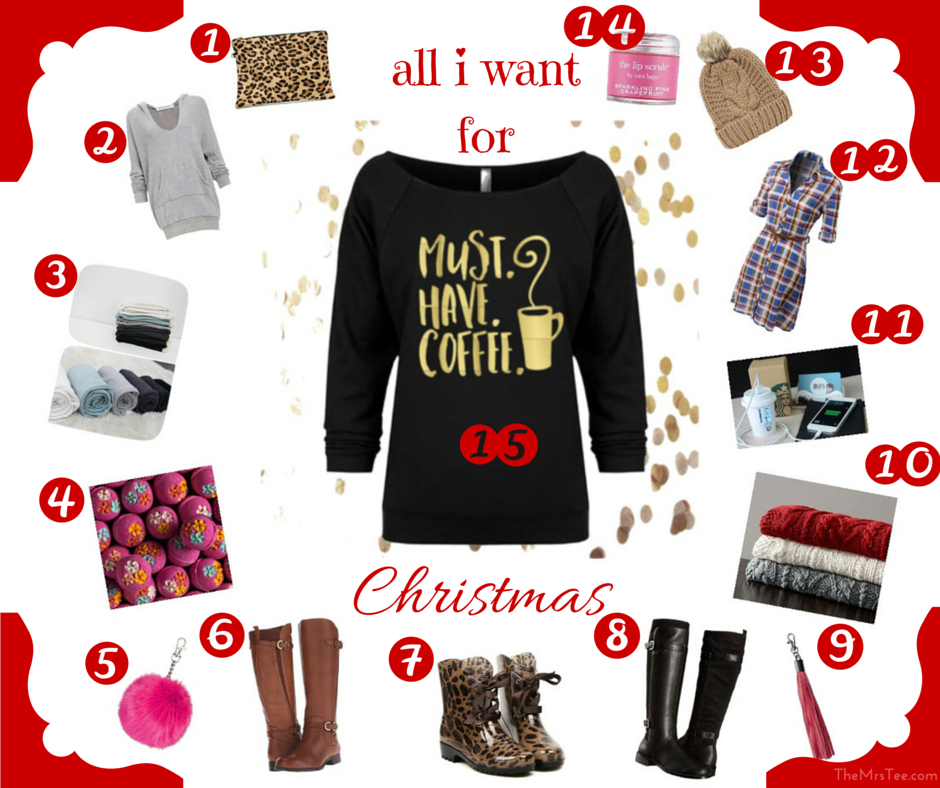 all i want for Christmas 
Okay so…leopard. Yes! I love all things leopard and adding a bit of it to my look with a great accessory is always so fun so this clutch would be the perfect addition to my collection.
Hoodies!! I will always have a bit of my New York Girl in me and that carries over in my love of hoodies. Yet in my maturity (lol) I have stepped my hoodie game up a bit by finding some that are really fashion friendly and more than just comfortable …even though that is still a must! So this hoodie has caught my eye and I think it will be perfect to pair up with one of my next wish list item…
3 Colored Brushed Fleece Leggings $25.90 each
Leggings!! I have been on the hunt for some outerwear appropriate leggings for months now. The fact that these beauties have fleece inside is such an added bonus. Now when I say outerwear appropriate I mean leggings that don't show all 'the business' in the rear. These are perfect! Plus my hoodie would be the perfect busy mom look any day of the week!
Since our recent move and the total upgrade to a spa tub I have been trying to treat myself to at least 1 night a week to soak and simple be. These would be such a treat and hello – PINK!
Okay honestly. I just want this because it's fluffy and pink. Some things are just that simple.

Knee High Boots. I don't have any. There in style. I would love to have a pair…or two. These are awesome because I love the angle at the top and the zipper on the side gives it a bit of edge.
Our NC Weather has been a bit damp as of late and I have been wanting a pair of rain boots so bad. Thing is I don't really want a high pair just some cute enough to keep me in style and dry at the same time. I think these are just right.
So yeah remember that 'or two' I mentioned with the boots…TADA!
9 Steve Madden's BWhipped Tassle Keychain $12.95
Love these! I have seen them all over my Instagram Feed and finally found one that is crazy pricey but still totally cute!
Okay so this was on my wish list last year and it is still there today. I never had a chance to get it but I still want one so bad! For me curling up on my couch on a lazy weekend is absolutely bliss and this throw would be perfect to keep right there for a sudden curl up.
Okay so do I really need to explain why I NEED this in my life? It's Starbucks♥ It's Portable♥ It's a Charger ♥ Yup…Need! I admit this is the third priciest thing on my list but so worth it!
Okay how could I not love this? It's a shirt…it's a dress…it's plaid!
13 Turn Up Beanie With Pom $8.90
First off the name has Turn Up in it…Duh! Okay but no seriously I love beanies and always have so this is a perfect addition to my min collection and I don't have a brown one yet!
I have wanted to get this for years now. I admit the price has scared me off a bit but I think I may just go on and give myself a bit of a treat anyway.
I have been wanting a coffee shirt forever and this is the absolute perfect one. It's black (I really dig black) and it has that bit of sparkle with the gold lettering.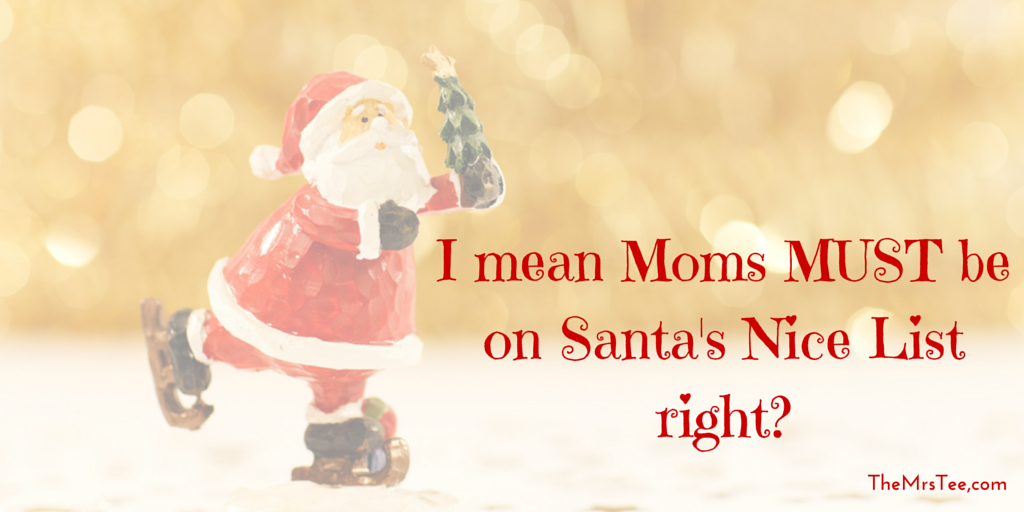 That's it. 15 things I would really love for Santa to leave under my tree (or in my closet) this year. Like most Moms, I spend most of the year shopping for everyone else but I definitely see a few things I would love along the way. So here's to getting the chance to check a few of them off this year! I mean Moms MUST be on Santa's Nice List right?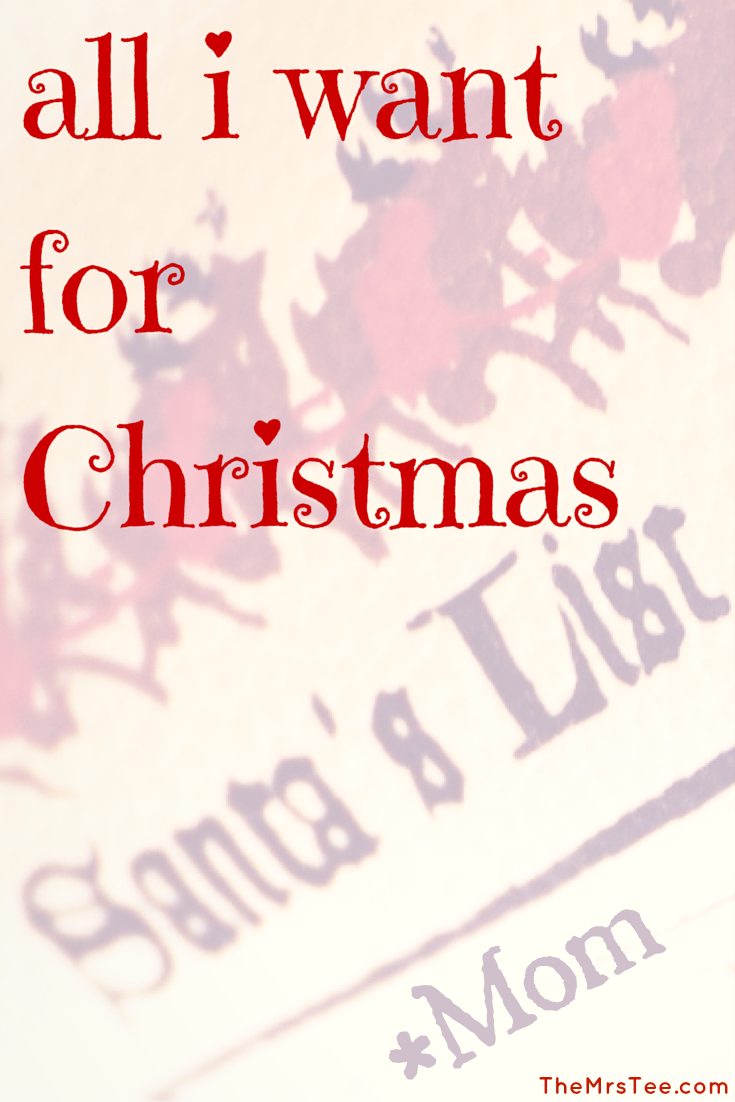 PS –
Wanna know how I found all my favorite things? Polyvore! It's an awesome way to create entire looks, sets and SHOP your favorite pieces. Be sure to follow me and see what other fun looks and treats I come up with!
Disclosure of Material Connection: I have not received any compensation for writing this post. I have no material connection to the brands, products, or services that I have mentioned. I am disclosing this in accordance with the Federal Trade Commission's 16 CFR, Part 255: "Guides Concerning the Use of Endorsements and Testimonials in Advertising."
Lifestyle Blogger & Media Influencer
at
TheMrsTee
Tiffany is the ' Tee' behind TheMrsTee. Tiffany is a BlogHer VOTY Award Honoree as well as a Contributing Author with Modern Social f/k/a iBlog Magazine and BlogHer. Growing herself as a Brand and Influencer are always at the center of Tiffany's passion. As a Brand Ambassador, Tiffany has the opportunity to promote and support the brands she loves the most with her own unique perspective. Tiffany has extended her presence beyond her URL to Television as a Panelist for the MomsEveryday TV Show for 2 Seasons and to the stage as a Cast Member of the Finale Season of The Listen To Your Mother Show.
Latest posts by TheMrsTee (see all)