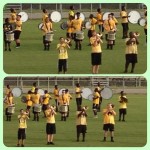 Don't get me wrong. I'm head over heels happy that my Teenager is excited about an extracurricular activity and that he is actually really really good at it (not just bragging he's pretty skilled…ok maybe I'm bragging just a little bit). I see him get ready for a practice, game or competition but I just have a question: Is it really necessary that the Band Camp needs to -take up what seems to be the entire summer and start at Crack-O-Dawn in the morning? What happened to summer break? Who am I kidding….I'm probably the only one out of the two of us whose complaining. I've never seen a Teenager get up so early without any nagging, yelling or yanking of the covers before in my life. He absolutely loves it. So I guess that means I should too, huh?
Ok. Ok. I'm trying to get past this I honestly am. I am excited that this year he is a Section Leader and learning much needed leadership and social skills that he will need for college and even employment opportunities in the future. That being said, I really need them to start it later in the day. I'm like crawling outta bed every morning while he's standing waiting at the front door practically at attention. Oh and yes, I hate to admit it but there have been times (ok more times than not) that I've made the drive to the school in….yes…my pajama pants. Wait! Don't judge me….ok maybe you can judge me a teeny bit because most times I still have my scarf on too BUT this is seriously like early in the morning. I shouldn't even be up at these hours during the summertime. Now before everyone, places me under the 'that lady' category I must say I never leave the car except to walk from one door to the next. Also, the pajama pants in question aren't technically pajamas but just old sweats and I always wear a baseball cap over my scarf. So there…ok it's still bad but I still say Band Camp in the summertime at insanely early hours is simply put: Parental Torture.
Do you have any activities you've signed your Kiddies up for and realized parents are definitely now considered in the scheduling meetings?
Lifestyle Blogger, Brand Ambassador, YouTuber & Media Influencer
at
TheMrsTee
Tiffany is the ' Tee' behind TheMrsTee - a Lifestyle Blog created as a place to share her love of all things Faith, Family, Fashion, Food, Fun, Tech & Travel. Tiffany has established her influence within both the Blogging & Vlogging Communities. As a Brand Ambassador, Tiffany has the opportunity to promote and support the brands she loves the most with her own unique perspective. Tiffany has extended her presence beyond her URL to Television as a Panelist for the MomsEveryday TV Show for 2 Seasons and to the stage as a Cast Member of the Finale Season of The Listen To Your Mother Show. A 2016 BlogHer VOTY Award Honoree, Contributing Author with Modern Social f/k/a iBlog Magazine and BlogHer. Growing herself as a Brand and Influencer are always at the center of Tiffany's passion.
Latest posts by TheMrsTee (see all)