Sponsored Post Disclosure
Road trips are a part of life when you live in the South. There are few destinations that don't mean a bit of a drive. Like any trip, road trips have a few things you always need to be sure you don't drive off without. The first is making sure my car is ready but for me the next thing is making sure I'm just as ready. My Spotify Ultimate Drive Playlist helps get me from driveway to destination with a bit fun along the way.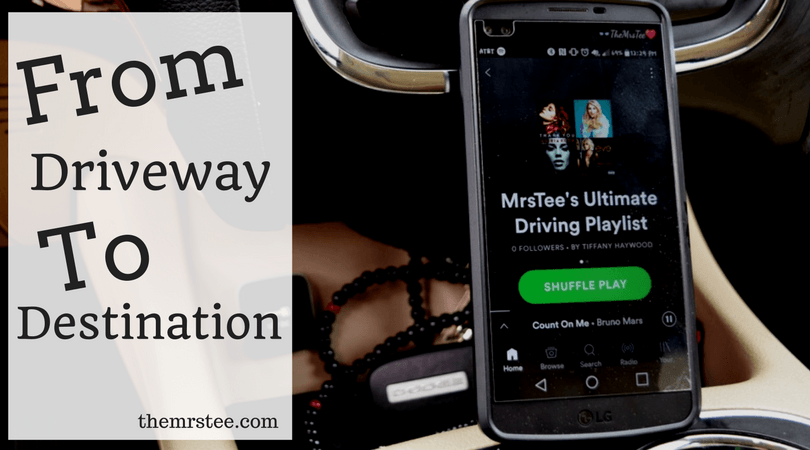 Check 1… Car Ready
Part of any road trip is prepping your car for the travel. I currently drive a 2015 Dodge Durango. This is my personal vehicle – My Mom Taxi. This means my truck gets a lot of wear and at times tear throughout the week. Checking off a few things before I pull off from my driveway for a long trip is a priority to make sure I arrive at my destination safely. Here are a the things I look at to be sure I'm all ready to go.
? Tire Pressure
I am always so worried about driving alone and getting a flat tire. One way to help make sure that doesn't happen is to check your tire pressure before any long distance trip. *Most vehicles have the recommended tire pressure on the inside panel of the Driver's Side Door.
? Oil/Fluid Levels
Maintaining the best level of fluids suggested for your vehicle not only helps your engine run smoother but it helps you avoid any unexpected breakdowns.
? Wipers
This one may seem a bit random but it's a lesson I learned from experience. I was driving to an event and got caught in a rain storm. I turned on my wipers and only 1 worked! Let's just say lesson learned. I always check my wipers to make sure they are functioning properly because I definitely don't want a replay of a night like that one.
? Lights
Here in the South when the sun goes down you are pretty much riding in the dark so your vehicle's lights need to work! I always check my daytime, night, back-up, signal, brake and bright lights – just in case.
? Gas
This one may seem a bit obvious but it can be so easy to leave in a rush and not realize you are low on gas until it's a bit too late (not that I've ever done that). So I always fill up before I go on any road trip.

Did You Know…?
How much #SteelMatters in the construction of a vehicle? Driving a vehicle constructed with steel means a stronger frame of protection for you in case of an accident or collision. A lighter vehicle means a better drive and better handling. So for me taking a note of the make up of my vehicle is always an important part of getting ready for my road trips.
The Dodge Durango is constructed with a steel unibody. A unibody construction means that there is no separate frame from the body of the vehicle (both the frame and body are steel). The steel is stamped with the appropriate cross members and everything is mounted directly to it. This type of construction helps to reduce weight of the vehicle and aids in occupant protection of the vehicle by distributing force of a crash away from the passengers in the vehicle. —Source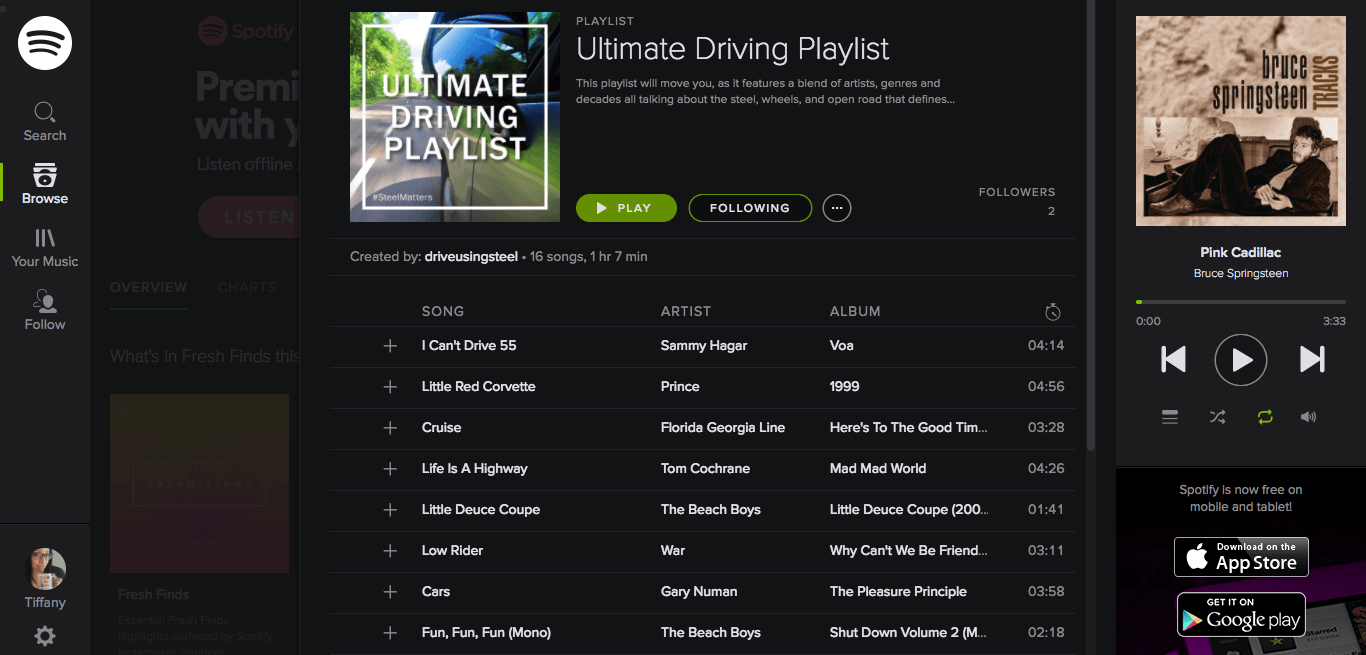 The Steel Market Development Institute believes in sharing the importance of steel and how it can change the way we make, purchase and drive our cars! They also believe Music is a Necessity For Every Great Trip! Don't believe me? Check out The SMDI Spotify Ultimate Driving Playlist!
Check 2… Drive Ready
Long distance drives have never been something I love. In the South, getting from point A to B is rarely a quick trip so finding ways to make those long drives a bit less stressful is key. Music is a big part of my life at home and bringing it with me into the car is one of the best ways to help make any road trip a fun trip. That's where My Drive Off Checklist comes in, it includes Music as well as a few things to help make my drive comfortable, relaxed and of course safe.
? Water/Coffee
Okay so I always bring a bottled water but coffee is required for me to make any long distance trip. Simply Put: I need the caffeine.
? Phone Charger
Having my phone fully charged is not only important to keep in touch with my family during my drive but in case of an emergency. I always keep both my car charger as well as a portable battery pack. Better safe than sorry!
? Umbrella
This is just because I personally hate getting caught in the rain. Living in Hawaii where a rainstorm could happen at anytime while the sun was still out I just started the habit of keeping a small personal umbrella in my car at all times.
? Spare Cash
I know we live in the age of debit card, credit cards and paying through our phones but I always feel a bit better to have a stash of cash on me especially when traveling.
? Music Playlist
This is my favorite thing to check off my Drive Off List and Spotify help me make the perfect playlist for every trip!
Did You Know…?
My Spotify Ultimate Drive List is one I created just for me. It's my solo ride list – the one that I don't have to worry about anyone liking or hating besides me. I have anything from HipHop to Punk, Rap to Rock and I love them all! This list tends to stay a bit up beat because driving solo means making sure I'm wide awake for the entire drive. What better way to do that with song you can sing AND do a bit of car dancing to?!?!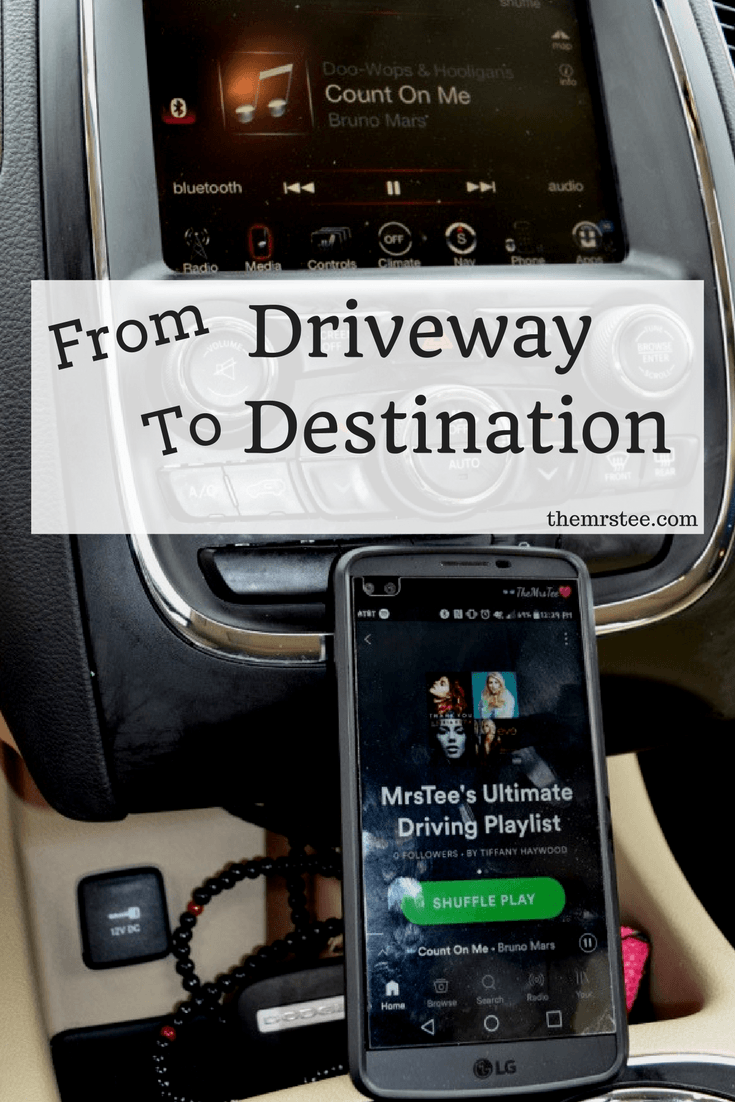 Music is something that is on my Check List for any and every road trip. Short, long – it doesn't matter. My music is a must! As a Blogger who attends events all year round, I have learned that a 'quick' drive to the next major town normally means at least 1 hour of drive time. Making those drives with music I love can help keep me motivated and focused on more than just the trees passing by.
Check 3… Drive Ready
The last part of my prep for a road trip is making sure I know how I'm getting there. Like I said, I don't like long trips to start so I definitely don't want to risk making it longer by getting lost. I always make sure I look up at least 2 routes for where I need to be. The shortest one as well as a back up in case of an accident or need for a detour.
Spotify
If you haven't heard of Spotify allow me to introduce you to one of the best music streaming apps around. It allows you to create custom playlists from millions of albums, artists and songs!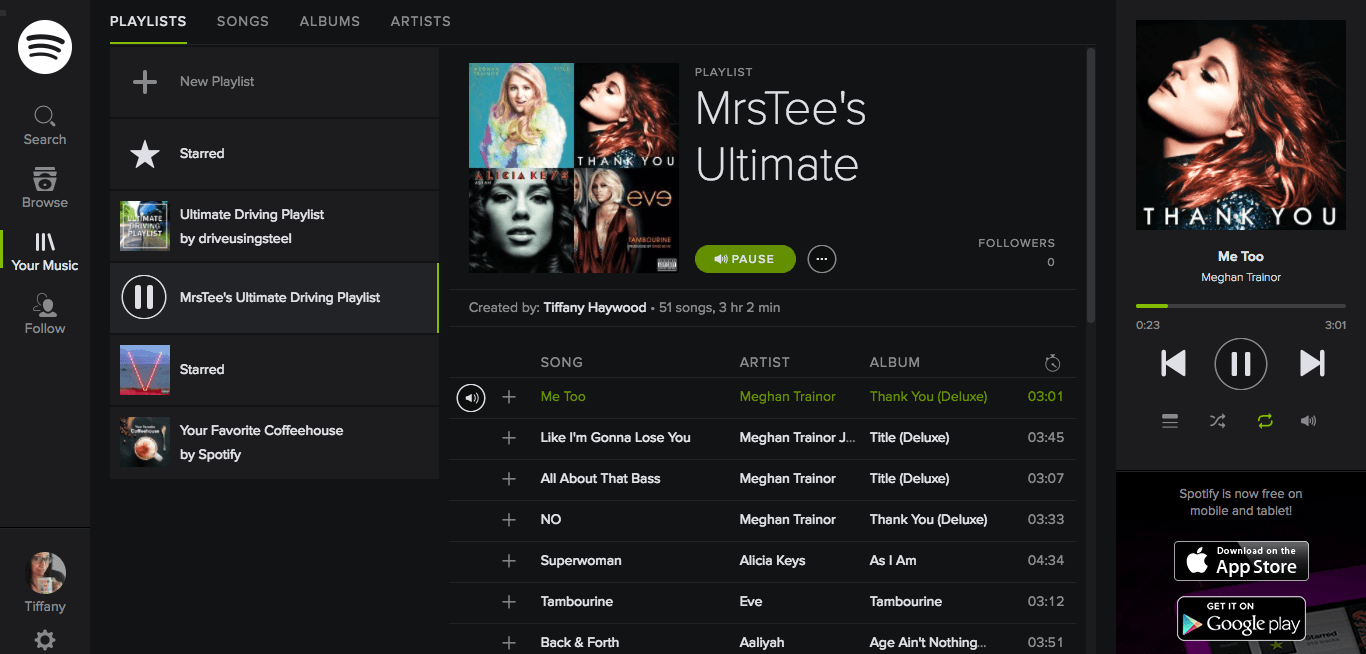 Spotify has a few options for joining up. I am currently using the FREE option which allows me to create playlists from my favorite albums, artists and songs. I may have a to listen to a few Ads here and there but for me it isn't a big deal. If you're more of a No Ads kinda person Spotify also offers a Paid Subscription that eliminates the Ads, has endless skips and allows you to play offline. Whichever option you pick Spotify is the perfect way to make your very own Ultimate Drive Playlist.
I'm one of those people who needs my playlist ready to go at least a few days before my actual trip. I often add and delete from my playlists based on the time of day I'll be driving, how far it will be and who else will be in the car with me. Different lists for different trips! No matter what the trip, My Spotify Ultimate Driving Playlist always helps me get From Driveway to Destination MrsTee Style!

*Disclosure: This is a sponsored conversation written by me on behalf of Steel Market Development Institute. The opinions and text are all mine.
Lifestyle Blogger & Media Influencer
at
TheMrsTee
Tiffany is the ' Tee' behind TheMrsTee. Tiffany is a BlogHer VOTY Award Honoree as well as a Contributing Author with Modern Social f/k/a iBlog Magazine and BlogHer. Growing herself as a Brand and Influencer are always at the center of Tiffany's passion. As a Brand Ambassador, Tiffany has the opportunity to promote and support the brands she loves the most with her own unique perspective. Tiffany has extended her presence beyond her URL to Television as a Panelist for the MomsEveryday TV Show for 2 Seasons and to the stage as a Cast Member of the Finale Season of The Listen To Your Mother Show.
Latest posts by TheMrsTee (see all)