During the first few years of life as a Military Spouse it was so easy to allow myself to become His Wife, Their Mother and Your Friend all while slowly forgetting who I was. It wasn't until my husband's retirement that I realized I didn't really know who 'me' was. I had lost me somewhere in the midst of being what he needed as a Soldier. Yet now as we entered a new phase of our lives as a family and a couple I realized that I needed to find a few new roads to help me find the new me.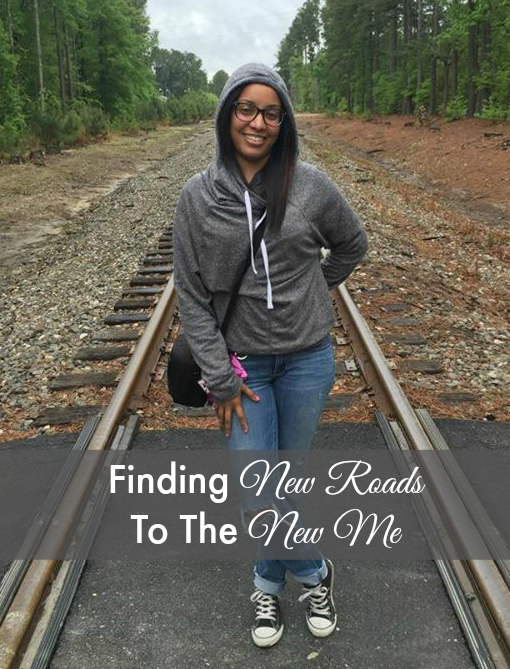 I had changed a lot. It was necessary. Prior to his service, I was a woman who always relied on family, friends and people to be the source of my joy. I didn't know how to handle situations without them. If I was happy, scared, upset any of it I reached out for them they were where I found my strength.
When we received orders to move to Hawaii while I was nearly 8 months pregnant and traveling with my 9 month and 10 year old children I realized that I couldn't really be that person anymore. I had to find the strength I needed within myself. Family and friends wouldn't be there. I had to become stronger, independent and self -reliant. It wasn't always easy to be her – that strong woman but somehow I had to do it.
Finding Her
I learned, adapted and grew to be a person I often used to admire because I never understood 'how she did it'. Yet, I eventually I was doing it. I was had kids in tow and nothing but a determination. I think I may have been more surprised by what I could handle during my husband's service than anything else. My family remained in tact, we loved, we lived and we laughed through it all and we made it through. As retirement approached, new challenges came and I realized that once again I would need to find new roads to get me through. New ways to be who I needed to be.
The problem was I wasn't even sure who that was anymore. When my husband was Active Duty it was easy to know what I needed to do because my role was clear: Wife, Momma and Present Parent. Yet once he retired that all changed. He was home now. I no longer needed to play the role of two parents, I didn't have to do it all. I had help, a partner and Oh My Gosh I had free time!! So what did I want to do with it? Who was I without the Army? What was my role?
Finding My Role
Finding that person was a struggle at times for both me and my husband. He needed to be who he was: husband, provider, protector and parent and I needed to learn how to release the control I had to him and fill it with something else. But what? That was when I decided to learn me all over again. Try new things and discover myself. What did I like? What were my passions? Who was the new me?
When I found Blogging it became the release I wanted for my writing and a way to connect to those around me. Through my Blog I have found a new road to a new me. A woman who is still wife, mother and friend but also knows who she is to herself: writer, designer, entrepreneur, influencer and so much more to come. I realized that no matter where our Military Life had taken me it was all leading me to what I would be. As a family, we are still traveling these new roads – learning and discovering so much about ourselves and our family but oh how excited I am to do it all! Of course finding new roads also means finding new ways to travel them…
#ChevySalutes
During the entire Month of May, as part of Military Appreciation Month, the #ChevySalutes Program makes it easier for Military Service Members to find great Chevy vehicles to fit the needs of their families while giving them confidence that they will receive the best prices, services and commitment to their satisfaction possible.
Chevrolet offers their Military Discounts to Active Duty Air Force, Army, Navy Marines, National Guard and Cost Guard as well as Reserves, Veterans (*within 1 year of of Discharge Date) and Retirees as well as their spouses.
The Chevrolet Military Discount gives prices below the MSRP.
Chevrolet even allows their Military Discount to be combined with most of their current offers saving Military Families even more!
Trust me, making the transition from Military to Civilian Life is not always easy but taking a bit of the financial pressure away is definitely something to be grateful for.
Chevrolet's Military Discount Program is ranked as the best of any car company and that's why this year Chevrolet wants to acknowledge the resilience of Military Families who continuously #FindNewRoads during they service to our country.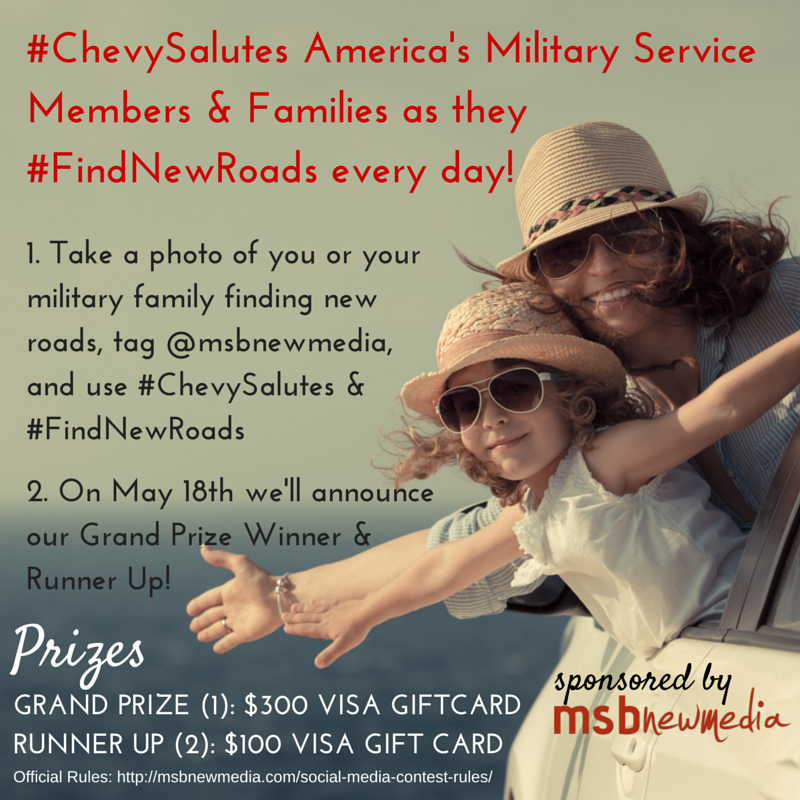 As part of this campaign, Chevrolet is sponsoring an awesome Instagram Contest where Military Families can post photos showing how they #FindNewRoads every day. The Contest Ends May 17th so be sure to post your entry for your chance to WIN Today!
This is a sponsored conversation written by me on behalf of Chevrolet via MSB New Media. The opinions and text are all mine.
Lifestyle Blogger & Media Influencer
at
TheMrsTee
Tiffany is the ' Tee' behind TheMrsTee. Tiffany is a BlogHer VOTY Award Honoree as well as a Contributing Author with Modern Social f/k/a iBlog Magazine and BlogHer. Growing herself as a Brand and Influencer are always at the center of Tiffany's passion. As a Brand Ambassador, Tiffany has the opportunity to promote and support the brands she loves the most with her own unique perspective. Tiffany has extended her presence beyond her URL to Television as a Panelist for the MomsEveryday TV Show for 2 Seasons and to the stage as a Cast Member of the Finale Season of The Listen To Your Mother Show.
Latest posts by TheMrsTee (see all)