Last summer we adopted a puppy. As the comic-loving family we are we decided to name our little girl Harley Quinn. We brought her home with a trunk full of toys, food, treats, collars, tags and everything else the pet store associate 'suggested' a new pup could need. We brought her home and knew – this golden pup was meant to be in our family!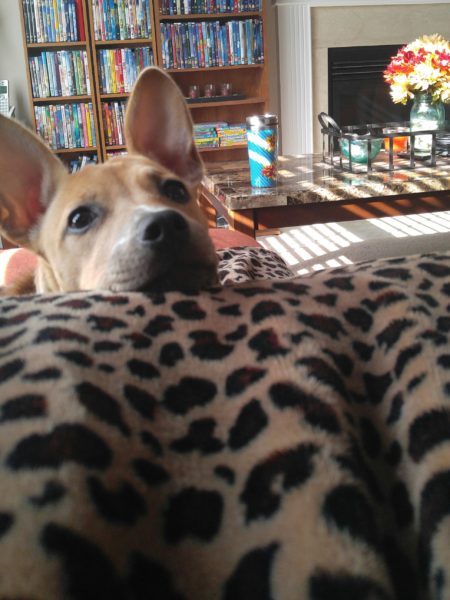 Love At First Sniff
The story of how Harley came to be the newest member of our Team is a bit funny on it's own. Like I said she was a shelter pup rescued from our local county shelter. The Hubby and I were riding around town one day and decided we wanted to 'just look' at a few pups to see if we were ready to add one to our family.
We were lead back to the kennel area but before we could get there I spotted this small golden color pup staring at me from through a steel windowed door. I asked could we see 'that one' and was told she wasn't available for another week. I guess I looked a bit disappointed because after a bit of hushed tones we were given access and I told my Hubby if we decided to do this I thought she was the right pup for us.
The shelter guy said that she had been rescued from wandering somewhere in the county and had to be cleared for adoption. The only thing we could do was add our name to a Waiting List up front. Okay!
Top of The List
At the front desk, the woman told us we were at the top of the list since we were actually the first family to show an interest in her. I'm guessing this may have had something to do with the secret access we were given but hey – I just said great and signed our name on the line.
The woman indicated we could come back in one week. Of the next seven days I went back and forth on whether we even needed a puppy.
It's just one more butt for me to clean
What about the poo?
I don't think I wanna walk a dog everyday.
Will it mess on my floor?
Yeah, you can tell I'm not big on messes. After my Hubby and oldest assured me they would take care of all the pup's 'business' we decided to go forward with the adoption. . .until that last day. I couldn't do it. It was too much. Well thankfully my Hubby knew it was just last minute cold feet and went to pick up our little golden pup without me.
I'm Here For Her
Now here's where the story gets a bit interesting. I'm retelling it as told by my Hubby. He said he arrived at the shelter and saw that there was a family in the 'get acquainted' area loving all over a pup – our pup! He walked right past them to the front desk and told her as he pointed over to the family "I'm here for her".
The woman looked a bit confused since this family had been there nearly 15 minutes and he clearly just walked in. He told her to check the Waiting List because his name was first. She did and after filling out the paperwork and signing the last form my Hubby walked over to that family and said, "Hi, I need to take her home now".
Chiweenie My Tail!
Now just to reverse a bit int he story. When we signed our names at the top of that waiting list we did so after being told that the golden pup we fell in love with was a mixed breed called a Chiweenie – a combination of a Chihuahua and Dachshund .
Let's just say someone got that wrong! 9 months later Harley has not only grown well beyond the length for either of those breeds but the height as well and she still seems to be growing! So despite thinking we were getting a pup who would stay a certain size – she's already won our hearts and we know she's here to stay!
That's it. That's the story of how Harley Quinn became a part of our family be sure to keep an eye our for a some of her adventures as she gets used to us and how we get used to her!!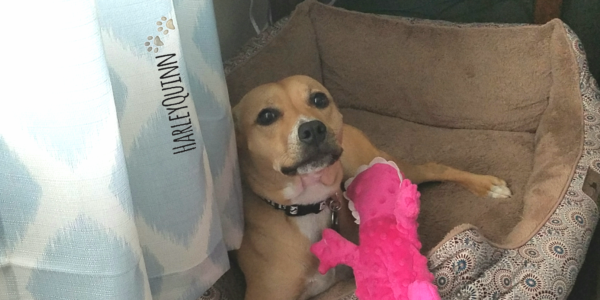 Feel free to follow our MsHarleyGirl over on Instagram to stay up to date with her adventures and how she grows to be an even bigger part of our team!

Lifestyle Blogger & Media Influencer
at
TheMrsTee
Tiffany is the ' Tee' behind TheMrsTee. Tiffany is a BlogHer VOTY Award Honoree as well as a Contributing Author with Modern Social f/k/a iBlog Magazine and BlogHer. Growing herself as a Brand and Influencer are always at the center of Tiffany's passion. As a Brand Ambassador, Tiffany has the opportunity to promote and support the brands she loves the most with her own unique perspective. Tiffany has extended her presence beyond her URL to Television as a Panelist for the MomsEveryday TV Show for 2 Seasons and to the stage as a Cast Member of the Finale Season of The Listen To Your Mother Show.
Latest posts by TheMrsTee (see all)