What is A Twitter Party Host?
So the first thing I need to do is explain what a Twitter Party host is. A Twitter party host is basically a moderator for a online meet up on Twitter centered around a specific topic, brand or product.
Twitter parties can have themes from your personal blog topics and shares to sponsored parties focused on promotion and brand, campaign or cause.
Twitter hosts have several responsibilities including:
Party Prep
Preparing for a Twitter Party is really similar to how you prepare for any party. The first thing you need to do is decide the When, Who and Why of your party.
When
When should you have your party?
Timing is everything. You don't want to have a party when no one you invite can attend. The same applies for twitter. You want to be sure that those you want to be involved are there. Check your Twitter insights to see when your audience is most active.
Who
Who is your target audience?
If you're talking about something targeted towards stay at home moms a daytime party may be most effective. The kids are in school and most moms enjoy a bit of time to do something just for them. If you are focusing on something that is more family focused like game night then perhaps an evening time would be best to give a chance for every family member to participate.
What
What do you need?
Gather all the information you need for your party to run smoothly ahead of time. This takes the pressure away and gives you time to be sure that what you have is what you'll need before you need it.
Examples:
Party/Branded Hashtag
Brand Twitter Handles
Brand Site & Social Media Links
Images
CoHost Information
Prize Information
Winner Requirements
Party Time Frame
Why
Why are you having this party?
Twitter parties hosted on behalf of a Brand, Campaign or Cause tend to have specific purposes. Whether to get a new product a bit of promotion or drive traffic to the Brand itself you need to know the goal of your twitter party to plan for it in the best way.
How?
How will your party run?
If you will have a CoHost be sure you have their Twitter handle, email and any other way to contact them prior to and through out the party. Hosting a successful party requires clear communication between all involved. You never want a miscommunication to show during your party. So share, collaborate and inform.
Promotion
Now that you know the When, Who, What, Why & How of your party it's time to get the word out there. That's right it's time for promotion. Any party host wants to be sure that everyone knows their party is the place to be and you want the same for your twitter party.
Invite
Invite your targeted audience. You can do this through Twitter, Instagram and Facebook posts. I have even used Facebook Events to help get my party out there. Facebook events has the great option of allowing people to not only indicate their interest in attending but sending them a reminder about the event automatically. It's like an RSVP and Save The Date all in one.
Intrigue
Intrigue your audience. I find using images is one of the easiest and most effective ways to capture attention. With a great visual you can give all the information about your party as well as give you invitee a great way to save that information. I often screenshot or save images to help me remember an event that I want to attend.
Inspire
You read that right. You can inspire your possible twitter party participants to spread the word about your party. By giving them something to talk about you give them all they need to take your message to their audience causing a ripple effect and increasing your reach tremendously.
Moderate
The main purpose of a twitter Party is to tweet. So how do you prepare for 60 minutes of engagement, promotion and hopefully fun via twitter? The best way is to prepare a Tweet Script prior to your party. A Tweet Script is basically exactly what it sounds like: a script of the tweets you plan to post and share throughout a hosted twitter party.
The next question I want to answer is how to prepare a Tweet Script. My first attempt at prepping one was like walking in the dark. I couldn't find any examples of what a tweet script was or even how it should deb formatted for submission to a Brand for review and approval. I want to give you the answers I couldn't find.
Click Image for Full Twitter Script
The above Script is a sample of 15 tweets that can be optimized and formatted to fit your Twitter party details. I have included Pre-Party Tweets, Welcome Tweets, ReTweets, Instructional Tweets, Brand Promotion Tweets as well as Questions and Prize Instructions.
Please Note: when posting tweets hat promote a brand directly you must include the #AD hashtag. Examples are when sending party participants to the Brand's website, content or sponsored publishings.
Using a Twitter Script helps eliminate the need to tweet as you go as well as give you the freedom to engage and interact with party participants throughout.
Once you have your script approved and you are ready to start you can simply open your script document and click, copy, paste and tweet your way to a successful twitter party!
The Difference A CoHost Makes
A Twitter party CoHost can play a huge role in helping to maintain the flow of a Twitter party. A good Cohost can take care of not only engagement with participants but answering questions, retweeting, trouble-shooting as well as selecting and announcing winners.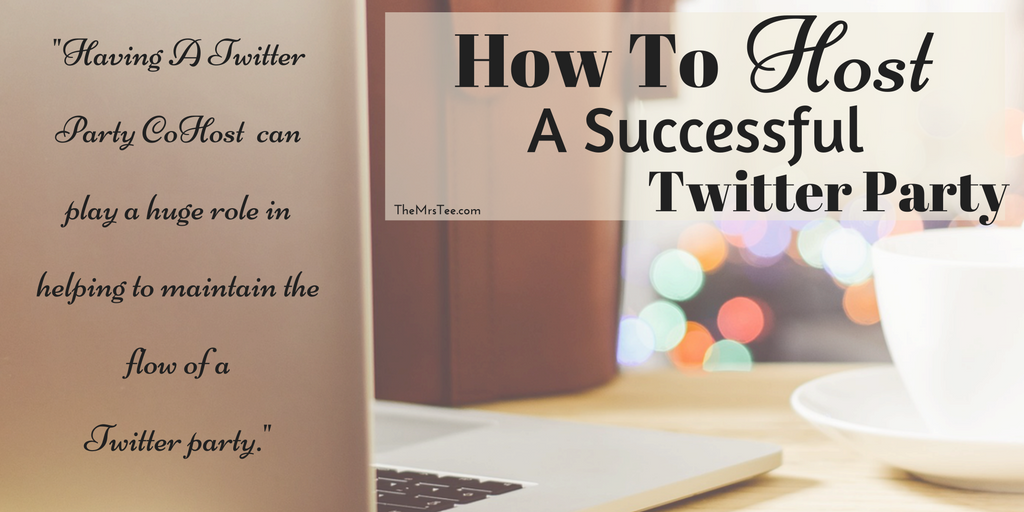 The tips, tricks and guides I've given can help get you a step ahead when it comes to becoming the host of a successful twitter party. You guys know I love my video and I wanted to give you even more insight into hosting so I decided to let you get a Behind The Scenes look at what it's really like to Host a Successful Twitter Party.
Have you ever hosted a Twitter Party? Share a few tips on how you made your party a success!
Lifestyle Blogger & Media Influencer
at
TheMrsTee
Tiffany is the ' Tee' behind TheMrsTee. Tiffany is a BlogHer VOTY Award Honoree as well as a Contributing Author with Modern Social f/k/a iBlog Magazine and BlogHer. Growing herself as a Brand and Influencer are always at the center of Tiffany's passion. As a Brand Ambassador, Tiffany has the opportunity to promote and support the brands she loves the most with her own unique perspective. Tiffany has extended her presence beyond her URL to Television as a Panelist for the MomsEveryday TV Show for 2 Seasons and to the stage as a Cast Member of the Finale Season of The Listen To Your Mother Show.
Latest posts by TheMrsTee (see all)