This weekend was my Teenager's first official Marching Band event of the school year.  It was also his first time functioning as one of the Trombone Section Leaders.  Now, I know I've complained I mean uh mentioned how the early morning practices and late evening pick-ups can be rather tiring on me as a parent and at times on him.  Still on the day of the Exhibition none of that matters.  On that day, I am Momma Cheerleader No. 1.  My lungs are tested and my vocal chords are stretched to their fullest capacity because my baby is on that field.  He needs to hear how much I support him and my pride needs to come across the only way it can, if that means screaming, yelling and yes I admit it at times screeching my support then so be it.
So our day started with one last practice early that morning.  Early being 8 am.  Ugh. So, I rolled outta bed and yes by roll I mean I was in my yoga pants and a tank but hey I made sure he was there on time water bottle and trombone in hand so that's what matters, right? After dropping him off, I came home, woke up and fed my Kiddies.  I then tried to fit in a bit of blogging.  The practice was about 4 hours long.  So, I jumped back in my truck to go pick him up.  Once we got home, he showered, ate and rested.
I thought I had at least another 4 hours before we had to leave, so I started doing my youngest Girlie's hair. I had only finished my oldest Girlie's hair the day before since my fingers went numb and I had to stop.  Anyway, halfway into her hair the Teenager comes downstairs to announce that he had to leave.  My response: "Leave for what we still had like 2 hours…" "Umm Ma…I need to be back at the school 2 hours earlier than the Exhibition was set to start for another practice."  Do you think he would've mention this before? Of course not!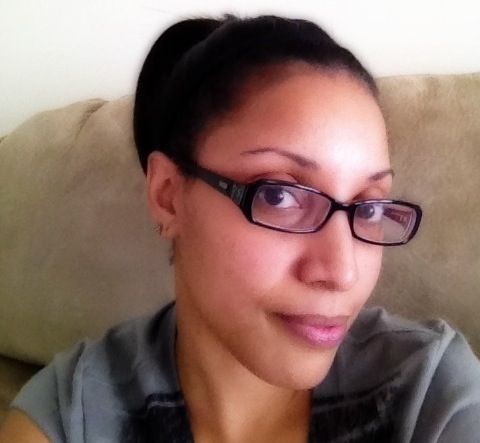 So after I had a mini meltdown, (I was only halfway done with my Girlie's hair) we made the drive with half her head braided and the other half in puff-puffs.  Once I drove him back to the school. I came back home to try to finish her hair, feed the Kiddies and get them dressed and ready so we could leave for the Exhibition.  Of course, I had to wear the school colors or as close as I could get since my band t-shirt hasn't come in yet.  I was also sporting my high school style ponytail since it was like 98 degrees (and I think I can still pull it off pretty good…lol).
We arrived at the school early enough for me to get an ideal spot in the bleachers so I could have good camera angles for pics and hopefully video.  That's when I heard it.  That all too familiar Southern Marching Band sound…the cymbals, the horns, and the drumline.  The Band was on its way to the field.  Instantly everyone stood up and started yelling.  You could feel the excitement.  There is absolutely no feeling like a stand full of high school Marching Band Parents waiting for their kids first performance.  The yelling, whooping, hollering…it can be overwhelming if you're not used to it.  I remember our first year.  I thought "these people are bugging out" "Is it really this serious?"
But Yes.  Yes it is.  Your kid has worked hard all summer.  You have gotten up with them, watched them practice, sweat and put in dedication you probably didn't even think they could muster up and so yes when you see them marching knees high, toes pointed…you want to yell…you have to yell! It is all worth it!
So then they round that corner and make their way down the stairs to the field.  The sound gets louder and louder as they get closer to the bleachers.  I look down and my 2-year-old is marching with his knees high toes pointed just like his big brother has been practicing around the house.  Is he a future marcher in the making?  Will I be standing here taping him in the years to come?  I glance over at my Girlies and see them doing the Color Guard sashay…with Hubby looking on with a not very pleased face…will I be here with them soon as well?  Marching Band is something that becomes a part of the family.  It's a club with its members who a loyal to each other and the other families within it.  When we gather for the meetings, practices and games we are all their for the kids.  We want them to succeed and will do whatever needs to be done to make sure they do.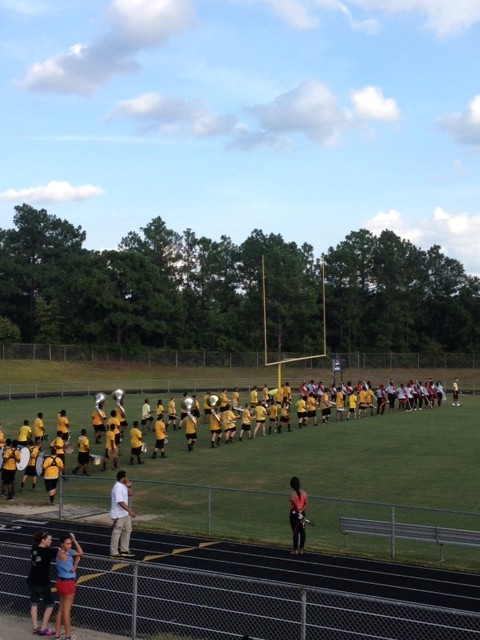 As the band makes their way past us and onto the field I spot my Teenager.  His head is held high, his trombone swaying to the beat and he is focused.  I know that he has been working towards this day all summer and at that moment I want nothing more than for it to be the success he wants it to be.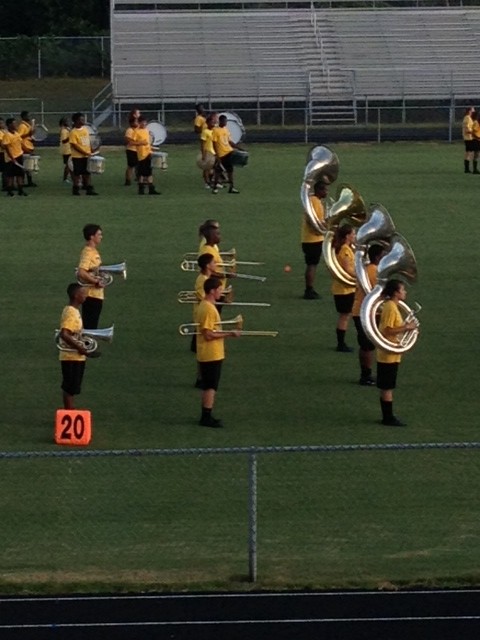 The Coach begins making the announcements and says the kids are going to start…I watch as my son marches his heart out.  I strain my ears trying to pick out his notes above all the rest and smile as I hear how well they all blend together.  I grin from ear to ear when I see the Drum Majors strut their stuff on the field and the Color Guard show their pride in a way only they can.  The show itself doesn't last that long but the moments are like lifetimes in the hearts of our kids and as a parent we treasure them in our memories.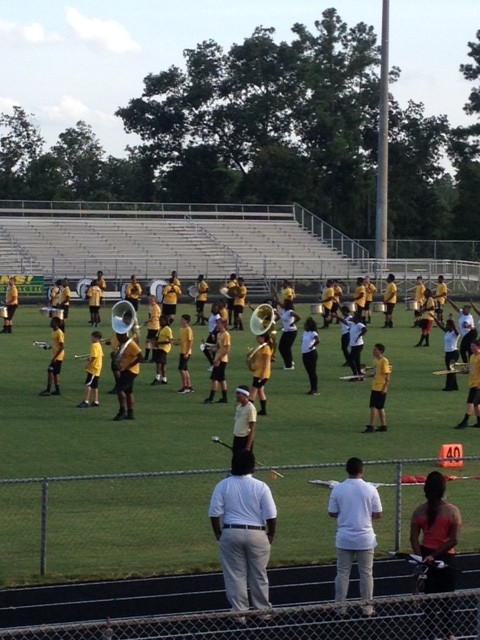 Yet guess what?  Even though the field performance ends the 'show' is not over.  Now comes the part the kids call 'The Tunnel'…we all get up and follow them as they march back out the parking lot and through the alley to the band building lot.  Here is where the kids get to show off dances and performances they have worked on as sections before they head back into the building to pack up.  We as parents line up on either side of them and they show off….for us.  It is sort of like a 'Soul Train Line' for the band.  I look forward to this part of the Exhibition every year.  It's here you get to see a piece of the sections personality and individual talents.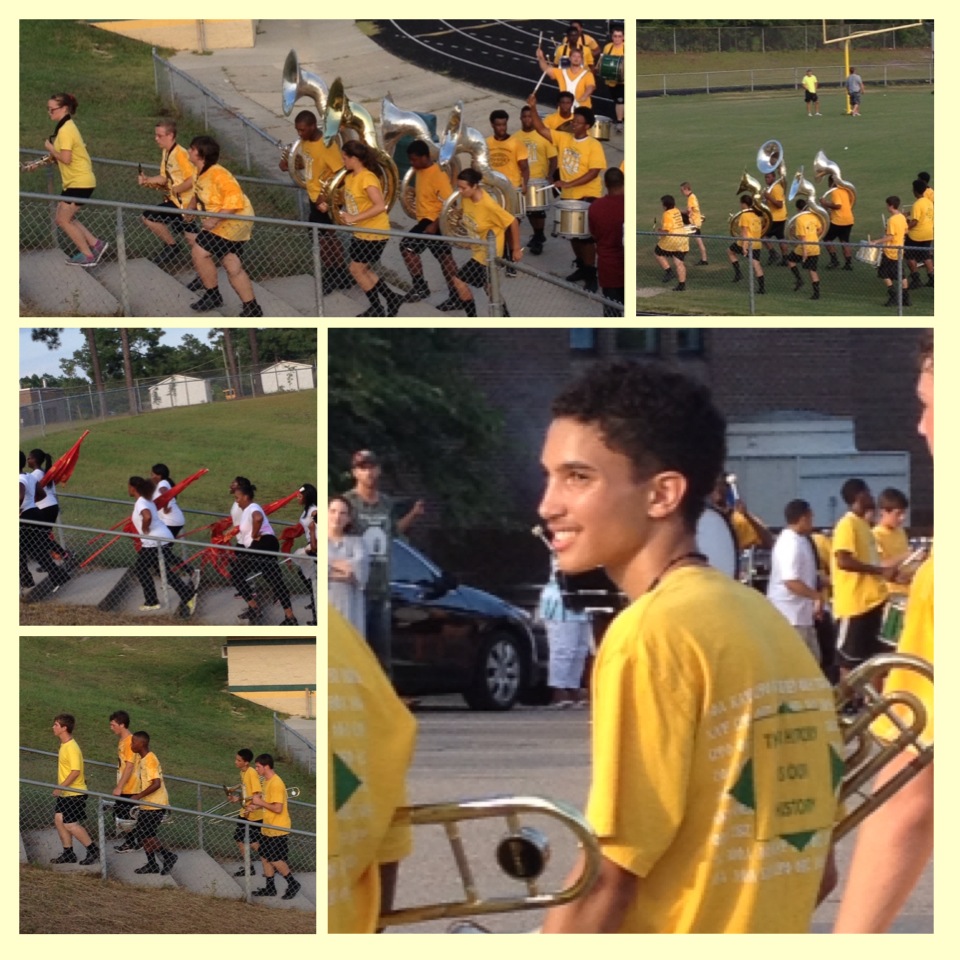 I also love watching the Drum Majors and how they 'break it down'.
http://www.youtube.com/watch?v=SNx97zBq8d4&w=320&h=240

Then we get to watch the Drum Line close it out.
http://www.youtube.com/watch?v=LZwdpHH92tI&w=320&h=240

Once 'The Tunnel' is over we all disperse and gather our kids to go home.  This is only the beginning of the season but our kids are ready and guess what….so am I…because I'm With The Band…The Marching Band that is 😀
Are any of you former Band Geeks?
Are your kids in band or Marching Band?
Do you enjoy the traditions behind it?  How does your family support it?
Lifestyle Blogger & Media Influencer
at
TheMrsTee
Tiffany is the ' Tee' behind TheMrsTee. Tiffany is a BlogHer VOTY Award Honoree as well as a Contributing Author with Modern Social f/k/a iBlog Magazine and BlogHer. Growing herself as a Brand and Influencer are always at the center of Tiffany's passion. As a Brand Ambassador, Tiffany has the opportunity to promote and support the brands she loves the most with her own unique perspective. Tiffany has extended her presence beyond her URL to Television as a Panelist for the MomsEveryday TV Show for 2 Seasons and to the stage as a Cast Member of the Finale Season of The Listen To Your Mother Show.
Latest posts by TheMrsTee (see all)