As a rather new Blogger, I've been on the look out for different blogging communities that are focused on supporting each other as women. In addition to joining SITSgirls, Bloggy Moms, and Double Duty Divas I most recently connected with SMGirlfriends. I saw them totally by accident through the Twitter Suggested Follow thread. I clicked on their Twitter Profile Page and thought that their mini description was interesting. Once I went to the website I knew they were something I was interested in being a part of.
If you are anyone who has interacted with me through Social Media and any type of Blog Hop or Link Up you know that I am all about supporting a fellow Blogger. I probably wear out the phrase 'It's all about support' yet it's something I firmly believe and stand by. I don't think any of us will go very far without the support of the Bloggers around us. Those in our community of like minded topics and interests. So I went through the process of linking up and adding their button to my site (a very pretty pink one I might add) and then I was instantly welcomed into the 'nest' and even sprinkled with virtual diva duston twitter during one of the daily chat parties. I felt so welcomed and a part of the community it was actually a bit overwhelming at first. Yet I also knew I had made a great decision by clicking on their link in that Suggestion Feed.
After the chat party was over, I made note of the daily meet up times and continued on with my daily Blogging routines. The next day I signed in and was checking my comments, Facebook, and other daily Check Lists of things to do when I noticed the #SmGirlfriends chat time was coming up. I signed in and saw that everyone was talking about a Live Broadcast that was to be taking place. I was quickly welcomed to the day's chat and asked if I was connected to the broadcast. I said no and within seconds had about 4 links given to me (It's all about support). Once I was all linked in and set up with my Teenager's earphones so I could hear over my Kiddies running around I settled in.
I heard @DabneyPorte (Creator & Producer of #SmGirlfriends #NFLgirlfriends and #SmManners) start speaking and realized she was doing an interview with Karen Lynn @onetoughmutherk (Called Dear Abby on STEROIDS). I immediately started following @onetoughmutherk and then proceeded to hear the story of a woman who as a child of about 10 had to basically raise her siblings and go through many different adversities. Yet she overcame them. I heard how she excelled in her professional life despite being a woman who was judged based on stereotypes and men's insecurities.
Through the entire interview I kept thinking these women are here to support each other. Then I heard @DabneyPorte say that her 'nest' of women from #SmGirlfriends were listening and tweeting and she wanted to mention some of their thoughts. She started calling of the Twitter IDs with their Tweets and suddenly I heard my own. When I say my heart stopped. I froze…"Mrsteeh says…" I looked at my Hubby and started screaming "OMGosh! Oh My Gosh she just said my name on the air!" Of course since I had headphones in and he couldn't hear it the moment was a bit lost on him but I was totally in my '5 Seconds of Fame Zone'. Then a few moments later she quoted one of my Tweets again!!! I was in total Cloud 9 atmosphere at this point! Of course Hubby was sitting there looking at me like I was nuts…
So after my flash freak outs, the interview was coming to a close and @DabneyPorte announced that @onetoughmutherk was going to be giving away t-shirts to those who had tweeted a secret word BOOM a bit earlier during the broadcast. Of course I had tweeted it so I was waiting anxiously to see if lightening would strike 3 times in my day and make me a winner on top of everything else. she did a random pull of the keyword and selected the first 5 Tweets. As I sat there listening for my name I heard her calling off others and I heard a Mrs…at the moment I swore it was @mrsteeh. Now I can't tell you if I was wrong or right. Later when the list was generated by twitter I didn't see my name and just assumed i was too caught up and heard wrong. Then late that night I received a Tweet from @onetoughmutherk herself requesting my info to receive the t-shirt. I thought am I loosing it…
I sent her a tweet asking was I a winner and she gave me the best reply I could have hoped for…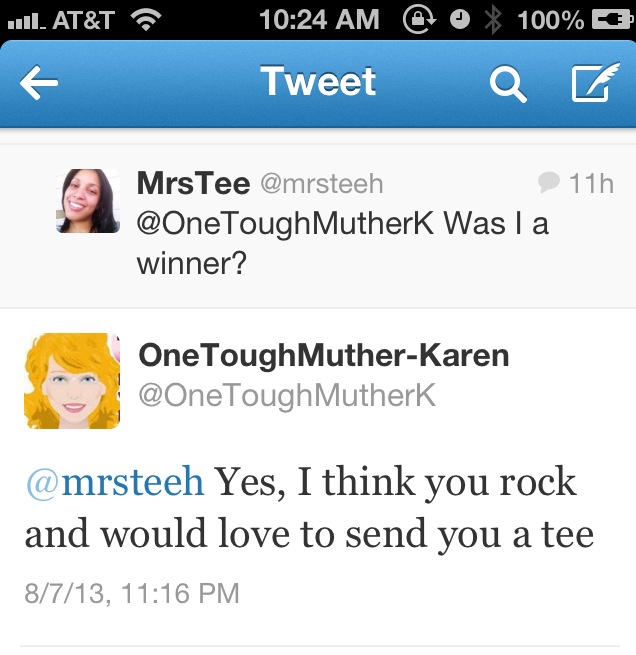 At the end of the day I walked away with a feeling of true acceptance and welcome from a community I came upon totally by chance and to top it off I'm going to get to rock an @onetoughmutherk T-shirt really soon and trust me I will be posting pics so stay tuned! I also ended that day with many new connections to women who had come together with one goal…to support and connect with other women. During the radio broadcast that day Karyn discussed how women should always support women. It rang so true with me and also sparked the idea for this post.
Today I highlighted a story of my interaction with one of the communities I have connected with. Yet that is definitely not the only positive story I have. I have felt nothing but an overwhelming sense of welcome and support from the communities I have chosen to join. SITSgirls is a community which on a daily basis offers an endless resource for blogging tips and new connections to other bloggers through their Featured Blogger program where each day they feature a blogger and her site offering her exposure and endless opportunities through the 40,000 Bloggers within their network. Bloggy Moms is a community which offers a forum where you can create a profile with your Blog Post and have the opportunity to be chosen a featured writer, participate in numerous Blog Hops and/or Link Ups as well as make numerous connections with other Bloggers within the network. Double Duty Divas offers a Blogger the opportunity to connect with brands and create a buzz around your site drawing the right type of spotlight to you in order to help you move towards jobs you desire. Also, each of these communities offers awesome Blogger Conferences and Brand training and placement when you feel your site is ready to go to that level.

So, when I look at these communities and the women who founded them I see nothing but support. I knew coming into this idea of creating and establishing myself as a Blogger I would need the support and knowledge of those who were already ahead of me. Those who helped pave the paths and who are still striving to make things easier. That's why every time I read a post that I believe is excellent I don't hesitate to say so or to share it, why? It's all about support. If someone asks me how to create a button or a header I do my best to crack the crazy HTML and pass it on, why? It's all about support. When I see another Blogger who's work needs a spotlight I do my best to find a light to shine on them, why? It's all about support. Without the support of our fellow Bloggers and the communities others have set up to help I'm not sure how far each of us could get on our own.
How do you show support to other Bloggers in your community?
Have you joined any Blogger Networks or Communities to help you stay connected?
If so, how have you enjoyed your experience?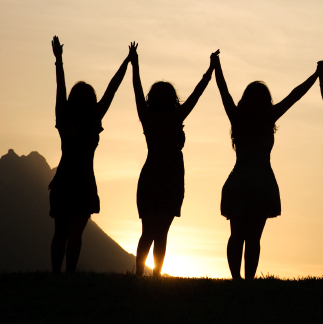 *Please visit each of the Communities referenced websites through the links provided for more detailed information
*Listen to the BlogTalkRadio Broadcast "How to Be One Tough Muther W/Your #SmGirlfriends" anytime
Lifestyle Blogger & Media Influencer
at
TheMrsTee
Tiffany is the ' Tee' behind TheMrsTee. Tiffany is a BlogHer VOTY Award Honoree as well as a Contributing Author with Modern Social f/k/a iBlog Magazine and BlogHer. Growing herself as a Brand and Influencer are always at the center of Tiffany's passion. As a Brand Ambassador, Tiffany has the opportunity to promote and support the brands she loves the most with her own unique perspective. Tiffany has extended her presence beyond her URL to Television as a Panelist for the MomsEveryday TV Show for 2 Seasons and to the stage as a Cast Member of the Finale Season of The Listen To Your Mother Show.
Latest posts by TheMrsTee (see all)