**Compensation for this post was provided by Chevrolet via MSB New Media. All opinions expressed in this piece are my own.
That moment. It was here. It was time. We were going to see Him. Hubby, Daddy, Friend…we missed him beyond words and it was time to be together again. 3 flights, 2 1/2 kids and 1 act of appreciation brought us together. Yet the journey to getting their wasn't easy.
He had left nearly 4 months earlier the Orders were issued. He was being stationed in Hawaii. We had to move away from family, friends and everyone we knew. I was not even 5 months pregnant, had my 10 year old and my 9 month old there was school, packing, etc. We couldn't go yet. I had to stay. He would have to send for us in a few months. I can't do this! I had to do this! I could do this! We could do this. But how?
I'm not even sure today how we made it through those 3 months. We passed the time. We went to every activity I could find: art classes, tae kwon do, plays, dance classes, the park…anything to help them keep their minds off Daddy being away and keep me busy enough to not loose it. It worked. The time passed – days, weeks then months and soon the day was here. He called that night and said we had flights the next morning! We were going to Hawaii!
It would take us 3 flights to get there nearly 5  hours for each one. I was nearly 8 months pregnant and large to put it nicely. I had myself and 2 kids to get through this travel nightmare and I had never flown more than a hour away and that was by myself! Okay, out came my big girl panties and all my planning skills. We made it! We were walking for nearly 30 minutes. Where was he? Did I go to the wrong place? A woman approached me and my kids:
"Are you military?" 

Umm Yes. Well my husband is. I'm his wife, we're meeting him.

"Thank you so much for your sacrifice and  your husband's service"
She had placed a bit of money in my hand, hugged me and walked on. Less than a minute of interaction. Yet she didn't even know what she'd done. I was on the verge of loosing it because I couldn't find where to meet my Hubby, my kids were exhausted and my preggo emotions were running wild. Yet that one moment, that act of appreciation and the hug helped me pull it together. We walked on. I found the him and we had that moment. The Reunion. He was there and so were we. We were a whole family again.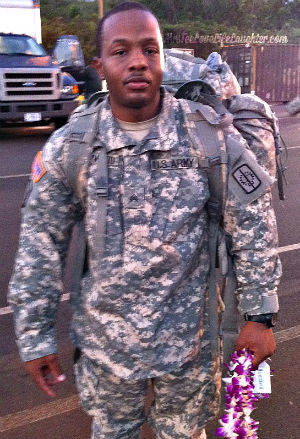 The small acts of thanks and appreciation to a military family can mean so much more than what it takes to offer them. This month and beyond taking the time to say thanks to our Heroes is so important. I am so proud to be a part of #ChevySalutes and their efforts to appreciate our Active, Veteran and Retired Military and their Families. They are working to help moments like these happen.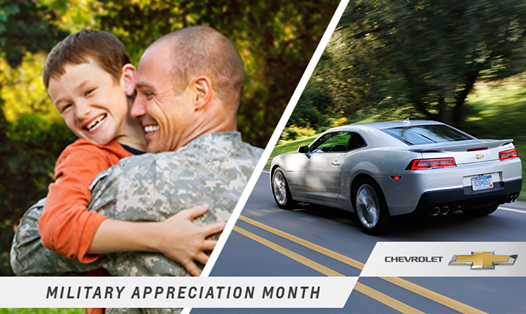 Chevy is working hard to make reunions happen daily and here is one reunion story and moment that is definitely a great example of how #ChevySalutes our Heroes and their Families.
Chevy works with programs like Achilles Freedom Team of Wounded Veterans a group of Wounded Heroes who strive after their passion of staying active in spite of their wounds to race in wheelchairs that Chevy helps provide. Chevy also supports Cell Phones for Soldiers Program helps to provide a way of communication for our Soldiers at no cost.
Since 2004, more than 204 million minutes of

free

talk time

have assisted troops. Thank you for your support!
This month we place a spotlight on our Military Heroes through Military Appreciation Month but don't let it stop when the month ends. That woman who approached me probably has no idea how much of an impact she made not with her token but with her heartfelt emotion but her words. Her simple act helped me make it those last few moments and beyond.
What can you do to help support and encourage our Military Members and their Families?
We have a way to help you find out: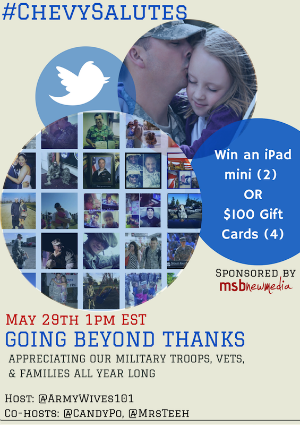 Join me as I CoHost a Twitter Party with MSB New Media's Military Spouse Blogger Network and #ChevySalutes. We will be discussing building bridges and communication between military and civilian communities. It will be an hour of information, discussion, fun and PRIZES!
[Tweet "I'll be at #ChevySalutes Twitter Party 5/29 at 1PM EST with @Armywives101 @Candypo @mrsteeh @msbnewmedia and @NextGenMilSo Meet Me There!"]
We would love to see you there on Thursday, May 29th under the Hashtag #ChevySalutes! Be sure to follow Hosts @adlupher @armywives101 @candypo @msbnewmedia @nextgenmilso and me @mrsteeh – See You There!
Lifestyle Blogger & Media Influencer
at
TheMrsTee
Tiffany is the ' Tee' behind TheMrsTee. Tiffany is a BlogHer VOTY Award Honoree as well as a Contributing Author with Modern Social f/k/a iBlog Magazine and BlogHer. Growing herself as a Brand and Influencer are always at the center of Tiffany's passion. As a Brand Ambassador, Tiffany has the opportunity to promote and support the brands she loves the most with her own unique perspective. Tiffany has extended her presence beyond her URL to Television as a Panelist for the MomsEveryday TV Show for 2 Seasons and to the stage as a Cast Member of the Finale Season of The Listen To Your Mother Show.
Latest posts by TheMrsTee (see all)