I've been talking about it for weeks. I was going to take a tour of a town I've lived in for nearly 8 years! Why? Well because the Fayetteville Area Convention and Visitor's Bureau wanted me to.. LOL Okay, so that isn't the only reason but it was of course the main one. Thanks to the FACVB (a little bit easier to say and type) and the #FAYTour15 I was getting the chance to learn, explore and make memories in #MYFayetteville an experience at a time!
First Stop: The Hotel
We met at the Fairfield Inn & Suites – Fayetteville North on Ramsey Street. Now I must admit I didn't even know this hotel was here. Their Grand Opening was less than a month ago and they celebrated with a party the night before our arrival. I was so excited for the possibility that I may actually be the first person in my room – I know silly but exciting still!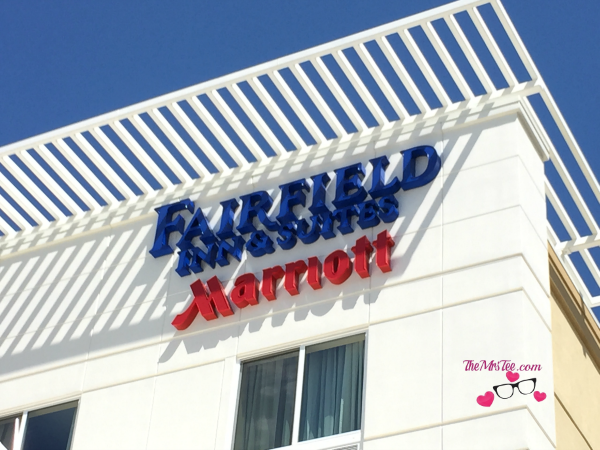 Thanks to our amazing FACVB Host, Melody, we were given a tour of the premises and all of the amenities it has to offer. Of course as Bloggers and Vloggers the first thing we spotted was an amazing Blue Wall that we nicknamed the Selfie Wall…
Come on, tell me this wall doesn't just scream out "Take A Selfie!"
Our tour included a chance to see not only the rooms and suites but the wonderful amenities this hotel has to offer as well. When I tell you that the Fairfield Inn & Suites – Fayetteville North has gone above and beyond to give each visitor the best experience possible I am not exaggerating. Next to the lobby is an amazing eating area where each guest can have a wonderful hot breakfast each morning. They also offer services at night with dishes like wings, pizza and more. Next to that is a hidden bar where guest can enjoy a beverage of whatever kind they like to end their evening. If you don't want a full sit down or room service meal you can always stop at the Market next to the front desk to grab anything you may want to take on-the-go or as a quick snack.
As we walked through the hotel, it was amazing how I felt like I was on a mini-vacation and not just a short drive away from home. From one of the biggest showers I have seen in a hotel to small details like a fridge, microwave and coffee station in each room (yes guys you know the coffee grabbed my attention). The Fairfield Inn & Suites offers a patio outside with a fire pit, lights and some of the comfiest chairs I've seen. They even have a grill if you want to make a 'night out' a bit more fun!
We headed back inside to take a look at the amazing indoor pool which is kept at a lovely temperature perfect for relaxation and fun. The Fairfield Inn has also made sure that their hotel is friendly to all their visitors by including a lift chair for the pool as well as light indications outside rooms for the hearing impaired. Don't forget the Fairfield forgot about the workout enthusiasts because they also have an amazing gym with a bit of everything you need to stay fit while still getting away from it all.
Don't think the Fairfield Inn & Suites is all fun – they make it possible for businesses and families to have space for whatever events they may want to have as well. With a conference room equipped with the latest technology to a room perfect for an intimate wedding or event the Fairfield Inn & Suites is definitely a hometown destination with an out of town feel.
If you're looking for a great way to be in the heart of Fayetteville while still getting the seclusion of a getaway the Fairfield Inn & Suites – Fayetteville North is the hotel you need to find.
Let's Eat: Greek Style!
After our tour we were all very happy to know that our next experience on the #FAYTour15 was going to be one of tastes, smells and food! We were headed to the Sherefe (pronounced "sherefay") in downtown Fayetteville and for me this was going to be an experience I would count as a first. I had never enjoyed Greek or Mediterranean style cuisine and I was excited to add this to my list of things I've done.
When we arrived the very fist thing I thought was this place feels loved. Sherefe didn't have the normal sense of a chain restaurant where you are simply another plate to be served and bill to be collected. We were welcomed like visiting friends and the atmosphere of the restaurant itself reinforced that with each step we took.
Sherefe is a family owned and operated restaurant and to say he owner Mustafa Somar is a man who embraces each guest as family. His love and passion for what he does is evident in every description he gives of the dishes he has created and the experience he wants you to have while with his family.
I relied on the experience of my companions and those who were already lovers of the Mediterranean cuisine and went with the Gyro/Döner Kebab Plate a delight of Beef, Tomato and Onions served with the most amazing topping I've discovered – tzatziki. Oh! I Can Not forget to mention the soup – the amazing Lemon Chicken soup that I wanted to take home and share with everyone I know! Yes it was THAT good! Luckily Mustafa actually offers take-home dishes but I did find out that this soup is rarely part of that simply because it sells out so fast. So if I were you, I would head downtown and find a seat, have a chat with Mustafa and ask for the best chicken soup in town – NOW!
Historic Discoveries: Walking Tour of Downtown Fayetteville
Our next stop was to head over to the Fayetteville Area Transportation & Local History Museum to meet out tour guide for an hour of discovery in downtown Fayetteville. This is a building I have driven by too many times to count but oh if only i knew the treasures of knowledge it held inside.
We had the chance to learn the history of the man our city was named after and so much more. After we toured the museum itself we started our tour. I never thought that the buildings and places I have walked by so many times held so much history within each stone and part of their design.
I learned so many facts and historical nuggets along this tour that the only thing I can say as that I think everyone who wants to know how Fayetteville became America's Hometown should definitely stop by and take it for themselves. Oh and check out My Vlog from the day to hear a bit of it for yourself 😉
A Bit Of Adventure: Rock Climbing
After the Walking Tour it was time for a bit of adventure. I was going to have the chance to check something off my Must Do List… we took a short ride a few blocks over and met Ruth of The Climbing Place to learn how we could take the first steps to conquer the purple mountains – just one of the amazing Climbing walls they have there.
Rock Climbing has been something, well one of two things, that I have been wanting to do for a few years now. I saw it so many time on shows and different challenges on tv and always thought 'I wish I could do that'. Yet each time they were in tropical locations or far away destinations. I never thought either would be something I could experience in my own backyard. I know – what is the other thing? Well you will have to stay tuned for my next few posts to find that out.
So when Melody told us that we would be having the chance to go Rock Climbing as part of the #FAYTour15 I could hardly contain my excitement. I talked about it all over my social media: twitter, instagram and youtube. I kept hinting and counting down the days until I'd be able to do something I thought I'd never get a chance to especially so close to home.
When we arrived, we were greeted my Ruth who was one of the Managers and she made me feel comfortable immediately. I told her that I didn't think I would be able to get any further than the first two levels because I have no muscle strength in my upper body (or lower for that matter…lol). Ruth reassured me that the work of Rock Climbing actually comes more from your legs than your arms and that the power to accomplish it is mainly in your mind. As she talked, I began to understand that Rock Climbing is actually a lot about thinking and planning your path, your strategy and how you want to reach the top more than the physical part of doing it.
After a quick but intense belay class (Belay is the person who acts as an anchor to the person who is climbing. You handle their rope and feeding it taking in the slack or providing more when needed) , we were all set. I was the first to go up and even though I was nervous and anxious I tried to use those to help me. as I climbed and heard Ruth behind me encouraging and telling me how far I was going I realized how right she was. I didn't need to be an athlete as much as I needed to be determined. With Ruth and her staff's help I was able to make it to the 'light purple mountains' I was literally a few more steps away from 'ringing the bell'. Looking back I wish I would have pushed myself a bit more but I know that since The Climbing Place is right here in #MYFayetteville I can always go back and make that goal.
So obviously taking pictures wasn't very easy as I climbed but I did it! I check off something truly amazing off my Must Do List and I now I know that I can do things that I may not have thought possible. Of course this wasn't the end…oh no! Our tour went on into the night with VIP Treatment, Arts, Entertainment and a Concert plus another day of Food, Fun and that 2nd thing I got to check off my list and I am going to share it all with you – Stay Tuned!!
**Disclosure of Material Connection: I received the experiences and/or services mentioned above for free from Fayetteville Area Convention and Visitor's Bureau in the hope that I would mention it on my blog. Regardless, I only recommend products or services I use personally and believe will be good for my readers. I am disclosing this in accordance with the Federal Trade Commission's 16 CFR, Part 255: "Guides Concerning the Use of Endorsements and Testimonials in Advertising."
Lifestyle Blogger & Media Influencer
at
TheMrsTee
Tiffany is the ' Tee' behind TheMrsTee. Tiffany is a BlogHer VOTY Award Honoree as well as a Contributing Author with Modern Social f/k/a iBlog Magazine and BlogHer. Growing herself as a Brand and Influencer are always at the center of Tiffany's passion. As a Brand Ambassador, Tiffany has the opportunity to promote and support the brands she loves the most with her own unique perspective. Tiffany has extended her presence beyond her URL to Television as a Panelist for the MomsEveryday TV Show for 2 Seasons and to the stage as a Cast Member of the Finale Season of The Listen To Your Mother Show.
Latest posts by TheMrsTee (see all)