My day had been amazing! Full of fun fun, laughter and new experiences but it wasn't going to end there. No, the Fayetteville Area Conventions and Visitors Bureau had a bit more in store for me and our #FAYTour15 that night. We were headed to the Fayetteville Dogwood Festival held annually in downtown Fayetteville. I am almost ashamed to say, after living in this city for more than 5 years, this was going to be my first time attending. My excitement was building because I have heard of how great the Dogwood Festival is and I couldn't wait to see what it was all about.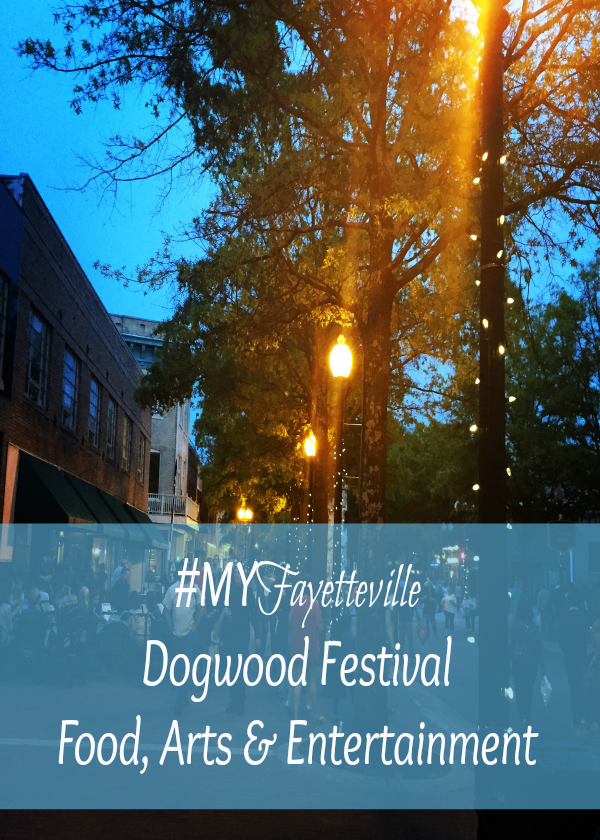 We arrived at Festival Park and I was shocked at how many people were out for the first night of this amazing 3 day Festival. They were everywhere! We found parking rather easily since there are several businesses in the area who offer their parking lots for the entire night for less than $10. As we walked across the street to the park I was reminded of the small carnivals and things I used to attend as a child in New York.
Our PR Rep with the Fayetteville Area Conventions and Visitors Bureau (FACVB from here on out…lol) had given us wrist bands earlier in the evening telling us that we were going to be sitting in the VIP Tent and the Festival. To me this in itself was a bit exciting and I couldn't wait to see what that actually meant. Little did I know that to get to the VIP Tent we would actually get to walk a Red Carpet!! Now ya'll know that just about made my night. I could've gone home off of that alone!
So once they made the start of my night with that small strip of colored carpet we were off to the tent. It was catered and not only was there amazing food but we also found a table right next to the stage! We were able to eat, chat and do our Social Media thang all while listening to the tunes being sung by artists like Faith Bardhill and the Backrow Saints out of Sanford, NC. This band won the 2014 Fall Dogwood Battle of the Bands and that is how she was given the amazing opportunity to Open this years Dogwood Festival.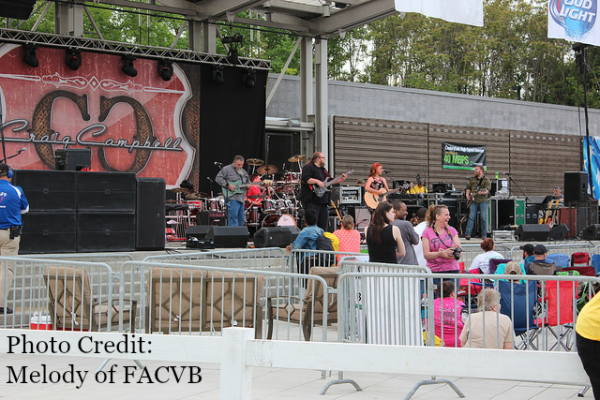 I had the pleasure of connecting with her obviously and rightfully proud mother, Wanda and she gave me a bit of a bio on Faith…
Faith is an 18 year old Senior. She auditioned for American Idol this year and was called back 3 times before being cut. She was also a 2014 Carolina Music Awards Nominee in the Youth category. She plans to attend college in the Fall as a music major.
I think it is so wonderful that The Fayetteville Dogwood Festival not only gives families in the city and surrounding areas the opportunity to have fun at a low cost but they are making opportunities and opening doors for artists like Faith to pursue and obtain their dreams. Listen to Faith and her amazing band HERE.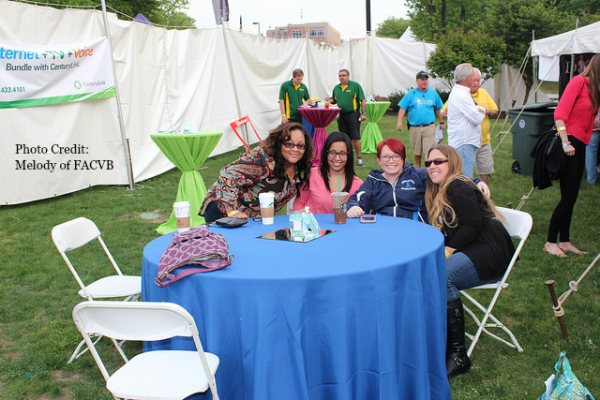 We enjoyed Faith and the amazing food offered in the VIP Tent that was catered by Hilltop House Restaurant and when I tell you that their Stewed Beef, White Rice, Roasted Potatoes, Carrots and mini rolls had me wanting to establish camp right there at the buffet I am not exaggerating! I can't even get into dessert! If you weren't there then you definitely need to visit them and make a night of it. I know I plan to 🙂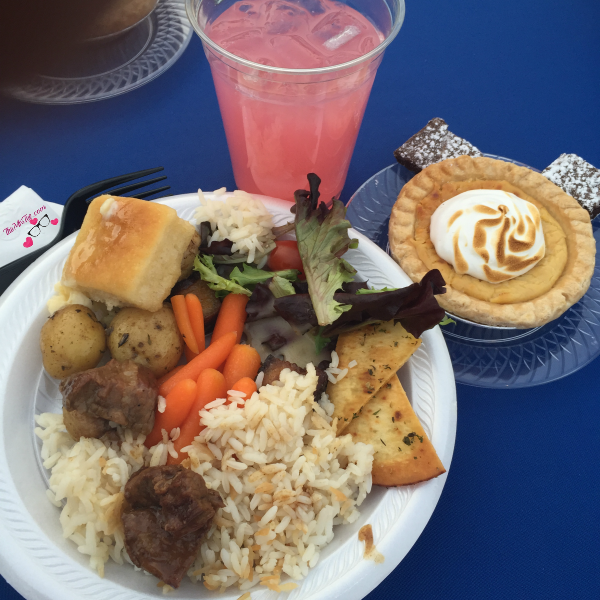 After I stuffed my face, we decided to take a short walk to the historic downtown area to see what was going on down there. We were able to see some amazing food vendors who offered all your favorite carnival food like Corn Dogs, Turkey Legs, Subs, Funnel Cakes and so much more! You definitely won't go hungry at The Fayetteville Dogwood Festival.
Downtown was so amazingly different than it had been earlier in the day during our walking Historical Tour. The city was all a glow and the people were mingling, laughing and simply enjoying life in a town made just for that. As we walked, we got to see so many different showcases of art and entertainment from dancing, musicians, singing and even a bit of performance art right in from of the MarketHouse we had been a top of only a few hours before!
After spending a bit of time downtown we headed back over to Festival Park to be sure we caught the headline performance of Craig Campbell. I had been excited and anticipating his performance since earlier in the day when I received and unexpected but great reply to a tweet I'd posted…
@mrsteeh @faydogwood gonna be a great night!!

— Craig Campbell (@craigcampbelltv) April 24, 2015
Craig Campbell is a country singer who's country charm comes through in each of his songs. We did get a bit impatient as the formalities of thanking sponsors and such had to be done before he came out but once he hit that stage we definitely knew what we had been waiting for and it was a great way to end a wonderful night.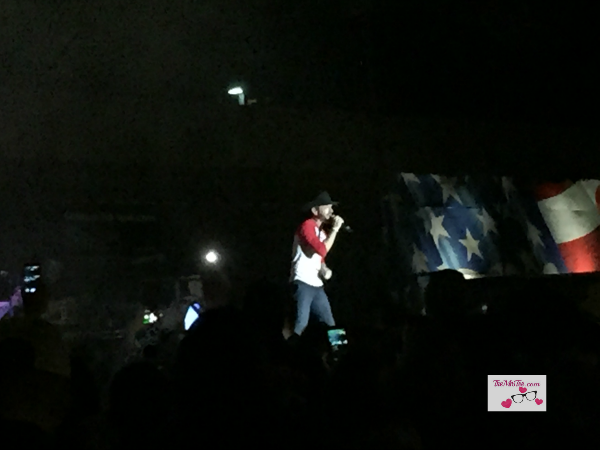 Attending the Fayetteville Dogwood Festival is an experience I will never forget but it is also one I plan to repeat next year, the year after and the year after that! Now my #FAYTour15 fun isn't over just yet. We still had one more day to encounter a bit of history, taste a bit of Italy and even zip through a bit of Fayetteville's hidden beauty. Stay Tuned…!!
Don't Forget You Can SEE All of the #FAYTour15 Fun through my #MrsTeeVlogs Videos –> TheMrsTee On YouTube

**Disclosure of Material Connection: I received the experiences and/or services mentioned above for free from Fayetteville Area Convention and Visitor's Bureau in the hope that I would mention it on my blog. Regardless, I only recommend products or services I use personally and believe will be good for my readers. I am disclosing this in accordance with the Federal Trade Commission's 16 CFR, Part 255: "Guides Concerning the Use of Endorsements and Testimonials in Advertising."
Lifestyle Blogger & Media Influencer
at
TheMrsTee
Tiffany is the ' Tee' behind TheMrsTee. Tiffany is a BlogHer VOTY Award Honoree as well as a Contributing Author with Modern Social f/k/a iBlog Magazine and BlogHer. Growing herself as a Brand and Influencer are always at the center of Tiffany's passion. As a Brand Ambassador, Tiffany has the opportunity to promote and support the brands she loves the most with her own unique perspective. Tiffany has extended her presence beyond her URL to Television as a Panelist for the MomsEveryday TV Show for 2 Seasons and to the stage as a Cast Member of the Finale Season of The Listen To Your Mother Show.
Latest posts by TheMrsTee (see all)