The Walking Tour or even the Dogwood Festival would have been an amazing way to bring our #FAYTour15 to a close but the Fayetteville Area Conventions and Visitors Bureau (FACVB) had a few more surprises in store for us. Four to be exact. Four ways to make one day an amazing memory for all of us! A bit of History past and present, a taste of Italy and finally putting all our fears 'on the line' with an amazing Zipline adventure!
To start the day we headed to the lobby of our hotel,
Fairfield Inn & Suites – Fayetteville North
and indulged in their complimentary hot breakfast. I had eggs, bacon and a freshly made (DIY) waffle. It was so yummy and just the fuel I needed to get me through the next couple of hours. Our first stop was going to be the
Airborne & Special Operations Museum
the new home for the
Original
Iron Mike from Ft. Bragg as well as a museum which tasks itself with the mission of giving honor to those who have served for our country through facts, images and interactive experiences.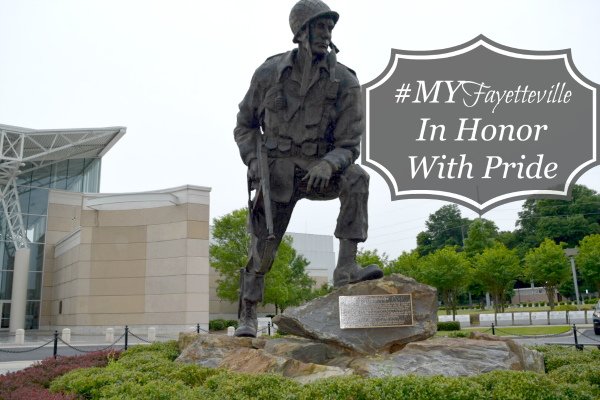 Purpose
Executive Director, Paul Galloway started our day with an introduction and brief history of the museum. His passion for the ASOMF was evident not only in what he said but how he said it. He let us know that the reason the ASOMF exists is to help preserve and share the sacrifices and dedication of the soldiers who serve for our country so tirelessly. The museum does this not only with their efforts to give the public high quality exhibits but by giving Veterans the opportunity to volunteer and serve at the museum and offer their memories and experience towards it's success.
Did You Know?
The Airborne Museum was sold to the Army and the property is 'technically' part of Ft. Bragg up to 5ft from the walls. Beyond that the property is leased by the ASOMF from the City of Fayetteville.
The Airborne Museum is home to the 1st Memorial to Special Operations Canines killed in action. 66 dogs have been Memorialized to date.
As we made our way through the exhibit I was surprised by the amount of emotions I felt as I watched the video presentations, heard the recordings and looked at some of the personal items from the soldiers involved in this mission.
Honor & Pride
As a military spouse, it is sometimes hard to truly understand what it is our spouses experience. Most times it is not something they bring home to share because just as they protect our country they want to protect us as their family as well. They always want to stand in the way of the true danger and risk they face simply to give us a peace of mind. Yet as I walked through this exhibit, saw what they saw and then read the notes they sent home full of care, concern and strength it really hit me. This life they choose to live isn't easy, it's dangerous but still they are dedicated to it and those who serve with them.
After the walk-through exhibit we made our way to the museum's permanent exhibit and it was amazing how massive the displays were. As I looked above me and around me I began to understand what it means to give honor and have pride for those who have given so much on our behalf.
Once we finished the final Simulator we climbed on the bus and headed off for a bit of history at the 1897 Poe House – nope not the poet – even though the original owner shares his name this Edgar Allen Poe was born in Fayetteville and was a successful businessman.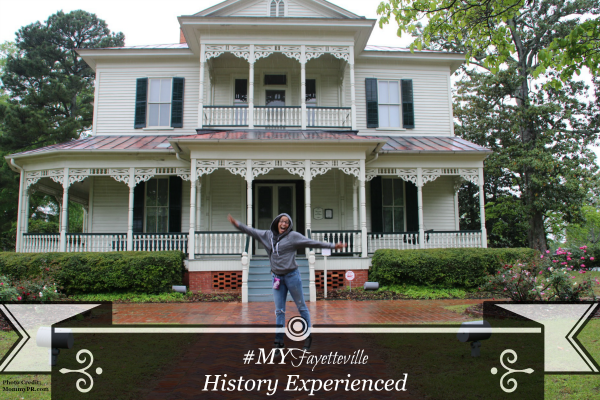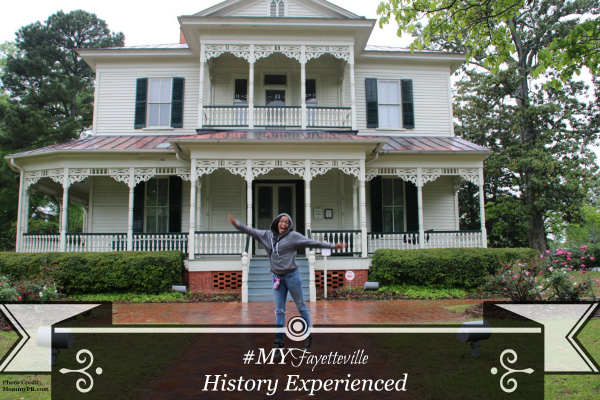 E.A. Poe as he is known here in Fayetteville (it helps lessen the confusion with the other guy…lol) built his home in the classic Victorian style which followed the belief that there was no perfection other than that made by God. For this reason Victorian homes were always made with slight imperfections within their design. Our tour guide, Louise, pointed out and example of this imperfection on the beautiful wrap-around porch of the Poe House.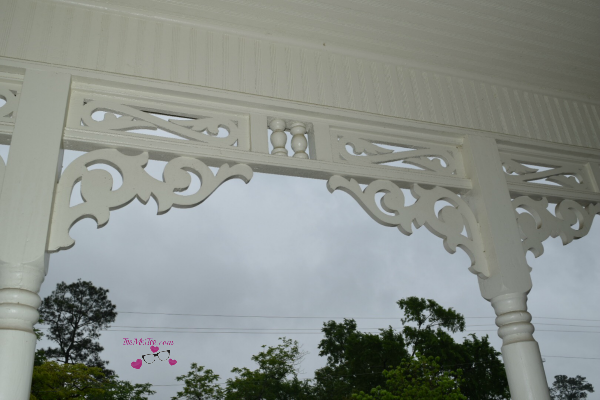 You can see here how the two posts are not the same. This 'imperfection' was done purposely to be certain that no man could claim to have built the perfect house.
From the porch we started our tour of the home. It was amazing how walking through those doors gave us the feeling of walking back in time. We were told so many interesting facts about how families lived, functioned and survived at the turn of the 20th Century.
Did You Know?
Visitors were required to present 'Calling Cards' when visiting a home. If you were married you carried 2 cards and presented them depending on whether you were visiting alone or with your spouse. If you were in mourning, your card would have a black border along the edges – the thicker the border the less time had passed since your loved one's death.
Visitors were only allowed to wait or sit in one room of the home located on the first floor. All other rooms were restricted only to residents of the home.
Homes had 2 sets of staircases – one for the family and one set for the servants.
Children stayed in a nursery together (2-4 children at a time) until they were nearly 7 years old.
The Master Bedroom would have it's own entrance so that the Master of the home could enter and wash without encountering other members of the family.
The cook's room was the only room without a fireplace because she spent the majority of her time in the kitchen (up to 12 hours a day). 
The kitchen was located outside of the rest of the home (across a hallway and outside) so that the fumes of the cooking food would not fill the home and so that the heat from the stove would not become overwhelming.
Women would save the hair from their brushes (in a small bowl with a lid and a hole in the middle) to make things such as friendship bracelets, jewelry and to even add volume to their hairstyles.
Towards the end of our tour we were told about a little bit of a legend surrounding the Poe home that perhaps a few of the former residents were still lingering around and trying to make their presence known by those visiting. We were told to check our photos because there were a few times they were actually caught on camera. Well guess what? One of us actually saw something… Krystel from ArmyWife101 even shared it with her Followers to see if they could see what she saw – Check It Out For Yourself.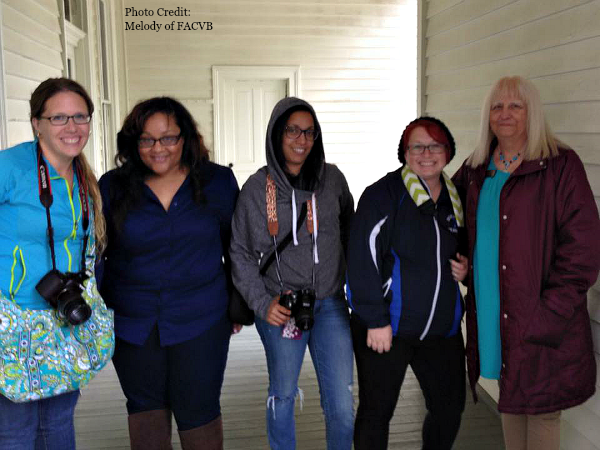 After the Poe House we were headed to our next destination – Luigi's Restaurant for a taste of Italy. I was more than ready since Italian is one of my favorite cuisines.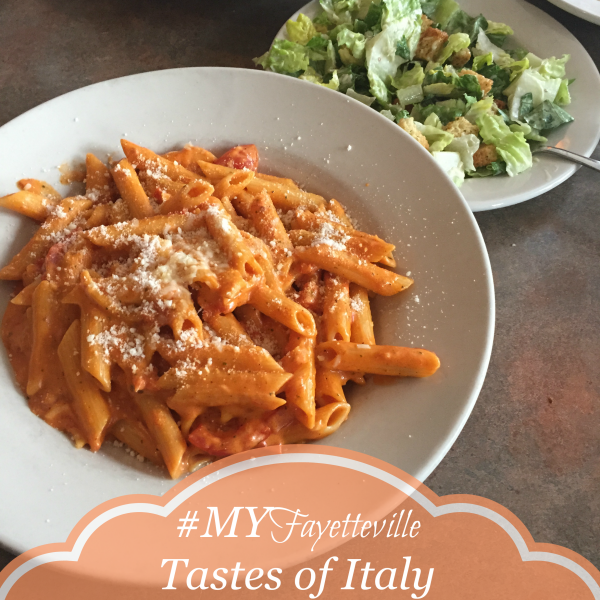 That's right folks – Penne Vodka! I needed little to no help picking my entree here because I went with one of my favorite Italian dishes and I was not disappointed. This pasta was the perfect balance and the sauce was amazing. So, if you want a bit of homestyle Italian without the franchise taste then Luigi's is the place you need to go.
Once we finished at Luigi's it was time for the main event! The rain that had followed us throughout the day let up just in time for us to do what we had all been talking, tweeting and posting about all weekend – ZipLining!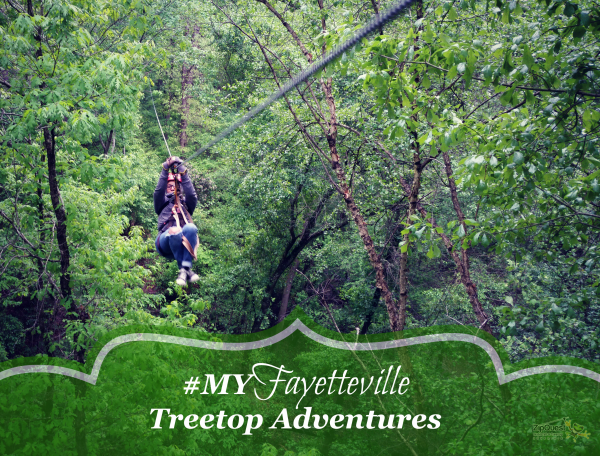 That's Me!! TheMrsTee zipping through the treetops thanks to the skills of the amazing ZipQuest Waterfall & Treetop Adventure guides Erick and Kyle we had the chance to face our fears, embrace the challenges and make a memory of a lifetime.
Did You Know?
ZipQuest offers 16 Tree Platforms, 8 Zip Lines, 3 Canopy Bridges (over 100 feet long) and 3 Spiral Staircases.
During your adventure you will have the guidance of 2 trained ZipQuest Guides who not only make sure you are safe and fully aware of all you need to know to stay that way but also make your adventure one you will never forget!
You can purchase a photo package which allows you to capture the memories of your day in some of the most scenic areas of the ZipQuest tour.
Okay so I must admit I was scared and nervous (like pee my pants nervous) for the first 3-4 zips but once we reached the first bridge and staircase it became more excitement and disbelief that I was actually doing something I had only dreamed of for years now.
I must admit expressing the fullness of what a ZipLine adventure is isn't easy in words so take a look at my Vlog from the day and you can not only seem me Zip the first line but also check out a few of those amazing photos I was talking about… (Skip to 9:39 if you want to get right to the ZipQuest Fun 🙂 )
**Disclosure of Material Connection: I received the experiences and/or services mentioned above for free from Fayetteville Area Convention and Visitor's Bureau in the hope that I would mention it on my blog. Regardless, I only recommend products or services I use personally and believe will be good for my readers. I am disclosing this in accordance with the Federal Trade Commission's 16 CFR, Part 255: "Guides Concerning the Use of Endorsements and Testimonials in Advertising."
Lifestyle Blogger & Media Influencer
at
TheMrsTee
Tiffany is the ' Tee' behind TheMrsTee. Tiffany is a BlogHer VOTY Award Honoree as well as a Contributing Author with Modern Social f/k/a iBlog Magazine and BlogHer. Growing herself as a Brand and Influencer are always at the center of Tiffany's passion. As a Brand Ambassador, Tiffany has the opportunity to promote and support the brands she loves the most with her own unique perspective. Tiffany has extended her presence beyond her URL to Television as a Panelist for the MomsEveryday TV Show for 2 Seasons and to the stage as a Cast Member of the Finale Season of The Listen To Your Mother Show.
Latest posts by TheMrsTee (see all)