I've been thinking on this year's one word for a bit now. What do I want to focus on work towards and do in 2015? So many different words came to mind: challenge myself, strive for my dreams, achieve my goals and even pause to embrace each moment. Still something didn't say 'yes' to any of these. So what one word did I want? Which word could be mine for 2015?
The first word I pondered was achieve because I know that I want to make moves towards my goals this year. Yet something about it didn't feel right. Achieve. Achieve felt like it was simply about getting higher. That's not what it want. Yes I want to be in a different place by the end of 2015 but I want the 'getting there' to have meaning and purpose.
So what word could embrace my desire to reach certain goals but also include the growth needed to do it?
Growth. That was it. Growth. This word makes me think of not only reaching and achieving goals and dreams but also making progress and process it can take to get there.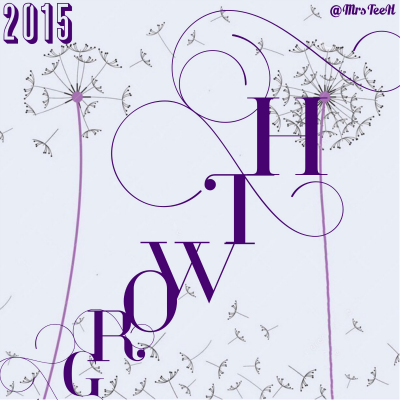 To have growth you need to take not only the good of where you are but the bad as well to help take you where you are going. That's what I want to do in 2015. I want to have growth in my life. The things that have made me stumble and hurt those around me I want to take them and learn how to move forward and encourage.
As a Woman, the personal issues that may have kept me back and in my comfort zone. I want to overcome and use them as inspiration to step beyond the borders of my comfort and be more than I think I am.
As a Mom, I want to learn how to change as my children change. They will always be my babies but they will not always be babies. I want to learn how to parent the child they are not not the child they used to or even the one I thought they were.
As a Wife, I know I need to learn how to look beyond myself. I need to begin to take the lessons of our past together and use them to help give us a brighter future.
As a Friend, I am excited to allow my friendships to grow beyond being a simple acquaintance but a part of my life. I want to take the chance of trust and hopefully enjoy the benefits of having that can have. I have lived so long only 'knowing' people but never truly allowing them to get to know me. Letting my walls down won't be easy but I think it will be worth it.
So that's it. I found my word. Though the process took a bit longer than I though I know that for 2015 I desire Growth. When I come to the close of this year I want to know that through the next 52 weeks I have moved from where I am today, learned from being there and come to appreciate the journey it took to leave.
What's your focus for this year?
Can you pick just one word to describe it?
Lifestyle Blogger & Media Influencer
at
TheMrsTee
Tiffany is the ' Tee' behind TheMrsTee. Tiffany is a BlogHer VOTY Award Honoree as well as a Contributing Author with Modern Social f/k/a iBlog Magazine and BlogHer. Growing herself as a Brand and Influencer are always at the center of Tiffany's passion. As a Brand Ambassador, Tiffany has the opportunity to promote and support the brands she loves the most with her own unique perspective. Tiffany has extended her presence beyond her URL to Television as a Panelist for the MomsEveryday TV Show for 2 Seasons and to the stage as a Cast Member of the Finale Season of The Listen To Your Mother Show.
Latest posts by TheMrsTee (see all)