No Material Connection Disclosure
If you live in Fayetteville, you know where Ramsey Street is but do you know all this street has to offer? From activities, necessities and yes, to fine dining. Scrub Oaks Contemporary American Pub is one of those places a gem hidden in plain sight right on one of Fayetteville's most popular and well known streets!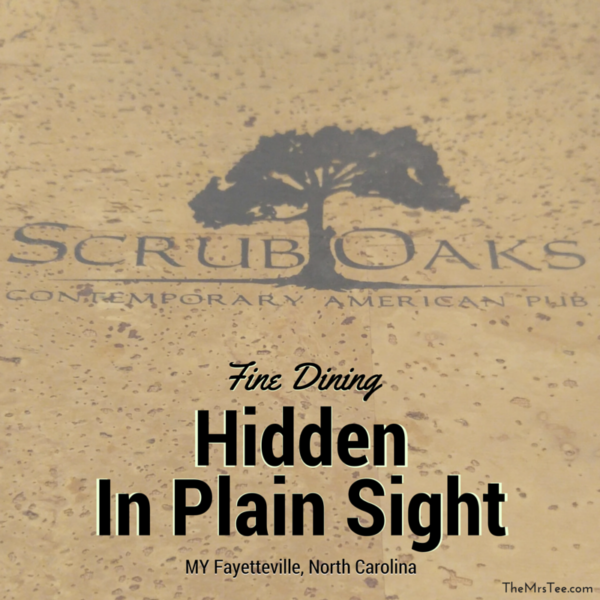 Yesterday the Hubby and I had an impromptu Day Date and we wanted to have lunch somewhere that wasn't necessarily run of the mill. I remember Scrub Oaks from when they gave a Gift Card to one of the attendees of the NCBNFayetteville Meet Up. I had never had a chance to go dine there myself but what better time than the present?!?
We walked in and since it was only around 1pm we seemed to have the place to ourselves except for a few diners sitting at the bar. We were greeted by one of the friendliest guys I've met in a while and taken to a nice table in a room off the main area. Later I found out he was a fellow New York native and also a Yankee fan! A win-win in my Hubby's eyes!
Scrub Oaks has a down home feel. When I walked in I instantly felt like I was back home in New York with one of the hole-in-the-wall finds that the city can be so famous for. It was so awesome to find a place like Scrub Oaks here in North Carolina that can rival them any day.
The Meal
I started the meal with a Wedge Salad and when I tell you that lettuce was definitely part of that 90% fresh they aim for….it was by far the best and crispiest salad I've had and I wish I had one right now!
After a bit of back on forth on what to order we went with the Steak Tips over rice and Spaghetti with Meat Sauce. The back and forth was mainly due to the great choices and the fact that I wanted to be sure we each had a different dish so I could try a bit of both 😉
My Hubby had the steak tips and all he kept saying was how perfect the rice and seasoning of the steak was. I can agree since I had a few bites of his dish and almost wished I ordered it myself…until my own dish came.
The Spaghetti and Meat Sauce tasted homemade. That's not something I can say too often with restaurants now-a-days who seem to value the quick preparation over the taste but that can not be said about Scrub Oaks. According to our friendly waiter (who's name I forgot to get but trust me you'll know him when you see him) they pride themselves on making sure 90% of their menu is homemade and fresh.
OMGosh I almost forgot! I tried a little something from the Drink Menu – the Pink Panther. Our waiter promised me it was the perfect drink for the Spring/Summer and that he made it himself. Now don't ask me everything that was in it besides complete yumminess!!
We ended our meal with dessert. Okay – I ended our meal. My Hubby was so stuffed with his amazing meal and the salad he had that he couldn't make it to dessert BUT I made sure I saved room. Thanks to the awesome recommendation from our waiter I had the Cherry Cobbler which was homemade and so sweet and savory I could hardly stand it – oh and coffee – you know I had coffee!
Needless to say, now that I've found it, Scrub Oaks American Contemporary Pub will see us rather often. I can't wait to go back so I can try out the other amazing dishes on the menu and get the name of the waiter I will never forget!!
Be sure to stop by and tell them TheMrsTee sent you!!
Check them out on Facebook and on ScrubOaks.com
Lifestyle Blogger & Media Influencer
at
TheMrsTee
Tiffany is the ' Tee' behind TheMrsTee. Tiffany is a BlogHer VOTY Award Honoree as well as a Contributing Author with Modern Social f/k/a iBlog Magazine and BlogHer. Growing herself as a Brand and Influencer are always at the center of Tiffany's passion. As a Brand Ambassador, Tiffany has the opportunity to promote and support the brands she loves the most with her own unique perspective. Tiffany has extended her presence beyond her URL to Television as a Panelist for the MomsEveryday TV Show for 2 Seasons and to the stage as a Cast Member of the Finale Season of The Listen To Your Mother Show.
Latest posts by TheMrsTee (see all)