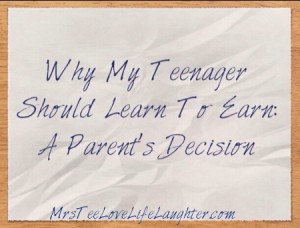 My son is 17 years old and because of my Hubby's hard work and commitment to making sure our Kiddies can have the things we never did growing up he hasn't had to work a day yet.
I would say I am saying this with a bit of pride that we are able to provide his needs and allow him to focus on school and the things Teenagers should be enjoying in life.  Yet, there is a drawback to having a Teenager who doesn't truly know the meaning of earning what he wants.
Both my Hubby and I worked all throughout our High School days. I was working as soon as my Grandmother could take me to fill out my Working Papers and my Hubby was earning some sort of income even if it meant working side by side with his Dad since he can remember.
As a Teenager, I was always aware of what the value of things were.  My Grandmother was not a rich woman and trying to survive while raising a Teenager wasn't easy.  When I wanted something she was not shy about telling me what it would take for me to get it.
Once I started working, I would always set a goal for the things I wanted to buy.  Still, I also had bills that usually came along with those wants.  My first pager (yes I'm that old), my first cell phone and even my own clothes.  I knew what it meant to work towards getting something and very rarely was any of it simply given to me.
The same goes for my Hubby.  So when I look at my lovely Teenager now and think back on the 5-6 cell phones he has either lost or broken in one way or another, the numerous jackets and hoodies he has carelessly left somewhere or even the sneakers that have mysteriously disappeared I wonder if our desire to give him what we didn't have may be a bit damaging.
When you don't have to work or put anything into getting something you are more likely to disregard it's value and take less care to keep it.  We have come to a point where we are making a conscious decision to teach my Teenager to learn to earn.
When he dropped his latest cell phone and the screen was shattered beyond use, we didn't simply replace it as we usually do.  Instead he has been without one for almost a month now until he can earn enough money to help pay for it's replacement.  Trust me a Teenager without a cell phone finds a lot of motivation to earn even if it means shoveling the 2 inches of snow that's in the walkway 😀
After he 'forgot' his $40 hoodie at someone's house he had to walk around for 2 weeks wearing one that he didn't consider to be 'in' until he could remember which friend he left it with.  Needless to say I don't think he will be as careless the next time.
How have you taught your Teenager or children the value behind the things they receive?
Do you believe a Teenager should work through High School or wait until they graduate?
Lifestyle Blogger & Media Influencer
at
TheMrsTee
Tiffany is the ' Tee' behind TheMrsTee. Tiffany is a BlogHer VOTY Award Honoree as well as a Contributing Author with Modern Social f/k/a iBlog Magazine and BlogHer. Growing herself as a Brand and Influencer are always at the center of Tiffany's passion. As a Brand Ambassador, Tiffany has the opportunity to promote and support the brands she loves the most with her own unique perspective. Tiffany has extended her presence beyond her URL to Television as a Panelist for the MomsEveryday TV Show for 2 Seasons and to the stage as a Cast Member of the Finale Season of The Listen To Your Mother Show.
Latest posts by TheMrsTee (see all)