So, I already told you how North Carolina is the place to be if you want to get the best fresh fruit possible. I'm talking about pick it and eat it kinda freshness. Now the Team and I enjoyed the best of the strawberry goodness last month and picked them on our own but we haven't actually gone to pick blueberries yet as a family. That doesn't mean we didn't get to enjoy eating them! Aaaaah thank goodness for some good o'l southern baking Aunts who happen to live just down the road (well now down the road in southern terms could be anything less than 45 minutes but still…moving on).
Last week we had family visiting and as any good southern family knows visiting family means extra special cooking and baking. Which to me means YumYummy goodness all around! Well because it's blueberry season this also meant my Girlies got to experience a bit of baking with Auntie as she prepared something she found during last season called…wait for it… Blueberry Dump Cake. That's right Dump Cake. Don't let the name fool you folks this creation was some blueberry goodness of the heavenly sort. Let me tell you. Well actually let me show you first.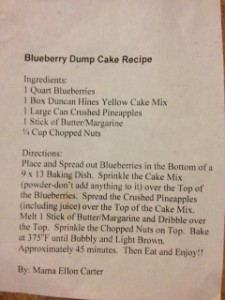 My Aunt originally obtained the recipe from the farm where she picks her blueberries (unfortunately I am not sure of the farm) but the recipe was accredited to a woman named Mama Ellon Carter and if I were to ever meet her I would definitely giver her a well deserved hug and thank you.
So, my Aunt and my Girlies headed to the kitchen to begin the process as I waited (not so patiently) with the rest of my family in the living room trying to watch a moving and act as if the aromas and such coming out of there weren't driving me mad.
So the first thing they did was to wash and pick off the stems from the blueberries: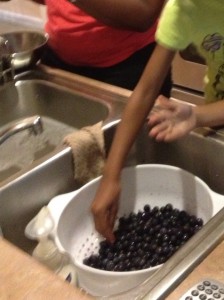 They had to make sure they didn't have any stems or dirt mixed in when they started adding the rest of the ingredients…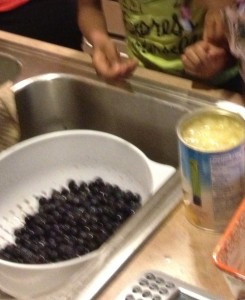 Next they poured the clean berries into a 9×13 baking dish: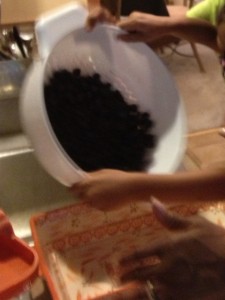 Then my Aunt helped them to Sprinkle the Cake Mix over the top of the blueberries…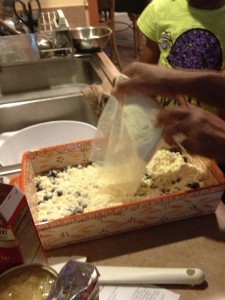 Then pour the juicy pineapples on top (I bet you didn't expect that to be in there)…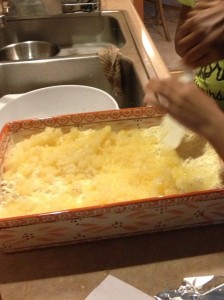 My Aunt then melted a stick of butter and poured it over the top we skipped the nuts because it can go by preference…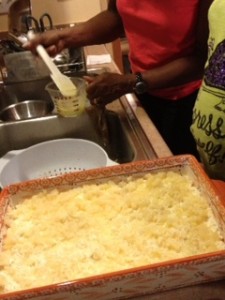 Once that was done it was ready for the oven at 375 degrees for about 45 minutes….Oh but the wait! The wait while that smell oozes all throughout the house is so close to torture I can barely put it to words. but when that timer goes ding! Glorious rapture!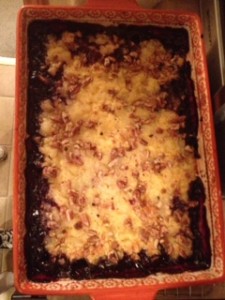 Once I had my coffee I was simply at a total place of bliss and my Girlies had an experience with my Aunt that they would never forget.
Do you teach your Kiddies how to cook/bake through watching or hands on?
Lifestyle Blogger & Media Influencer
at
TheMrsTee
Tiffany is the ' Tee' behind TheMrsTee. Tiffany is a BlogHer VOTY Award Honoree as well as a Contributing Author with Modern Social f/k/a iBlog Magazine and BlogHer. Growing herself as a Brand and Influencer are always at the center of Tiffany's passion. As a Brand Ambassador, Tiffany has the opportunity to promote and support the brands she loves the most with her own unique perspective. Tiffany has extended her presence beyond her URL to Television as a Panelist for the MomsEveryday TV Show for 2 Seasons and to the stage as a Cast Member of the Finale Season of The Listen To Your Mother Show.
Latest posts by TheMrsTee (see all)