Proverbs 22:6

King James Version (KJV)

6 Train up a child in the way he should go: and when he is old, he will not depart from it.
Train him up and let him go. I can do this. I know that I have always raised my son according to our faith and the values I hold highest in my life. Yet as the time to send him off to college came closer I began to worry, wonder and even question if I had done enough. Was he ready? Was I ready? I think my biggest fears were that I hadn't made him aware of who he was and his potential enough to help him avoid the pressure from others around him. I wanted to be sure that no matter what he stayed true to himself and the lessons I'd taught him.
That last night at home was full of last minute laundry, packing and check lists. Still I took a moment with him. I wanted to let him know what my fears were and that in spite of them I knew that because of how I raised him, the values my Hubby and I had placed in him I still knew he could do this. He asked questions, I answered. I told him everything I could think he may need to know and even spoke on the tops I didn't really want to (ya'll know what I mean…lol). I told him he could always call me when he needed me and that No. Matter. What. I was here for him always.
Then the day arrived. Drop off and check in day. We talked. We laughed. We shared. I knew it was going to be okay. The pressure was lighter. I had done my part and the rest was up to him. I had to let him go. He was ready whether I was or not.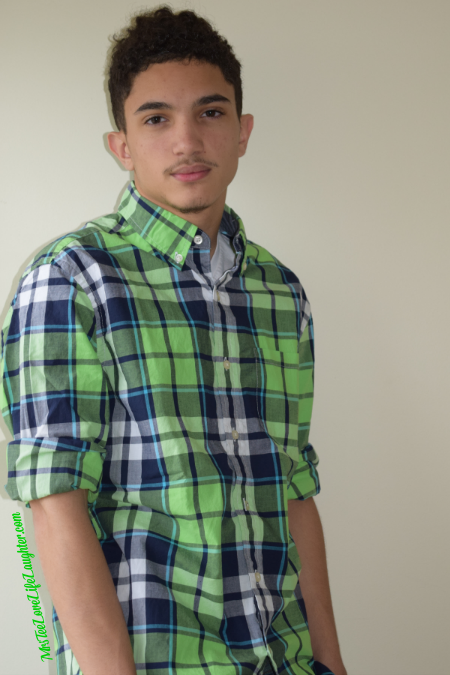 That's when I saw the change. I watched him interacting with his friends, his leaders and those around him and I saw the man he has the potential to be but I also saw the young man I had raised him to be. He was polite, respectful, aware and still himself. I saw him distance himself from those who were already causing chaos and I watched as he surrounded himself with his loyal friends. I saw the training. It wasn't in vain. I could let him go.
Finding the courage to let your Teenager go and be the man you raised him to be can be difficult but not impossible. Trust me I am sure I will still have those moments where I wonder if letting him go was the right thing, the right timing, the right choice yet it is then that I can think back on his foundation, the training and know that he will be ok and even when he isn't he has a path to return to.
Have you ever questioned your choices as a parent?
How have you reassured yourself?
Do you have a Teenager heading for a new stage in life?
What preparation have you made to help them?
Lifestyle Blogger, Brand Ambassador, YouTuber & Media Influencer
at
TheMrsTee
Tiffany is the ' Tee' behind TheMrsTee - a Lifestyle Blog created as a place to share her love of all things Faith, Family, Fashion, Food, Fun, Tech & Travel. Tiffany has established her influence within both the Blogging & Vlogging Communities. As a Brand Ambassador, Tiffany has the opportunity to promote and support the brands she loves the most with her own unique perspective. Tiffany has extended her presence beyond her URL to Television as a Panelist for the MomsEveryday TV Show for 2 Seasons and to the stage as a Cast Member of the Finale Season of The Listen To Your Mother Show. A 2016 BlogHer VOTY Award Honoree, Contributing Author with Modern Social f/k/a iBlog Magazine and BlogHer. Growing herself as a Brand and Influencer are always at the center of Tiffany's passion.
Latest posts by TheMrsTee (see all)