How much time do we have?
My youngest kiddie is a little bit over 2 1/2 years old and totally into playing video games with his older siblings. His sisters are total gamers and play all the time.  Problem: most of their Kiddie appropriate games are 2 players only.  The Girlies solution? Give Buddie a bogus controller and talk him into thinking he is "doing such a great job!"  So far this has been working since he's been old enough to work the controller.  He knows his designated controller and is more than happy to sit there playing, laughing and giggling along with the Girlies.
My question: How much time do we have? When is he going to realize that his controller is having absolutely no impact on whatever game he is playing?  I actually think the time may be winding up really soon.  Today they were playing Toy Story 3 and he turns to me and says "Momma where is my player? I only see Woody and Buzz…who am I supposed to be?"
I looked an my Girlies and told them…you know this is not going to work much longer right? LOL  the both just looked at me then turned to him and say "Hey Buddie you know your playing really great right?" And so the brainwashing and manipulation continued.  My poor baby.  My Hubby's theory on the whole situation is "Hey it keeps the peace" Which in all honesty in a house with 3 Kiddies under 7 and a Teenager is something we kinda seek after at all costs.  I mean is it really doing him any harm?  Eventually we will just switch out his bogus controller and force the take turn rules.  Or start a search for the few Kiddie appropriate games that have more than 2 player options and will still maintain their interests levels.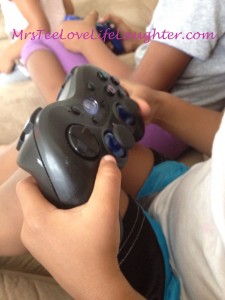 So, How much time do you think we have before he realizes he's been playing with a bogus controller?
*This post is written as part of The Blog Dare Writing Prompts at Bloggy Moms click the button below to join in the fun:
Lifestyle Blogger & Media Influencer
at
TheMrsTee
Tiffany is the ' Tee' behind TheMrsTee. Tiffany is a BlogHer VOTY Award Honoree as well as a Contributing Author with Modern Social f/k/a iBlog Magazine and BlogHer. Growing herself as a Brand and Influencer are always at the center of Tiffany's passion. As a Brand Ambassador, Tiffany has the opportunity to promote and support the brands she loves the most with her own unique perspective. Tiffany has extended her presence beyond her URL to Television as a Panelist for the MomsEveryday TV Show for 2 Seasons and to the stage as a Cast Member of the Finale Season of The Listen To Your Mother Show.
Latest posts by TheMrsTee (see all)