I've learned that support is something we all need and even when I find it difficult to ask for it's always there. I think the easiest way to learn how to give Blogger Support has been in learning how to receive it from those around me. Here are a few things I've learned along the way. The ABCs of Blogger Support . . .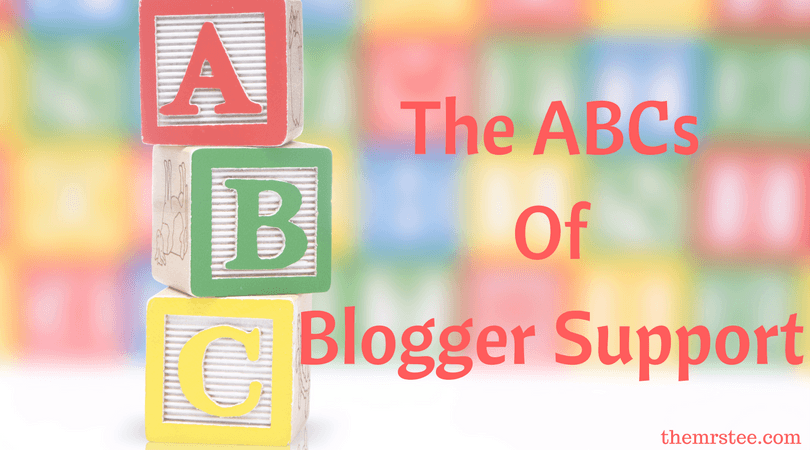 Blog support is something we all seek out in one way or another. Joining different Communities, Facebook Groups, Blogging Networks are all ways to find and share support. Still at times it can be a bit confusing and even overwhelming to learn exactly what you can do to gain and give Blogger Support.
A – Acknowledge: Recognize your fellow Bloggers. If they Like, Support or Comment on your Blog pause a moment and acknowlege them.
B – Boost: Share the promotion love. If another Blogger is running a Giveaway, LinkUp or Hop help promote it.
C – Comment: We all know the Golden Rule of being a Supportive Blogger is to Share the Comment Love! If you read a post, take the moment to leave a substantial comment. Refer to the content and don't be generic.
D – Develop: Develop a community with other Bloggers. Having a group of Bloggers whom you can count on for support, promotion and even critcism is key in being successful.
E – Encourage: When you meet a new Blogger enourage them. Let them know that they can do this Blogger thing. Everyone needs a positive word now and then.
F – Follow: Follow other Blogs. This way you can stay in contact, know what is going on with their Blog and keep up with your Comment Love.
G – Gratitude: Show It, When someone shares, supports or encourages you don't siply let it go by. Say Thank You!
H – Hang Out: If possible, establish a friendship outside of your individual Blogs. Talk, Chat and Share with each other as people. This will help in putting a face and/or voice to the name behind the Blog.
I – Invest: Invest time into other Bloggers. Set time aside each day to read, comment and share another Blogger's content.
J – Join: Join a Blog Community. There are never too many ways to connect with others and a Blog Community can play a major role in helping to increase your presence and recognition among a larger audience.
K – Kindness: Don't do, say or treat a Blogger in a way any less than you would want to be treated. The Golden rule is always a great standard to go by and it even applies to Blogging.
L – Link: If you enjoyed someone's post and it is relevant to something you're writing Link back to them. You can send them a bit of New Reader support as well as show that you don't think it's all about you.
M – Manage: Manage your time well. What you do has an impact on others. If you are a part of a Hop or LinkUp and you have a set task or even just a set time to participate. Do It. Be sure you have your end of the deal ready when it is needed. This will not only show that you are easy to work with but als encourage others to wok with you again in the future.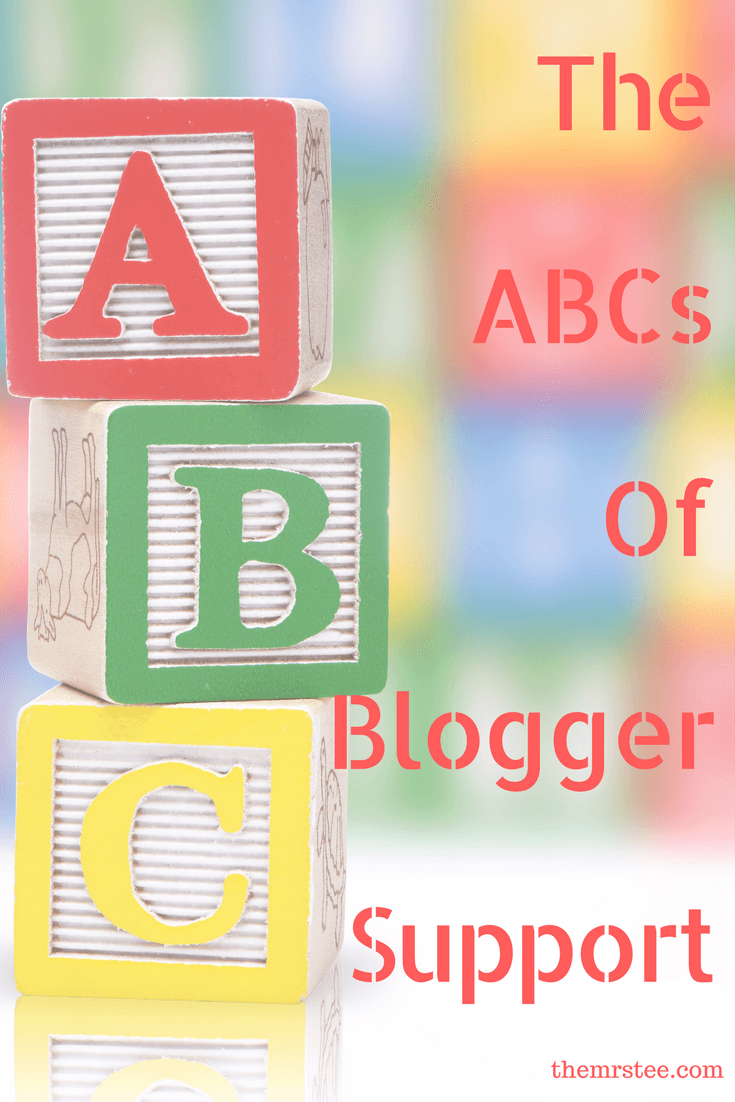 N – Notice: Take notice of the work of others. To create a true community around your Blog noticing the work, skills and achievements of those around you is so key. If you see a need and know someone who can fill it, recommend them. Building others up takes nothing away from who you are.
O – Opportunity: There are many times that we may receive Blogger Opportunities with companies and products. If it is something you are not interested in ask if it's okay to share the opportunity with a Blogger whom you think may be. I have been the receipient as well as the giver in these situations and it is always a great feeling to know someone is willing to think of you.
P – Produce: Produce quality content and LinkUp or Hop with other Bloggers. Your content will enhance the Link or Hop they are hosting as well as draw new reders to your own site.
Q – Question: If you have questions, challenges or simple mysteries to solve ask a fellow Blogger. This will open up a dialogue, extablish a connection and even help to show that you are not a lone ride. Every Blogger needs a Blogger. It can be very difficult to survive in Bloggervile without the help or support of other Bloggers.
R – Respect: Respect within the Blog Community is essential. There should never be any bullying or negativity against another Blogger. It doesn't show you in a positive light and it definitely doesn't make others want to engage with you.
S – Source: If you use, mention or refer to anyone else content or ideas give them credit as the Source. No one wants to read something and recognize it as their own without being givine the credit or having been asked.
T – Tweet: Twitter is one of the greatest Blogger tools out there and it doesn't take much time or effort to use. Through Twitter you can not only promote your own content and brand but you can support, share and encourage others as well.
U – Understand: Knowing that support need to be given as much as it is received is the key to being able to understand how it works. There's nothing more damaging than receiving support without being willing to give it in return.
V – Volunteer: Sometimes doing something 'just because' is just as valuable as doing it for a financial payment. Volunteer your time, skills or support to others. You never know when you may need the same from them.
W – Work: Work hard to establish who you are as a friend to others. The Blogging world is one that works best with the support of others. Don't isolate yourself and be sure to not only give support but accept it as well.
X, Y and Z: Okay guys these are letters that words don't come easy for so I'll use them as a way to share that the biggest part about Blogger Support is being the support you need. If you need shares – share. If you need comments – comment. If you need follows – follow. The greatest part about the Blogging Community is that what goes around always come back around in the best of ways!

Lifestyle Blogger & Media Influencer
at
TheMrsTee
Tiffany is the ' Tee' behind TheMrsTee. Tiffany is a BlogHer VOTY Award Honoree as well as a Contributing Author with Modern Social f/k/a iBlog Magazine and BlogHer. Growing herself as a Brand and Influencer are always at the center of Tiffany's passion. As a Brand Ambassador, Tiffany has the opportunity to promote and support the brands she loves the most with her own unique perspective. Tiffany has extended her presence beyond her URL to Television as a Panelist for the MomsEveryday TV Show for 2 Seasons and to the stage as a Cast Member of the Finale Season of The Listen To Your Mother Show.
Latest posts by TheMrsTee (see all)