It is time for the all new #AskAwayFriday! Get to know our new host's, meet our new co-host, and grab our new logo!
Thank you so much for helping to make our very first week as The NEW #AskAwayFriday a great success! We are so excited to move forward and get to know everyone better 10 questions at a time. This week we are happy to Welcome our 1st #AskAwayFriday CoHost!
What is #AskAwayFriday? Well…
#AskAwayFriday was created by the amazing Penny from Real Housewife of Caroline County as a place for us to connect with other bloggers by asking them questions to really get to know them!
Meeting other bloggers and making new friends is one of the best parts of this online world!
Your #AskAwayFriday Hosts…
Tamara from Tamara Like Camera,
Tiffany from Mrs. Tee Love Life Laughter,
Christy from Uplifting Families,
Stacey from This Momma's Ramblings
and
Amber from Bold Fit Mom
Introducing this week's amazing Co-Host…
Heather from The Frill of Life!
Heather is an amazing person and Blogger. With a tagline like hers "finding reasons to smile in everyday life" you can always find a bit of positivity when you go visit her. I also suggest you check out her Blog Tip Series: Busy Girl Blogger
Ready to start? Grab our Button, Follow your amazing Hosts and this week's Co-Host, Hop through the great link ups and make some amazing new friends!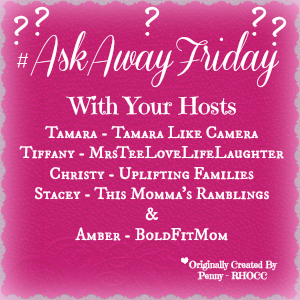 Now on to my swap. This week I had a chance to exchange questions with Suzanna from One Hollie Mama.

When you head over to see Suzanna's place – One Hoolie Mama (which I suggest you do!) you'll know exactly why she picked the name Hoolie for her site! She says it is short for Hooligans which includes her baby boy and her fur babies. She shares tons of fun stories about her New Mommy adventures and her love for her hubby, chocolate, photography and a bit of wine 😉
Now let's see what the Hoolie Mama had to ask me this week…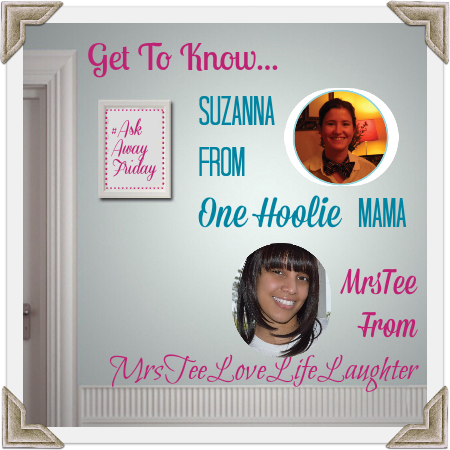 What was your favorite working-outside-of-the-home job?
I enjoyed all my jobs I had before deciding to Stay At Home with the Kiddies but I would have to say my favorite would be when I was working as an intern Paralegal for a Law Firm. The firm had 3 Partners who could not have been more different yet somehow they seemed to make it work. They each had their own area of law they specialized in and I had to work for each of them on different days. I think the need to learn each of their personalities, likes and dislikes helped to prepare me early on for some of the many different types of bosses you can have in the workforce. I will forever be grateful to all of them.

What has been your favorite place to live?
Hawaii. Hands down no hesitation. Despite the circumstance for our moving there not being ideal we loved our Aloha home. The two times I lived there I lived in completely different areas of the island. The first was an off post situation but it was very close to base which meant not many locals and a lot of military families. The second time, we moved off post as well but in a totally different area a bit further from base. We met a lot of local families and got to explore the island a bit more which helped our experience be that much better as well.
You've had a bunch of great writing opportunities outside of your blog –
which were you most excited to be asked to do?
Yes. I have truly been blessed to have had such amazing opportunities so early on. I think I was most excited for my very first which was with TenToTwenyParenting. I was honored that someone felt I knew enough about parenting my Teenager to actually want me to share it! LOL It is always fun to give people a glimpse into the ups and downs and crazy times of parenting a Teen.
Which are easier to raise, in your opinion, boys or girls?
Wow! Neither honestly. They each have their own set of things to face when parenting them. The same way I could never say The Teenager is easier to raise than Big Girlie. There are too many differentials and personality traits in play to say one is easier than the other. When he may irresponsible and she thirst for responsibility, she may be likely to hold grudges and he may be quick to forgive and forget.
In each sense both are still great kids but my parenting just needs to be focused on different areas for each. I don't thin their gender has much influence on this. Yes, girls can be a bit emotional and boys can be a bit detached but this is not a fact. It all truly depends on the child. Especially since my youngest boy is emotional and my oldest girl is a bit more detached and isolated.
I'm the oldest of 12 myself. What's one of you favorite things about having a big family?
Whoa! You could probably relate to my Hubby. He is 1 of 14 Kids! Whew! I have a big family but I was raised as an only child so I was used to getting and being the main cause for attention. It had it's great time and then the other moments when I wished there was someone there to share the blame umm fun with.
A few of my favorite things about having a big family to Momma are:
There is never a dull moment in my home. Someone is always doing something.
My Kiddies have built in friendships which help them discover new ones outside our home.
I am always guaranteed a great laugh at any moment.
Our memories are always full of different perspectives.
What is your favorite part of blogging?
Connecting with people from all walks of life and with their own unique stories. I have met so many wonderful Ladies through my Blog that I can relate to, learn from and even share with. It is definitely an amazing community to have the privilege of being a part of.
What do you find the most challenging?
In Blogging? Definitely the scheduling. It can be really difficult to keep everything in order especially when you have a big family at home to take care of. When I am visiting friends and their blogs a few minutes can become an hour really quickly so I always have to be aware to not get to caught up. There must be balance.
If you had to eat one food every day for the rest of your life, what would you pick to eat?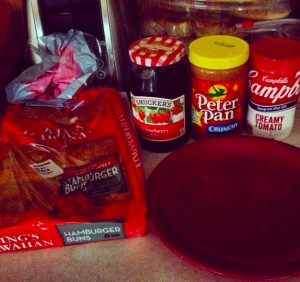 Aaaaah! Just one food? OMGosh how does a #HungryGirl choose? I would want to consider health benefits and taste. Hmmm…. Peanut Butter & Jelly sandwiches? Does that count as one food or one meal? LOL
What is one thing that always makes you laugh?
My children's laughter. It amazes me every time whether a giggle or a gut busting chuckle I am always amused to see their happiness and how worry free they can be in a moment.
If you had to pick just one thing, what is your favorite thing about your Hubby?
Oh no this just isn't fair. LOL If I had to pick a quality it would be his ability to find a solution to nearly any problem. I am always able to rest easy because I know no matter what our family faces he will always find a way for us to come out on the better end of it. If I were picking a physical thing it would definitely be his arms…a hug from him can make all my worries, fears, anxieties disappear.
Be A Part of The NEW #AskAwayFriday!
Swap With Us…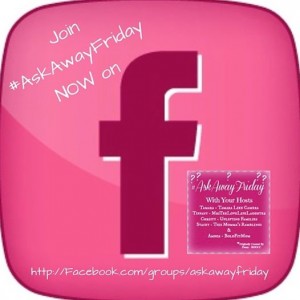 Be sure to check out our NEW Facebook Page "AskAwayFriday" for a great place to meet up and send out a #BuddyRequest and you can be a part of a great Family of Bloggers who love getting to know each other better 10 questions at a time!
Join The #AskAwayLadies As A CoHost…
By adding your email to this link up, you will be added to email correspondence that may be sent by one of our hosts, you may opt out at any time.
Host's reserve the right to remove any links that do not pertain to the #AskAwayFriday theme.
Lifestyle Blogger & Media Influencer
at
TheMrsTee
Tiffany is the ' Tee' behind TheMrsTee. Tiffany is a BlogHer VOTY Award Honoree as well as a Contributing Author with Modern Social f/k/a iBlog Magazine and BlogHer. Growing herself as a Brand and Influencer are always at the center of Tiffany's passion. As a Brand Ambassador, Tiffany has the opportunity to promote and support the brands she loves the most with her own unique perspective. Tiffany has extended her presence beyond her URL to Television as a Panelist for the MomsEveryday TV Show for 2 Seasons and to the stage as a Cast Member of the Finale Season of The Listen To Your Mother Show.
Latest posts by TheMrsTee (see all)