I hope that everyone had a wonderful and Blessed Christmas full of…well what else!?! Love, Life and Laughter of course!  😀
This Holiday week of #AskAwayFriday I am swapping with the lovely Anne from Annie's Blog of Love.  How great a name is that?  Annie is a 57 and proud of it!  Why shouldn't she be? She is a great woman who is very loving.  She enjoys decoupage, fabric painting, knitting, sewing, embroidery, mainly cross stitch, computer generated cards, and probably a few she hasn't mentioned..she seems to be a woman of many talents!  She and her husband have also started a craft business making things like stencils, rubber stamps and wooden cut outs.  So if you want to get a bit of love and a virtual hug stop by and see Annie's Blog of Love!

How are you spending Christmas?
We spent Christmas at home surrounded by family.  No rush, no pressure…just us and our loved ones.  The best way I think to spend a day that is built on the greatest gift love ever gave.
Do you open your gifts on Christmas day or on Christmas Eve?
As a child my Grandmother always let me open one gift on Christmas Eve but I always wait until Christmas morning with my Kiddies.  This year however with all the Kiddies home we let the Teenagers open theirs Christmas Eve at midnight and then the Kiddies opened theirs as usual in the morning (the very very early morning…LOL).
What Christmas traditions does your family have?
Just our ornament tradition of getting a new one (or one for each Kiddies) each year.  Other than that we are pretty low-key.  We are always together Christmas Day and spend the day simply enjoying and being together.
What is your favorite movie for this time of year?
My favorite movie has become Polar Express with Tom Hanks and his many animated roles.  I love the message and the way it is given.  My kiddies actually get it and it is so heartwarming to see it when they do.
Do you have a big traditional Christmas dinner,
and who attends if you do?
Nope. LOL.  Can you tell I'm happy about that?  Hubby cooked this year and we had 2 roasted chickens veggies, roasted potatoes and rice.  There was no major rush or time set and we just ate and talked with each other.  It was just US – Hubby, I, Kiddies.  I Loved It. 😀
Do you go to a church service Christmas eve,
Christmas morning, both or not at all?
Neither.  Mainly because our Kiddies that are in college and live in NY come down and we only have a few days with them.  They usually arrive Christmas Eve and we have to go get them so time is very limited.
What is your favorite Christmas song?
I shared this last week during the
Holiday Favs #TunesdayTuesdayHop
!  I love Nat King Cole's Christmas Son!  Every year when my Grandmother started playing this it was the official signal that Christmas was on it's way!
What is your favorite thing to with your children at this time of year?
To simply BE with them.  No distractions, no time restraints or pressures.  To enjoy their enjoyment of the time, day and each other.  It's truly my favorite time of the year.
What is your favorite Christmas book?
Hmmm…this is a tough one.  We read so much in our home that picking one is really difficult.  Plus we have explore a few new one's this year.  I would say the traditional favorite is 'Twas The Night Before Christmas.
Are you going to have a white Christmas or not?
Unfortunately NOT.  We live in NC and just last week it was 70+ degrees!  Although the temp did drop back to a semi-normal Winter 40 degrees we didn't see any snow and rarely do.  Even if we did we didn't leave the house so it probably didn't really matter 😀
This was a fun recap to Christmas Day and I hope you enjoyed it.  Now don't forget to stop by
Annie's Blog of Love
and see what I asked her about…
Also,  if you love 
#AskAwayFriday
 and would like to participate feel free to contact Penny over at 
Real Housewife of Caroline County
, drop me a message in the comments, through my 
Contact Me
 or through any of the participating Bloggers and we'll be sure to let you know how to get started and get connected.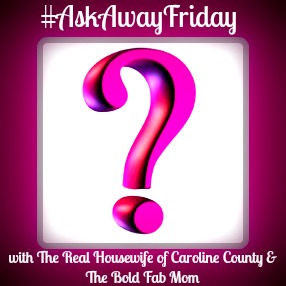 Lifestyle Blogger, Brand Ambassador, YouTuber & Media Influencer
at
TheMrsTee
Tiffany is the ' Tee' behind TheMrsTee - a Lifestyle Blog created as a place to share her love of all things Faith, Family, Fashion, Food, Fun, Tech & Travel. Tiffany has established her influence within both the Blogging & Vlogging Communities. As a Brand Ambassador, Tiffany has the opportunity to promote and support the brands she loves the most with her own unique perspective. Tiffany has extended her presence beyond her URL to Television as a Panelist for the MomsEveryday TV Show for 2 Seasons and to the stage as a Cast Member of the Finale Season of The Listen To Your Mother Show. A 2016 BlogHer VOTY Award Honoree, Contributing Author with Modern Social f/k/a iBlog Magazine and BlogHer. Growing herself as a Brand and Influencer are always at the center of Tiffany's passion.
Latest posts by TheMrsTee (see all)