Review Or Sample Copy Disclosure
Fall is one of the most amazing seasons here in North Carolina Fall. Why you ask? Farms! We have some of the best farms and for me exploring a new one is always tons of fun. Yesterday, I had the chance to be a part of the first day of the season for Odom Farming Company Inc.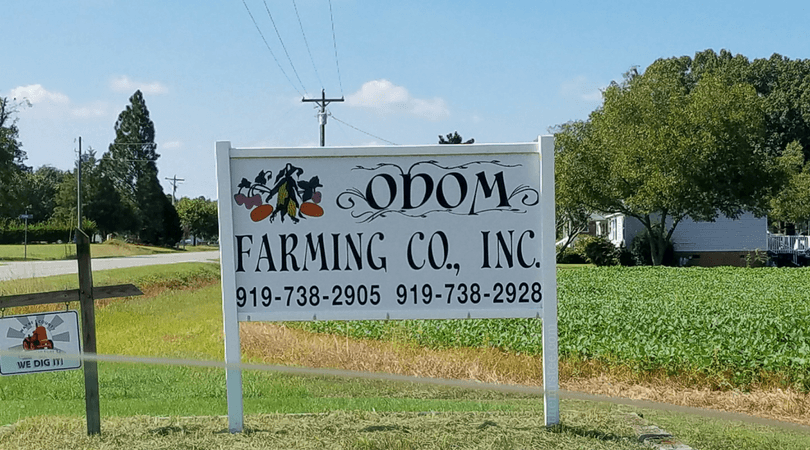 Odom Farming Company Inc is located in Goldsboro, NC about an hour long ride for me from Fayetteville.
*For all my city folks I know – an hour isn't what we normally call short BUT I've learned in the South anything under two hours is basically down the street!
Hashtag What?
My family couldn't wait to see all the activities and adventures Odom Farming had to offer and once we arrived we got right to the fun. Since we were there as part of a Blogger Meet & Greet we had a bit of Social Media inspired fun just for us Bloggers including a Scavanger Hunt!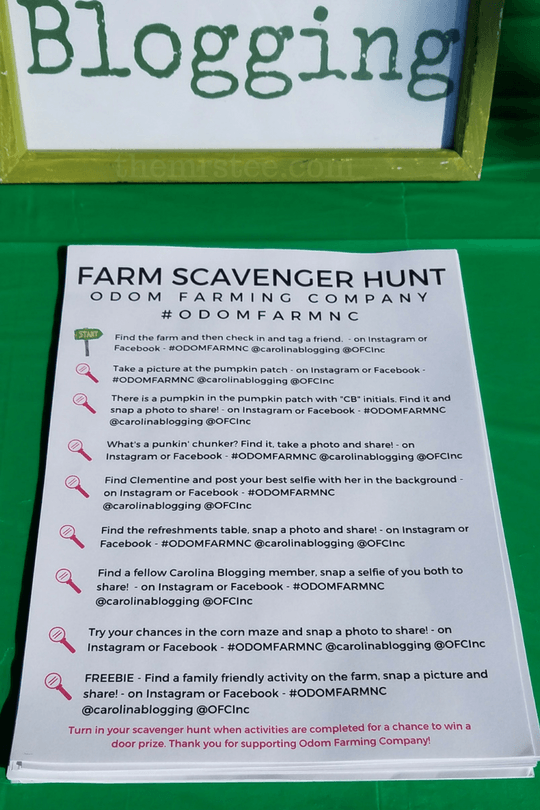 I'm that person who loves to win. If you give me a list of things to do with a prize at the end I am going to try my best to check every single thing off. So this was something I knew I was ready to do. The Hunt involved finding certain things on the farm and posting them to Social Media using the designated hashtags.
Smile Clementine !
Clementine is the Odom Farming Company's goat. She was rescued during Hurricane Matthew after a neighbor found her floating in the flood waters. When the neighbor realized they couldn't give her the home she needed they asked the owners of Odom if they would be willing to take her in.
Since her stay she met her love and is actually expecting in December. On of the things I needed to check off my list for the Scavanger Hunt was to get a selfie with Ms. Clementine. I had already taken a walk a visit Clementine when I first arrived and thought I snapped a great selfie shot with her. Yet when I went to post it, not so much. I was smiling away while poor Clementine wasn't even in the shot!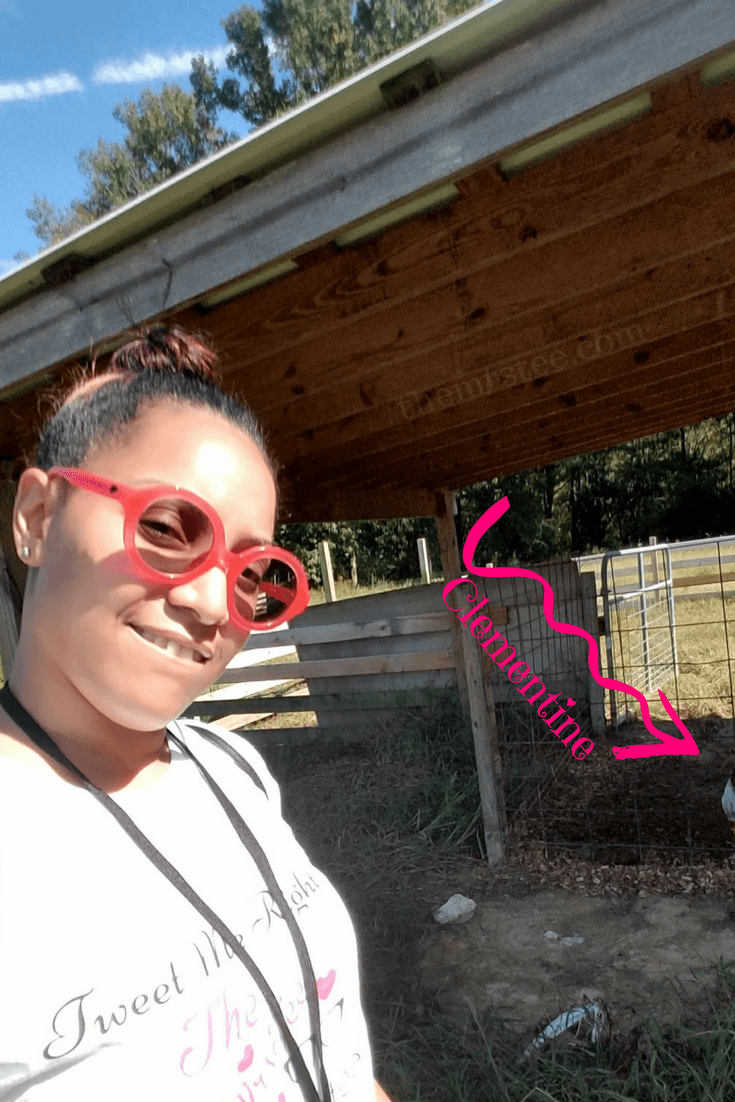 So my next mission was to score a winning Selfie with Clementine. Except after a day of making nice for the camera she was getting a bit selfie shy by the time I got to her.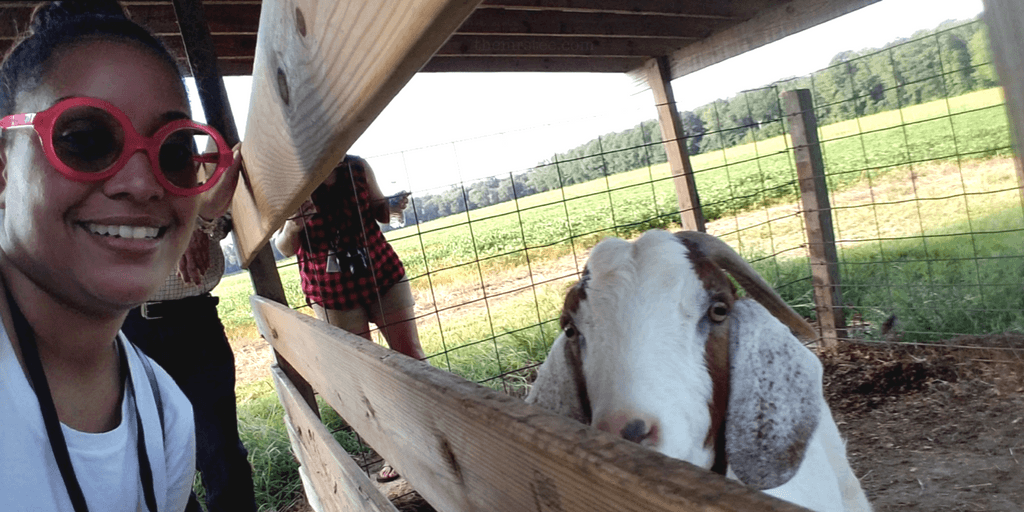 I mean that's still a selfie right? Kinda…. 🙂
Catch A Ride
I'm a city girl to start so when I saw the distance we needed to cover to get to our next Scavanger Hunt task I was more than happy to catch a hay ride to get there. Hay Rides are one of my favorite things to do when I visit a farm and this one ranked right near the top.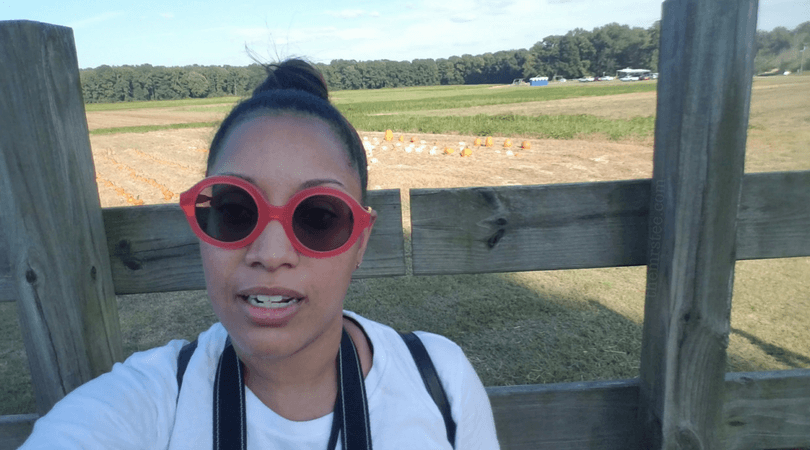 I even had the chance to hop off and get a picture in front of the Corn Maze. That's right. A picture. I don't do Corn Mazes anymore because let's just say I had a bit of an incident during my last maze adventure. Still my Hubby and Kiddies did take the challenge and let's just say even if this Corn Maze hasn't reached it's full height it's still at it's top challenge level. According to my Kiddies, "Daddy made them their own path out".
That's code for – They Got Lost!
Pretty Pretty Pumpkins
Right across from the Corn Maze was the pumpkin patch and I was super stoked to grab my Kiddies their first pumpkins of the season! Yes I said first because well – Fall! They picked out cute small ones to start and we will probably keep those in the house for now. Did you know there are white pumpkins? Not plastic, or foam but real grown out of the ground white pumpkins! I had a bit of a dilemma on which one to pick. What do you think? Did I go orange or white?
All The Fun
So these are just a few of the things I had the chance to do during my day at the farm but I always love to show you what we did so you get to see what I saw.

Beyond The Fun
You guys know I love a Brand with a cause and purpose and Odom Faming Company Inc. doesn't fail to deliver. Odom Farm is a family owned business that focuses on providing their community and the surrounding area with a place for family fun, adventures, activities and exploration.
One way Odom Farm does that is through the CSA Farm To Table Program. You order the size box that fits your needs as a family or community and Odom Farm provides farm fresh produce right to your table. Learn More HERE.
Carolina Blogging
Our Odom Farming Company fun was all a part of the Blogger Meet & Greet organized by Carolina Blogging. One of the ways I try to stay involved in my North Carolina Blogging Community is by supporting and engaging with other North Carolina Bloggers. Carolina Bloggers brings both North and South Carolina Bloggers through a community focused on sharing information, education and support.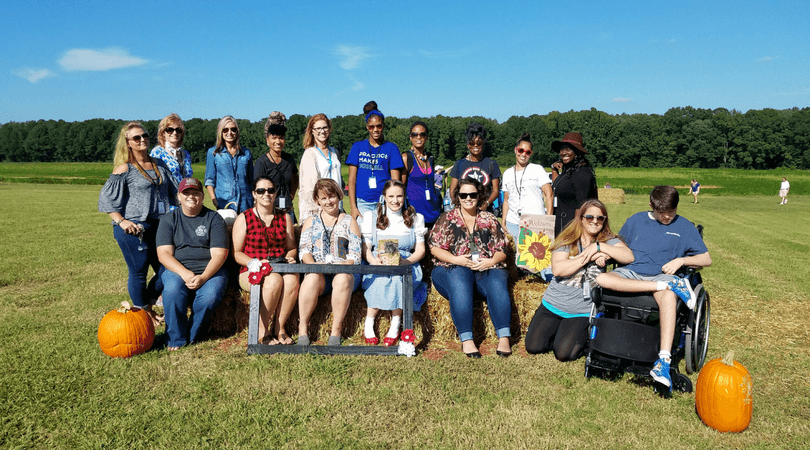 I'm so happy to be part of such an awesome group of Bloggers who are always willing to not only support each other but their Carolina community. On October 6th I'll be sharing tips for Branding & Blogging during a FREE Carolina Blogging Google Live – JOIN US October 6th at 11am EST HERE.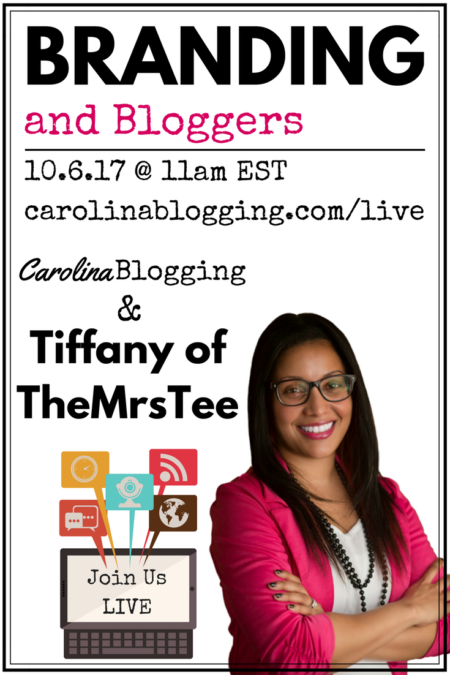 Do you have any questions about Branding your Blog? Leave them in the comments below and I'll be sure to cover them during our Live Show.

Lifestyle Blogger & Media Influencer
at
TheMrsTee
Tiffany is the ' Tee' behind TheMrsTee. Tiffany is a BlogHer VOTY Award Honoree as well as a Contributing Author with Modern Social f/k/a iBlog Magazine and BlogHer. Growing herself as a Brand and Influencer are always at the center of Tiffany's passion. As a Brand Ambassador, Tiffany has the opportunity to promote and support the brands she loves the most with her own unique perspective. Tiffany has extended her presence beyond her URL to Television as a Panelist for the MomsEveryday TV Show for 2 Seasons and to the stage as a Cast Member of the Finale Season of The Listen To Your Mother Show.
Latest posts by TheMrsTee (see all)