Today was the day…I became a Leader! 
It's here! My first day as Co-Leader of my Girlies Girl Scouts Troop!  We now have  2 Daisies and A Leader under 1 roof!  Here We go! I am so excited to start this adventure but even more excited to be able to share this experience with my Girlies.
My oldest, the 6 year old, has been a Girl Scout since last year when she started Kindergarten.  She enjoyed every single moment of it and I enjoyed it with her.  I was there as a parent but since both my Hubby and I are very overprotective I didn't want to just drop her off and leave.  So, instead I registered as a Volunteer so that I would be able to stay and attend all the meetings and activities.  This simply means that you have a background check done with the Girl Scouts Council and they say that it is alright for you to be around the Girls in the Troop.
Last year, I was at every meeting.
In the beginning I just sat in the farthest corner of the room and either read my Kindle or played endless game Apps on my phone. Then slowly I began to develop a relationship with the two Leaders and eventually I began to assist whenever and wherever they needed any help.  Some nights that would mean simply handing out snacks and juices other nights I was putting together the pieces or parts needed for that night's craft project.  I even started to become the unofficial photographer and Twitter Poster taking pics of the unique things our Troop did and posting them to Twitter for @girlscouts and @girlscoutsNCCP to see.  Eventually one of them started following me and we also began to get a few Retweets and some recognition.  So Exciting!   We would joke and say how we felt famous.
So at the end of last year's Girl Scout season when the Co-Leader approached me and said that the current Leader was going to be leaving because of her husband being re-stationed (our Troop is military based so all of us are either active or retired Army) I was sad because I thought it meant the Troop was being dispersed and we had developed a bit of a family.  Then when she continued and asked if I wanted to take on the role of Co-Leader so that she could step up to the role of Leader I was a bit shocked.  I honestly didn't see it coming.  I told her I needed to think about it because in all honesty, my plate is rather full.  I have a Teenager in Marching Band which can in itself be a full-time commitment for me as well.  I also had both Girlies starting school this year and my normal household schedule to keep up with.
If anyone knows me or has even read how hesitant I was to start my blog simply because I wanted to do it right you'll realize I don't commit to anything unless I know I can give it 110% and do it right.  After thinking on it and talking to my Hubby and getting his blessing, I got back in touch with her and told her I would love to be the Co-Leader.  I sat my Girlies down and told them both that not only would my Baby Girlie be able to start being a Daisy this year but that Momma would also be one of their Leaders.
Let me just explain that my Baby Girlie has been attending most of the meetings with me and sitting in back so she has been so anxious to become a full-blown Daisy she is about to burst!  In July we had our close-out ceremony in the form of a BBQ at my home and that was where the official announcement was made that I would be stepping in as Co-Leader.  We also were able to welcome my Baby Girlie as a new member as well as a few other Girls.
Fast Forward to tonight…2 Daisies and A Leader.
I was so nervous.  I went to the Girl Scout Shop this afternoon and got my Baby Girlie her "Kit" which includes her Journey Book, Vest, Troop Badges and a cool bag.  I even picked up a t-shirt for myself to help get me in the mood for the night ahead.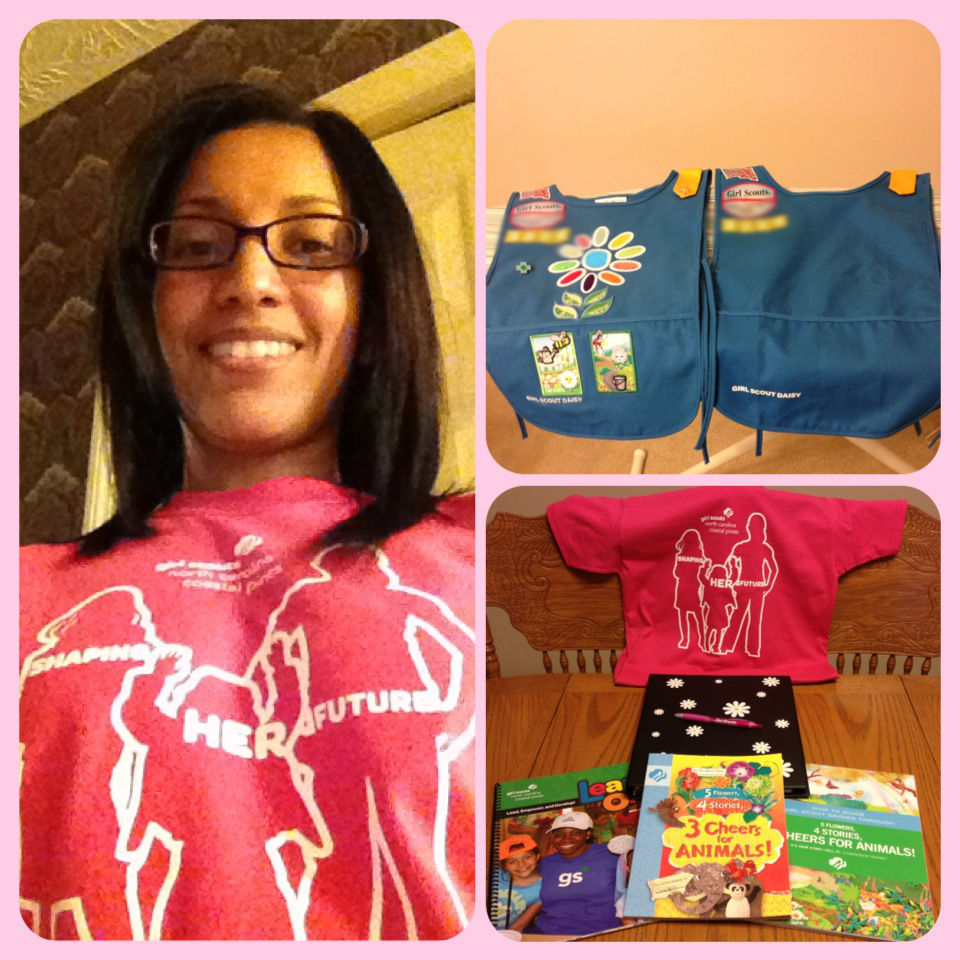 My Baby Girlie was so excited about getting everything she was singing around the store a song about how she was finally a Daisy!  The cashier was tickled with how excited she was…honestly so was I.  It just made it that much more special knowing I would be able to share this with her and my Big Girlie.
When we got to tonight's meeting I was anxious but excited.  We started greeting the Girls and the parents… Guess What? Everything went great!  The Girls made the poster's we will use for the year to say the Girl Scout Promise and Law …the most important part is they had fun!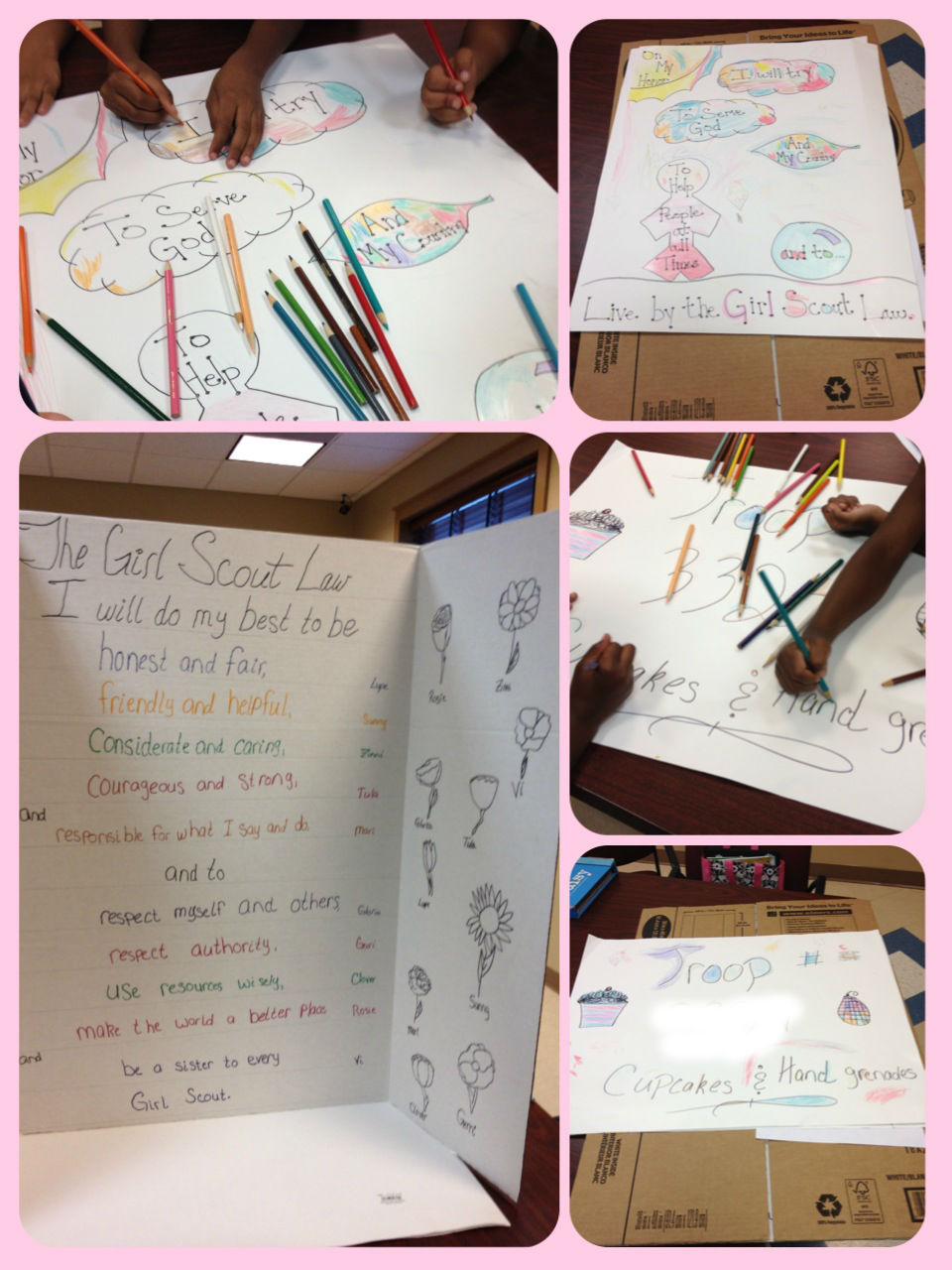 I know this year will not be easy and the scheduling may be hectic but just seeing my Girlies faces tonight I know it will ALL be worth it!
Do you have any shared
activities with your Kiddies where you volunteer or participate?  
How do you Kiddies handle sharing you with others?  
How do you handle being a leader and not just a parent when in that role?
Lifestyle Blogger & Media Influencer
at
TheMrsTee
Tiffany is the ' Tee' behind TheMrsTee. Tiffany is a BlogHer VOTY Award Honoree as well as a Contributing Author with Modern Social f/k/a iBlog Magazine and BlogHer. Growing herself as a Brand and Influencer are always at the center of Tiffany's passion. As a Brand Ambassador, Tiffany has the opportunity to promote and support the brands she loves the most with her own unique perspective. Tiffany has extended her presence beyond her URL to Television as a Panelist for the MomsEveryday TV Show for 2 Seasons and to the stage as a Cast Member of the Finale Season of The Listen To Your Mother Show.
Latest posts by TheMrsTee (see all)