Yesterday my 3 NC Aunties surprised me by showing up at my door unannounced which for them is very much out of the ordinary.  They are very old school and in their thinking if you show up without being invited or calling first than you must be planning on standing outside for a while because you definitely aren't trying to come in.  When the doorbell rang and I heard my Aunt D's voice saying 'Happy Birthday' I got just as excited as I did when I was little and she came over to give me my birthday card.  I jumped off the couch and tried not to be too little girl silly and act like a grown woman who has a Hubby and 4 Kiddies.
*Sidenote: I call these group of women my NC Aunties because of my many many Aunts these 3 live down here with me in NC while all the other are still 'Up North'.  Also they all live relatively close to me (down south anything closer than a 20 minute drive is like living next door).
She said they had come to celebrate my birthday since they hadn't gotten the chance to come over or do anything with me last week.  I was more than happy because I'd honestly thought they'd forgotten.  My feelings had actually been a bit bruised all week but I was trying to just pull up my big girl panties and simply get over it.  I mean after all, it wasn't like I was a little kid anymore…right?  Plus people get busy, have their own lives and forget things.  Still when my Hubby opened the door and I heard her voice it made my day. Then my other 2 NC Aunties walked in behind her and the rest of my day was made.  That was when I saw my Aunt B holding it.  The plant. Actually a rather large, rather intimidating and rather purple plant. My Aunt R announced excitedly that it was a Purple Heart plant! Yup! That sure was  a purple plant alright.  It was certainly something I wasn't prepared to see.  I mean it isn't like I'm the gardener type or I hang out in nurseries or anything.  So I was honestly a bit surprised when they came in with it.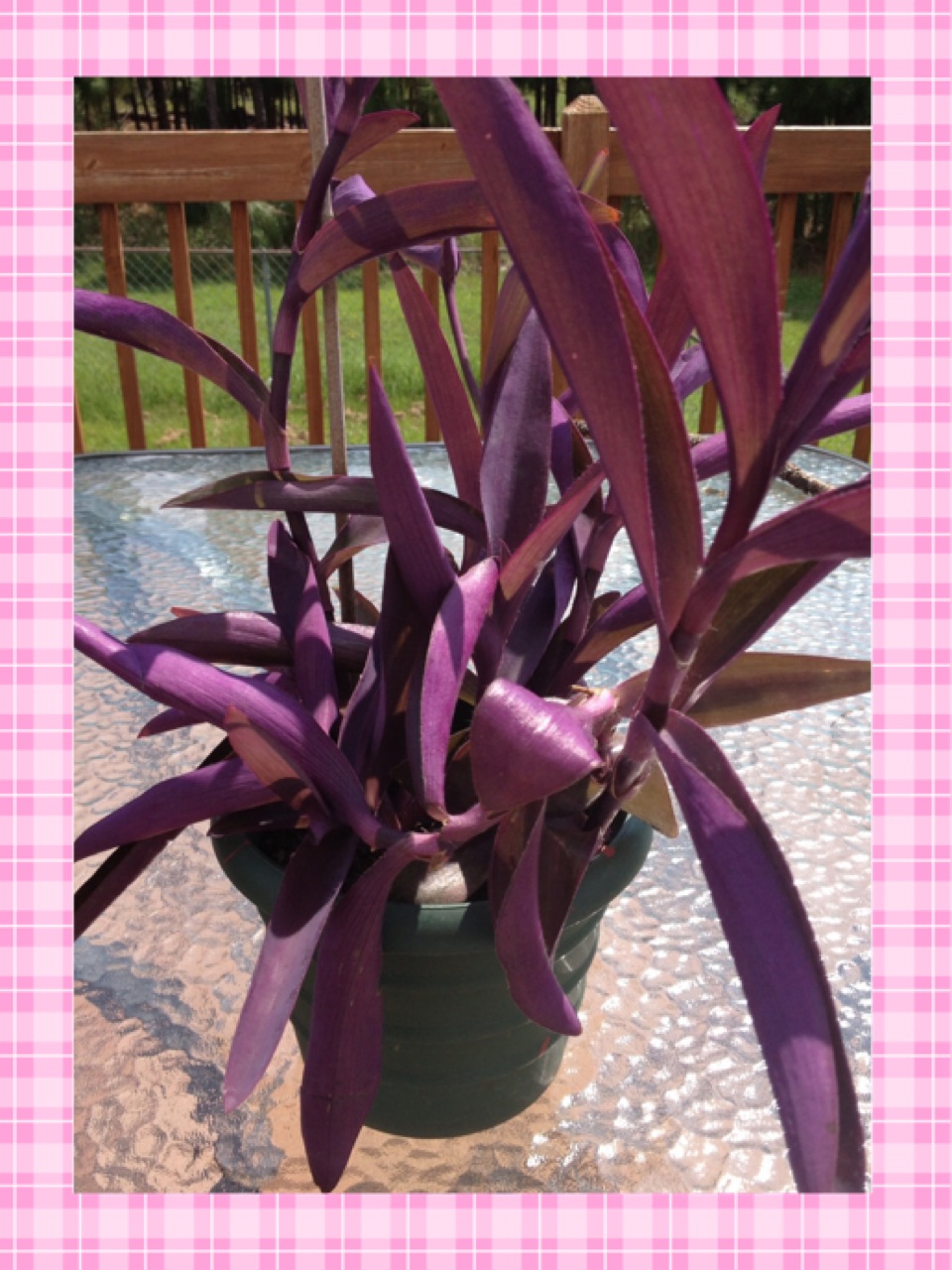 I said "You got ME a plant?"  She said, "Sure why not?"  "Ummm maybe because I kill every plant that comes in the house?!?" All she did was laugh.  Little did she know I was very serious.  Plants and I had a bad history.  If that plant knew any better it would have begged her to take it back home with her.  Now…before it was too late.  Before the weather, the sun and the lack of water take over and it's life slipped away as it sat on my deck.  Yet, I said ok and took the plant to the deck as I sat it down I whispered a pray that maybe this plant would survive.  Maybe 35 was my year to develop the elusive Green Thumb…maybe?
I came back in the house and started chatting with my Aunties about the Kiddies, the Teenager and church…you know,  it being Sunday and all.   We have all attend the same church since before my birth, when we moved from New York we all quickly found a church to attend together down here.  As we were talking, my Aunt D gave me my Birthday card.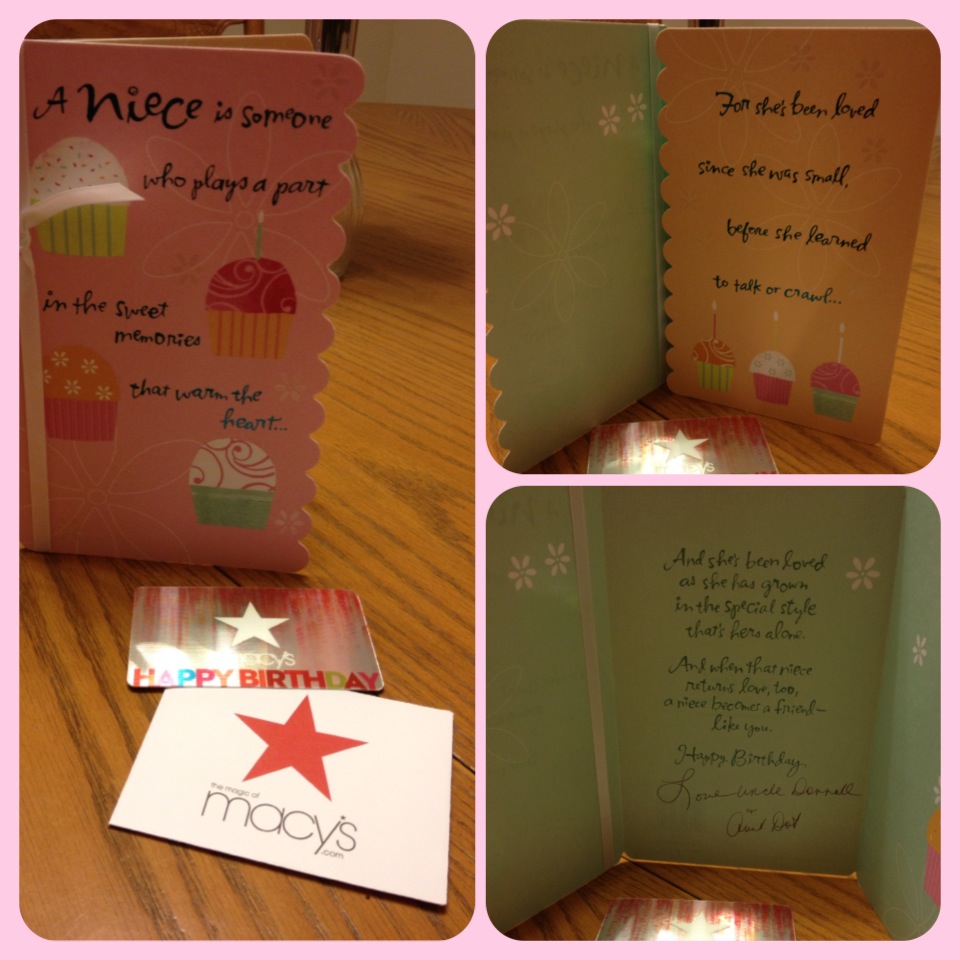 She explained that she bought me a Gift Card purposely to make sure I got something for myself on my birthday.  I'm not sure how every other Momma is, but I have a tendency to take money that is supposed to be for me and somehow still end up doing something for my Kiddies.  So my Aunt D figured this was one way to insure I didn't do this was.  By getting me a gift card to a store I would most definitely find something for myself in MACYs I should have no other choice than to indulge and treat myself.  Then my Aunt M pointed out that MACYs also has a children's department but I promised I would only use the gift card for myself.  As I read the card from my Aunt D, I read it knowing she is the type of person who always selects her cards with the recipient in mind, so it truly touched me to my heart and made me very grateful to be her niece.
It wasn't until maybe 35 minutes after they sat down that I found out my Aunt D had also brought one of my favorite desserts, a casserole dish of her YumYummy Blueberry Dump Cake. She'd handed it off to the Teenager before I made it to the door.  Needless to say once that news was announced it was time for coffee and dessert!  Thanks to my trusty Keurig everything was set up in no time and we were enjoying that tangy and tasty dessert in a matter of minutes.   We sat, ate, enjoyed the delicious brew and just had a great time as family.  Once everyone had their fill and it started to get dark we said our goodbyes and I thanked them for thinking of me and not forgetting my Birthday (I never told them how I thought they did…well unless they read this…LOL).
After they left, I looked at that plant staring at me from the deck.  What was I gonna do? I had no idea how to maintain it or what to do with it.  As my Aunt B had left down the porch stair she'd even taken the time to point out a nice spot where she felt the plant could be replanted once it outgrew the pot.  Outgrew? What? Little did she know I had no hopes that it would last long enough to 'outgrow' anything much less make it to any patch of dirt in the ground.  I went to bed last night wondering what in the world that plant and I were going to do with each other…
I actually had dreams of that plant…well that one and the ghosts of the plants before it…one is a plant my teacher from Vacation Bible School gave to me at the end of class.  I told her I'm not sure if this is a good idea.  I don't have good luck with plants. Why doesn't anyone listen to my warnings?  She assured me that this plant was different.  No one could kill it.  It didn't even need dirt.  Yeah well…Hi folks my name must be No One…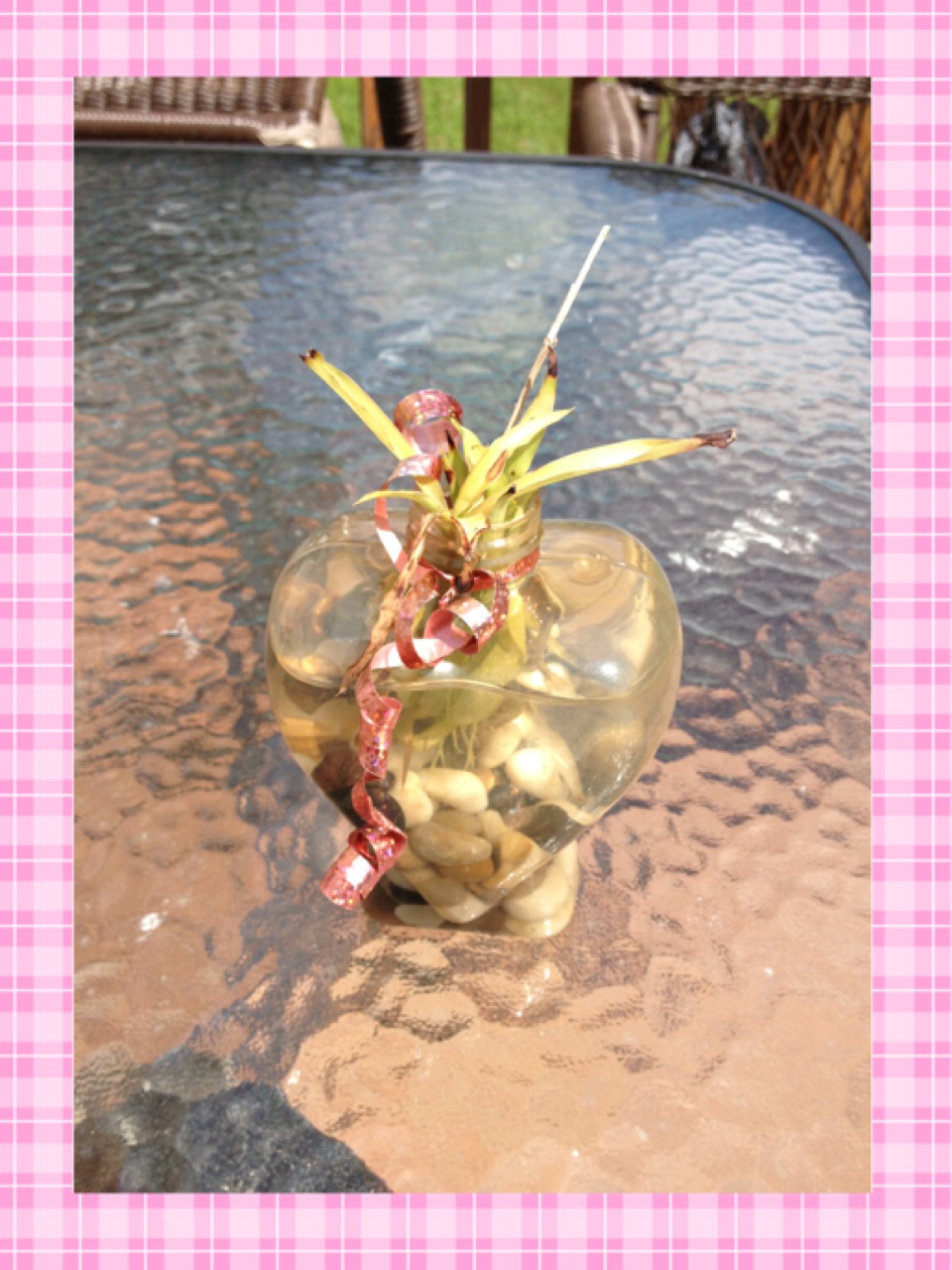 Another plant that fell victim to my Brown Thumb was actually an even sadder story because it wasn't even my plant.  It was a plant my daughter planted as a project for Girl Scouts.  We potted and planted it during one of our Troop meetings and then brought it home.  I knew once we left that meeting that plant was doomed but what was I supposed to say?  At first, my Teenager was taking care of it and I had hopes that maybe it would survive.  Then the Teenager went away for the weekend.  3 days was all it took.  I watered it and tried to do whatever it was he had been doing the entire time but by day 4…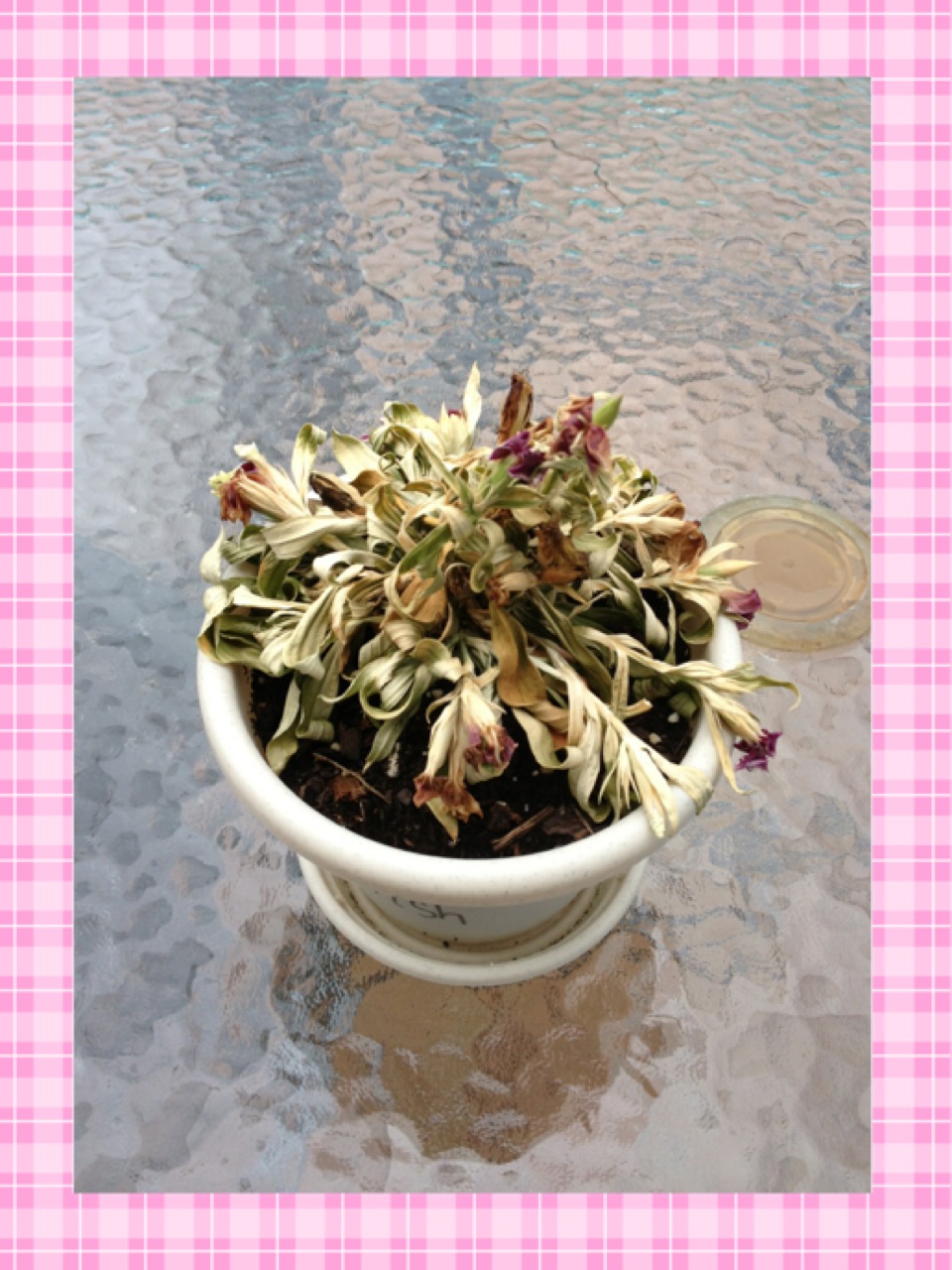 So, what did I do when I woke up from my dreams of the plants of Brown Thumbs past…? I GOOGLEed of course.  When in doubt look it up.  Not only is this plant likely to grow extensively but it seems like most people suggest you grow it indoors.  Ummm yeah yuck I mean I rather keep it outdoors!  Won't keeping it inside draw buggies and such?  I don't do buggies.  Just sayin'.  So then I searched for outdoor options.  Nope.  Seems like you are supposed to grow it indoors first.  Ok.  I'm going to try this.  So I go outside and check on it.  I push at the dirt and it is dry.  Extremely dry.  Duh Tiffany it's been like 97 degrees today.  Ok water.  This I can handle.  I go in the kitchen grab a cup and come back to 'water my plant'.  I move one of the weird purple fuzzy (yes they are actually fuzzy) leaves and started pouring the water into the pot.  As I'm pouring, I see a puddle spread out from under the pot and onto my glass patio table.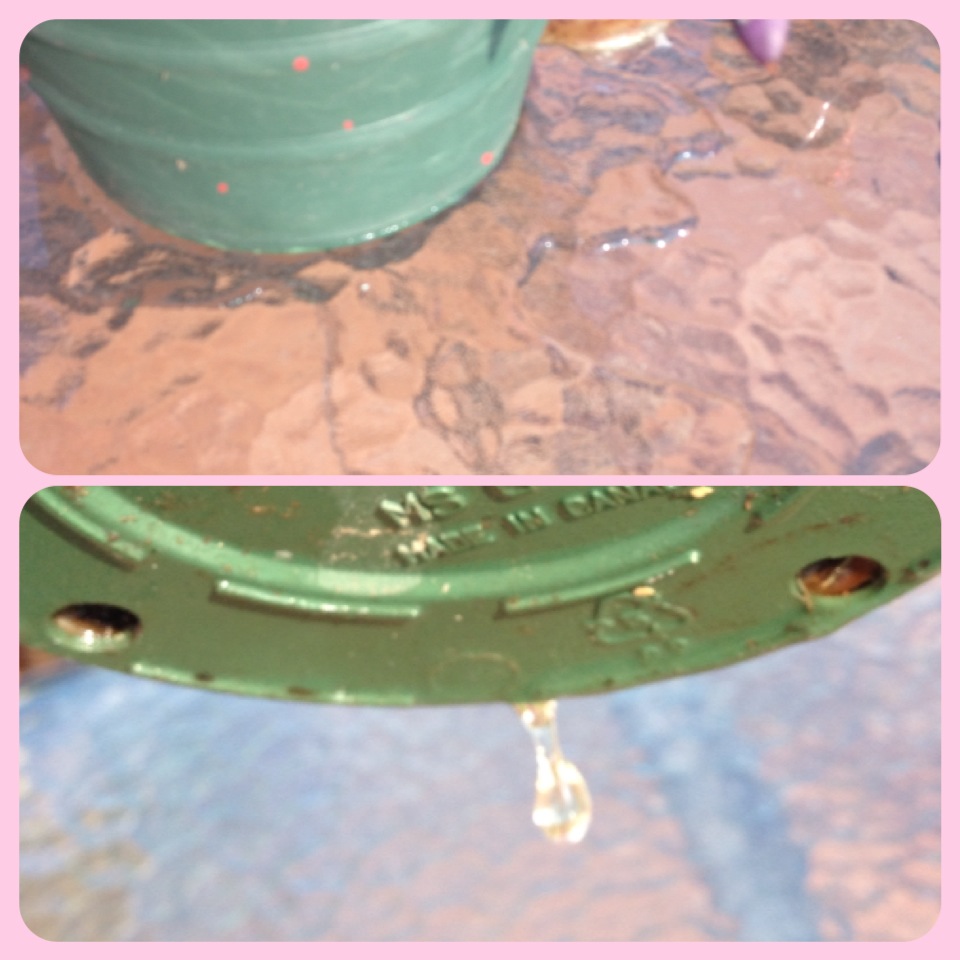 Seriously? I can't even water a plant? Aren't these things supposed to absorb or drink the water.  The dirt was dry…isn't this thing thirsty?  I stop pouring and lift up the plant…sure enough the pot has holes underneath.  UGH! I give up.  I take my cup and stomp back into the house.  THIS is why I don't do plants.
Just as I'm stomping (yes I did the little girlie stomp…I don't care I was mad) back into the house my Hubby is walking through the front door.
 "What's wrong with you?"
I don't know why they would give ME a plant? It's going to die.  Fast.
I can't even get it to drink the water.
*Blank stare. Shrugs shoulders.  "So throw it out."
I can't throw it out It Was A Gift!
*Walks away.
 Ok well THAT didn't help.
This is where I took a break and decided to write this post.  I have no idea how I'm going to do it but I AM going to get this plant to live darn it.  I will NOT throw it away and I will not let it get the best of me.  It's a plant.  I'm human.  I'm the intelligent species. Aren't I?
Do you have a

Green

Thumb? Do you enjoy gardening and plants? What color is your thumb?
Should I make this a series to see who wins…me or this plant?
What do you think?

**Please note that neither MACYs or Keurig are sponsors of this post or my blog.  I am a true fan of Keurig and my Aunt just happened to purchase my gift card from MACYs (even though any support from either would be a lovely belated birthday surprise)
Lifestyle Blogger & Media Influencer
at
TheMrsTee
Tiffany is the ' Tee' behind TheMrsTee. Tiffany is a BlogHer VOTY Award Honoree as well as a Contributing Author with Modern Social f/k/a iBlog Magazine and BlogHer. Growing herself as a Brand and Influencer are always at the center of Tiffany's passion. As a Brand Ambassador, Tiffany has the opportunity to promote and support the brands she loves the most with her own unique perspective. Tiffany has extended her presence beyond her URL to Television as a Panelist for the MomsEveryday TV Show for 2 Seasons and to the stage as a Cast Member of the Finale Season of The Listen To Your Mother Show.
Latest posts by TheMrsTee (see all)