Today I was browsing some of my fellow Southern Girl Blog Community Blogger posts and came across DivasWithAPurpose.  She had a post up called One Word 2014.  As I read it I instantly knew this was something I not only want to participate in but also spread the word about.
We all know how popular the New Year's Resolution trend can be but how keeping those resolutions can sometimes be difficult if not close to impossible. Partly because we tend to set unattainable goals for ourselves that we have never been able to achieve throughout the year but somehow we think on New Year's Eve at the stroke of 12 midnight we will be endowed with some new-found ability to just make them happen.  I'm guilty myself.
Then one year I simply decided to stop making Resolutions all together. Instead I was going to promise myself I would make certain changes in my life.  Still this became difficult because I would make such a lengthy list that making the steps would seem so daunting I would end up giving up and giving in to my old ways less than a month into the New Year.
When I read Michelle's post and saw that instead of a list or set of goals this was one single word.  That's it!  A word.  One word that you determine in your heart, mind and soul to achieve and focus on through the coming year.  Instead of trying to check of task or goal after goal you just take this word and each day make a step towards achieving it's purpose in your life that year.  This I can handle.
Now came the part of choosing my word.  Luckily Michelle gives a great way to come up with your word.  I was one of those people who's word actually came to me instantly.  Probably because it was something I had been dealing with off and on and knew I needed to work on.  Still I want to share how you can find your word just in case your not an 'instant' person like me.
Michelle's Guide To Finding Your Word:
Ways to Determine Your One Word 2014
Without being deliberate, begin writing down words focused on what you would like to do and be in 2014.  It could be specific activities you would like to accomplish; characteristics you would like to embody and embrace; habits you would like to break; anything that comes to mind when you think about the coming months
Review that list and circle any words that stand out to you.
Reflect on what you truly want to accomplish in the coming year and compare to your circled words. Does anything jump at you? Is there a resounding theme?
Sometimes your word may come to you immediately and other times you may need to meditate on it and seek guidance and input from others
So, my One Word 2014 is: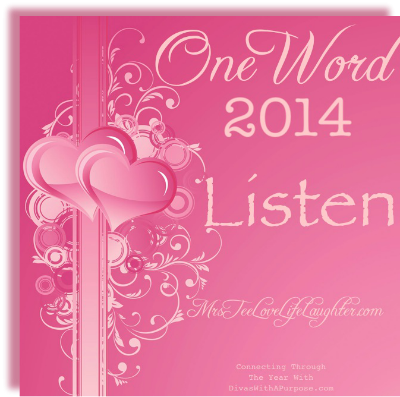 I came to this word This word came to me mainly because it is something I've noticed I haven't been very good at lately.  Don't get me wrong, I hear a lot.  Conversations, interactions between family members but lately I've found myself zoning out and failing to truly 'listen' to what's being said, expressed and passed on to me.  So this coming year, 2014, my One Word is LISTEN.  I will make the conscious effort to no longer be a bouncing board for the words, thoughts and ideas of my family and friends but instead to truly listen, absorb and retain what they tell me and give substantial feedback.
So, do you think this is something you'd like to do?  If so, stop by DivasWithAPurpose and link up your One Word 2014 post.  Throughout the year, Michelle will be connecting with each of those Bloggers who decide to take on the One Word 2014 task.  There we can share our success and find support because let's face it no new task is easy at first.  Still, with the each other I know we can all do this!
Lifestyle Blogger & Media Influencer
at
TheMrsTee
Tiffany is the ' Tee' behind TheMrsTee. Tiffany is a BlogHer VOTY Award Honoree as well as a Contributing Author with Modern Social f/k/a iBlog Magazine and BlogHer. Growing herself as a Brand and Influencer are always at the center of Tiffany's passion. As a Brand Ambassador, Tiffany has the opportunity to promote and support the brands she loves the most with her own unique perspective. Tiffany has extended her presence beyond her URL to Television as a Panelist for the MomsEveryday TV Show for 2 Seasons and to the stage as a Cast Member of the Finale Season of The Listen To Your Mother Show.
Latest posts by TheMrsTee (see all)