I love attending
events
. Local businesses, brands and talent are always a draw for me. This time last weekend I was getting ready for one of those events yet from the very start – this one was different. The
Social House Vodka
Launch Party was already promising to be a party to remember. Here's why . . .
The Hype
Hype can be an awesome tool.when planning, hosting and promoting an event. Creating a buzz around what's to come gets people to talk about it and tell their friends. It can make your event the place to be before it event starts.
That's what the Social House Vodka team was able to do – and then some. From the first click on my invite to the very last drink, the Social House Vodka Launch Party was packed full of moments – #SocialHouseMoment – to remember.

You're Such A Tease
I woke up early. Not too strange. Yet this Saturday was different. I was waiting on a text . . . A text that would give me the deets to the
Social House Vodka
Launch Party
.
My invite was a bit different. There was no location – just a date and time. The email said invitees would receive the place via text on the morning of the event. Wait. What? Okay. The suspense was officially killing me. Why so secretive? Why the wait? Where would it be? Why were they teasing me this way?
The day before the event, I received a text. Was it the place? Nope. "Answer this 3 question survey and find out the dress code." Yes folks, things about this party were just that top-secret! 3 questions later, I knew the dress code and my excitement was at a whole new level. The attire was to be causal chic which meant casual cocktail dresses for the ladies and nice jeans, button down and a jacket for the guys.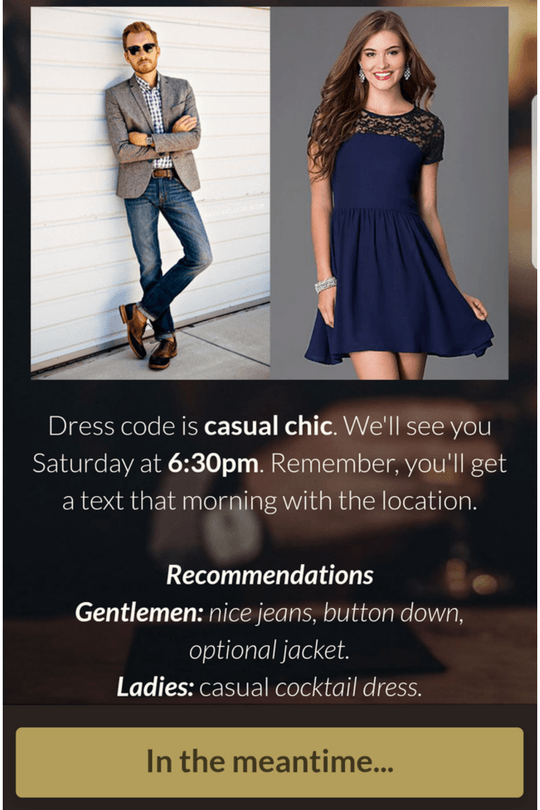 Fast forward to the next morning. Ding. Okay not a ding exactly but you get it – a text! Here it was. I was finally going to know where the party was.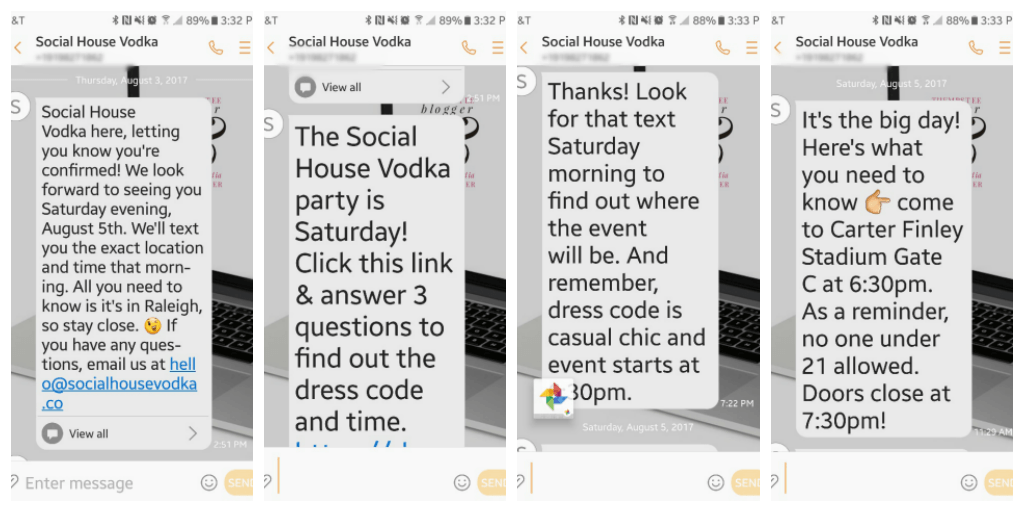 Carter Finley Stadium – Gate C 6:30pm. Geesh! I think my excitement was even greater because I felt so VIP and exclusive. Little did I know Social House Vodka wasn't even close to being done surprising me.
It's Party Time
After a fun ride to Raleigh with my party buddy we walked the red carpet. Food, drinks and music greeted us and the Social House goal of creating memory making moments was already in the air. From the red carpet, to the roaming photogs Social House was making me feel like a celebrity and the amazing drinks being poured they set no limits on making this party full of moments to remember.
This slideshow requires JavaScript.
I have to be honest. As we walked around from mini bar to buffet table I wondered if this was it. Cocktails, live music and drinks outside? Was this the end of all the hype? Nope. Not even close!! In the midst of chatting with a few other local bloggers I heard an announcement.
"Head to 1 of the 4 elevators because Part 2 of the party is about to begin!"
Part 2…? Okay Social House – y'all have my attention!!
Let's Get Elevated
We all rushed to the elevators to find ourselves stepping out into the clubhouse of the Stadium. My first steps from the elevator were greeted by Social House bottles lining the windows and lively swing jazz music coming from my right. So far Part 2 was already a hit.
Hors d'oeuvres more drinks and plenty of fun were signs that Part 2 of this party was going g to be amazing. I headed out to the balcony and even got to catch a glimpse of the NCState Football team at practice. Cool point earned Social House!
As I came back in I noticed a table with all this mini pictures. Little did I know that our entire night of images were being capture and printed thanks to the awesomesauce of
Luster
. It was so cool!! I quickly scanned the table and realized I had plenty of my own #SocialHouseMoment captures to take home with me.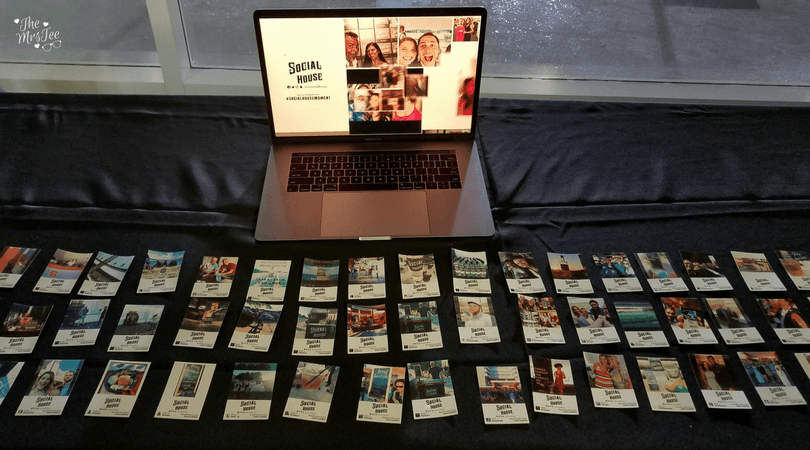 Just Hangin' Around
The sun was setting and the evening was coming to an end – or so I thought. I said my goodbyes, told my friend we were going to head downstairs to get the car and start our drive back to Fayetteville. The thing is when I stepped off the elevator I realized this party was far from over.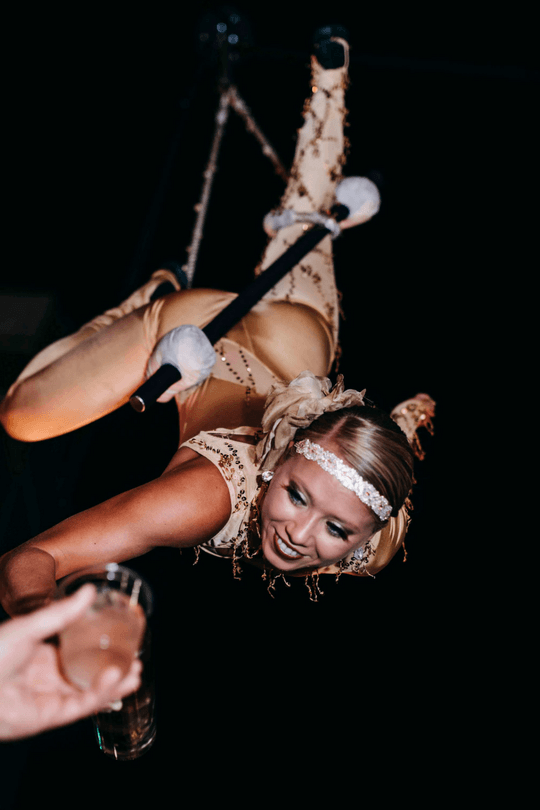 I saw an aerial performer hanging in the courtyard, a DJ and plenty more drinks. Was this a Part 3? Yes. Yes it was. Point to you Social House – you are out doing yourself at every turn. Oh wait. The hanging girl was beginning to serve drinks – upside down!! Yup, this girl had the upside down pour mastered!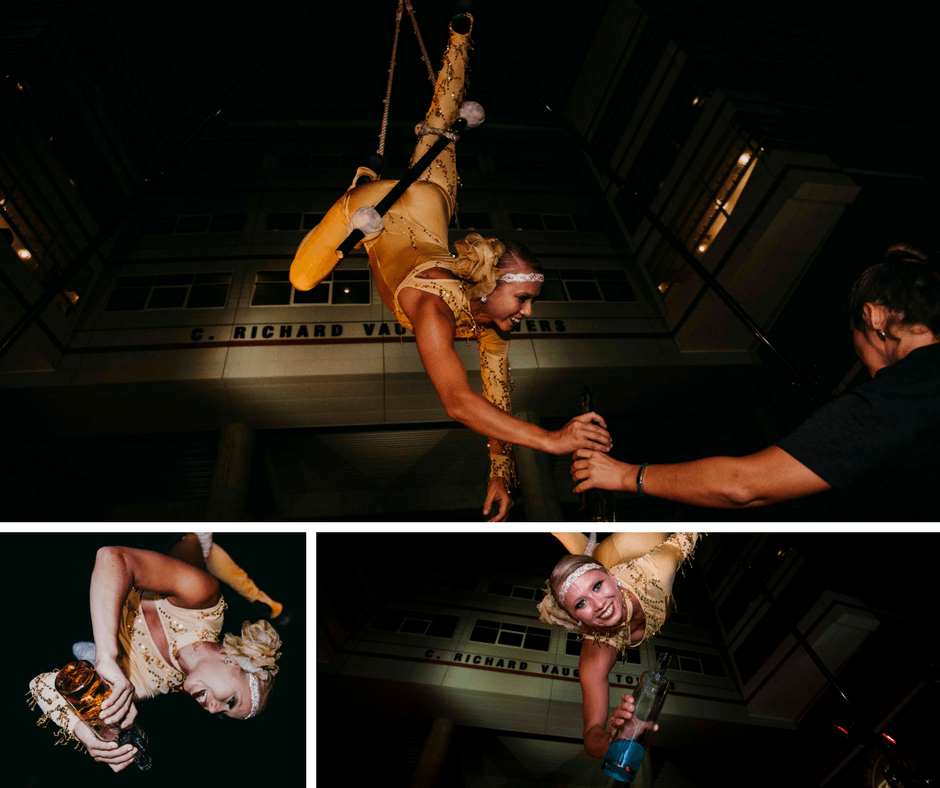 A Party To Remember
After chatting with my friend we decided to stay. I'm so glad we did. Great music, fun times and many laughs later we finally limped our way to the car *let's just say heels and a 3 part party don't mix as well as the Social House drinks.
As we switched to our flats we both knew this was one party we would both always remember . . .
#SocialHouseMoments The Interviews
Another awesome part of my #SocialHouseMoments was my opportunity to ask the Co-Founders of Social House Vodka a few questions.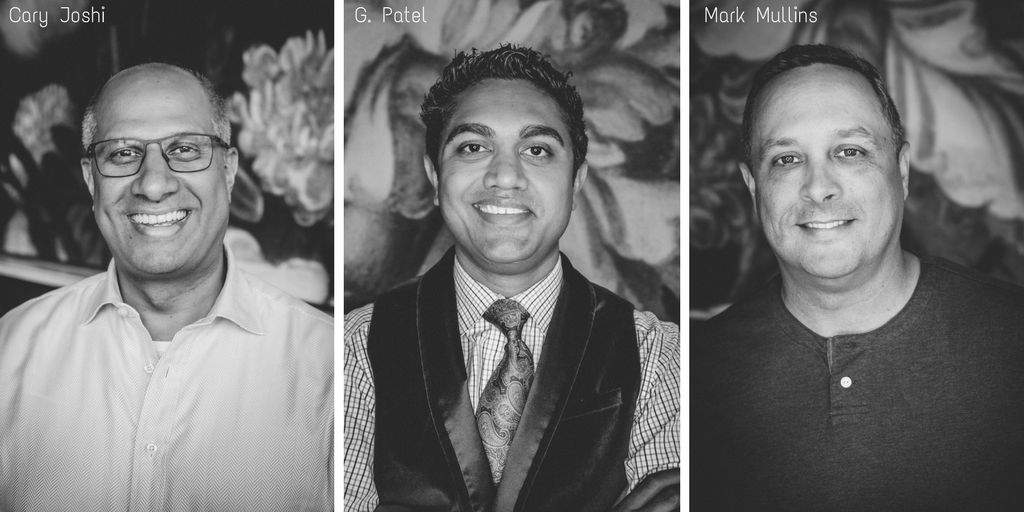 Cary Joshi • President
G Patel • Vice President of Marketing
Mark Mullins •Vice President of Sales
What is one thing you wish you knew BEFORE you became an entrepreneur?
Joshi: You don't need all of the answers. Be a sponge and seek out other successful entrepreneurs or leaders in the industry for advice and information. This will accelerate your understanding of business and success in the marketplace.
Patel: Being an entrepreneur from an early age, I noticed that every day is like a school day. As I continue down this path, I've noticed that everything has a cycle. As long as you keep going, you will come out for the better on the other end.
Mullins: People won't always understand why you work so hard and why you take certain risks, but it's important to tune out the naysayers. America is founded on the dream of pursuing your passions, no matter where you come from or what your family background is. If you have the will power and determination to take chances and put the work in, you can do it!
How did you each know you wanted to be in the business of vodka?
Joshi: Vodka is my spirit of choice, so it's easy to be passionate in the pursuit of the perfect flavor profile. The older I get, the more I focus on spending time in areas that add the most meaning to my life. The vodka business offers the opportunity to connect and enhance moments, both large and small, with friends and family, also known as Social House Moments.
Patel: Vodka has been my choice of spirit for long as I can remember; I've come to enjoy it more and more (if that's even possible) and have truly enjoyed learning the complexity of it.
Mullins: It has been an evolution for me. I hosted parties as a kid and continued to entertain my friends as I grew up. After the Army, I took a job bartending at a local restaurant and just knew that I was going to do something in the spirits and hospitality industry. There were a series of opportunities that led me to the wholesale side of the business and provided the opportunity to sell the world's largest spirits brands across the country. But I always knew that one day I would venture out on my own to create something from the ground up. This opportunity to build a vodka brand with my close friends was the perfect scenario.
What motivated your decision to base Social House Vodka here in North Carolina?
Joshi: The vodka was created to be enjoyed with loved ones, which made North Carolina the obvious choice for me since it's been my home since 2001.
Patel: I'll second what Cary said above.
Mullins: Growing up in Virginia, my family always vacationed in the Outer Banks and I loved the Carolina beaches. Then, being stationed at Fort Bragg, I was able to explore more of North Carolina and knew I wanted to raise a family here. Raleigh has become home to my family and we love everything it has to offer.
After looking at various locations for the distillery site, we landed on Kinston for so many reasons. The resurgence of the town and the abundance of local grain were important factors, but the opportunity to revitalize a 100+ year old power plant with access to the Black Creek aquifer right on property solidified our decision to base the distillery in Kinston.
What do you want people to think of when they think of Social House Vodka?
Joshi: It is my hope that in joining Social House Vodka's journey to spread the power of friendship, people will be inspired to connect with each other more frequently and in more meaningful ways, through both active engagement on social media and face to face interactions.
Patel: I want people to recall their happiest experiences in life when they are sipping on a cocktail, whether it be with their friends in the living room, at a bonfire in the backyard, attending a loved one's graduation or simply during a night out.
Mullins: I want people to think of great times they've shared with family and friends. When people get together and connect with one another, I want them to think Social House Vodka should be there with them.
What's your favorite vodka-based drink?
Joshi: The beauty of vodka is its versatility; vodka cocktails can be created and served at any time of day fitting a wide range of occasions. My preference is Social House Vodka over ice with a squeeze of lemon.
Patel: My preference is Social House Vodka up, slightly dirty and with three olives.
Mullins: That's simple–anything made with Social House Vodka! But, I'm a simple man and if I had to narrow it down to just one, I love a Social House Vodka martini, shaken, up and with a lemon twist. No olives and no vermouth for me.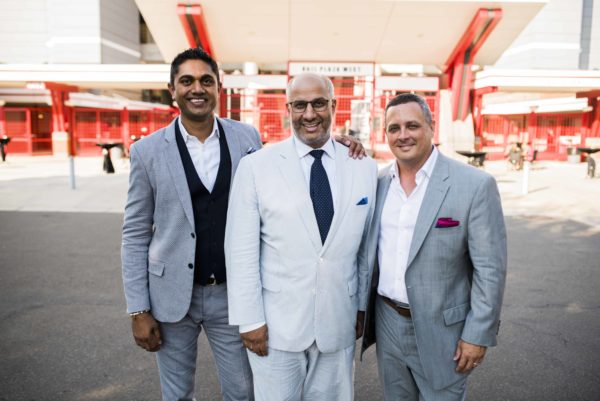 Be sure to learn more about Social House Vodka by follow them on Facebook, Twitter and Instagram!

Lifestyle Blogger & Media Influencer
at
TheMrsTee
Tiffany is the ' Tee' behind TheMrsTee. Tiffany is a BlogHer VOTY Award Honoree as well as a Contributing Author with Modern Social f/k/a iBlog Magazine and BlogHer. Growing herself as a Brand and Influencer are always at the center of Tiffany's passion. As a Brand Ambassador, Tiffany has the opportunity to promote and support the brands she loves the most with her own unique perspective. Tiffany has extended her presence beyond her URL to Television as a Panelist for the MomsEveryday TV Show for 2 Seasons and to the stage as a Cast Member of the Finale Season of The Listen To Your Mother Show.
Latest posts by TheMrsTee (see all)
Social House Vodka | A Party To Remember!