Can you believe we are only 13 days (as of Friday the 14th) away from Thanksgiving?!?! I mean where has the time gone. It was just summer break and we just finished Trick-Or-Treating. Now I'm not complaining because Thanksgiving and the Holiday Seasons are my favorite time of the year but it certainly does seem as if they come and go way to quickly.
In honor of how close we are to this celebration of Thanks Savanna from Rose Uncaged and I have decided to Speak On Thanks this week. Savanna writes about her OCD and her journey through weightloss surgery and beyond. PS – her middle name is Rose which gives her site name such a powerful meaning that in itself made me want to explore and read a bit more. Savanna offers encouragement and insight and has a great outlook on life. I was also won over by the fact that we seem to share a love for all things pink 🙂
What is #AskAwayFriday? Well…
#AskAwayFriday was created by the amazing
Penny from Real Housewife of Caroline County
who will again be joining us from time to time, as a way to connect with other bloggers with a great Q & A session of 10 questions and 10 answers, between two bloggers! This is a wonderful opportunity to get to know others while allowing others to get to know you and of course there is also the added bonus of making great friends along the way which is one of the best parts of this online world!
Now to welcome our wonderful #AskAwayFriday Hosts…
Tamara from Tamara Like Camera,
Tiffany from Mrs. Tee Love Life Laughter,
Christy from Uplifting Families,
Stacey from This Momma's Ramblings
and
Amber from Bold Fit Mom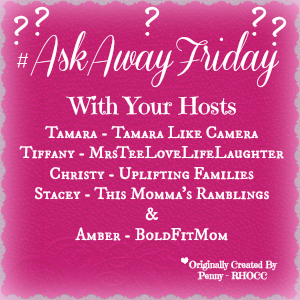 So grab our button, follow our amazing Hosts, hop through the great link ups and make some amazing new friends! Got It? Okay now let's get these Thanksgiving questions going because Savanna had some really great one for me. Oh! Don't forget to head over to visit Rose Uncaged when you done here to see what I asked her and how she answered!
1. I never knew how much of a blessing the blogging world can be, What are you most Thankful for in regards to blogging?
I don't think anyone really does. When I first thought of starting my own Blog it was to simply have a place to let out my thoughts and maybe find a bit of feedback. I had no idea I would find the
support
,
community
and friendships that I have been blessed to find along the way.
This year I had the chance to actually meet a couple of those amazing ladies face-to-face and everyone who saw us together could not believe it was our first time meeting. We have created such a bond and connection not only through our Blogs but as women, wives and mothers. We found common experiences, like-mindedness and ultimately true friendship all because of a click and a comment.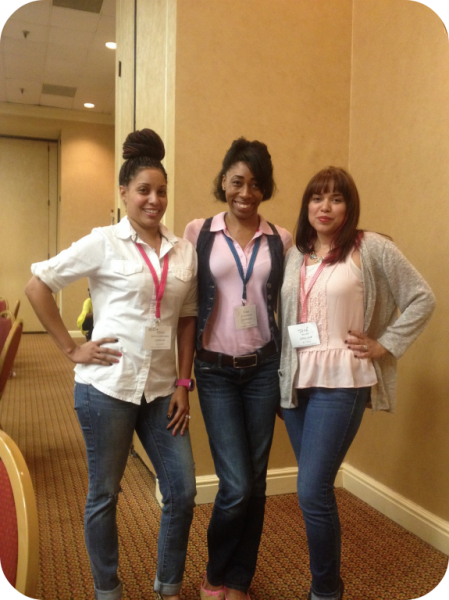 (Left To Right)
MrsTee – Tenns of New Mama Diaries – Mrs.AOK of MrsAOK, A Work In Progress
2. Technology is everywhere, What piece of technology are you most Thankful for?
Yes it is. I am definitely the most Thankful for Apple – LOL…after all how can I pick just one of my Apple family? Yes, I am a tried and true Apple lover and I don't know where I would be without my iPhone, iPad and MacBook BUT I think if I have to pick just one I would definitely go with the newest addition to our family…
I was beyond excited when I first got it and since then I have found so many amazing Apps and other things to love about it. (Feel free to check out my fandom and watch me rave about my faves)
3. What is your favorite dish to eat at Thanksgiving?
Oh Savanna, how can you keep asking me to narrow things down to 1? I am so not good at this. Let me see. I would have to say the stuffing. Stuffing is something I don't get to eat year-round because no one else in my family likes it. So when Thanksgiving comes I totally indulge with all of the left-overs (I make sure I make enough to be left-over) and a nice topping of cranberry sauce – wait is that 2? #SorryNotSorry 🙂
4. What is your least favorite thing that people make for Thanksgiving?
I don't like Ham. I know I'm weird or whatever. I don't like ham in anyway and especially on Holidays. Still I make one every year because for some strange reason my daughter loves it and would eat one all by herself if I let her. Go figure!
5. Choose one- Mashed Potatoes, Turkey or Stuffing…
See answer 3. LOL – stuffing for sure even though I would love to have Turkey AND Stuffing! There you go again making me choose only 1…tsk tsk Savanna!
6. Do you have a favorite dessert you like to eat for Thanksgiving?
Pies! Pies! Pies! Did I mention I love to eat PIES!?!?
7. Do you have any traditions that you, hubby and your kiddos do for Thanksgiving?
Our main tradition is simply to be sure we are together. We usually try to invite at least one person or family that we know may not have anywhere to go but at this point we consider them family and they are expected to come…I love that.
8. If you could invite one person, from anytime or anywhere to Thanksgiving dinner to Thank them for an impact they made on your life, Who would it be and why?
Wow! This is a tough one. I would have to say my Grandmother. She still lives in New York and has only been able to come down to spend Thanksgiving with us once. My Kiddies loved it and I regret that they have not had the chance to get to know her and spend time with her.
9. I cooked a Turkey once and failed, I do not host Thanksgiving ever… Do you usually host Thanksgiving, or do you let someone do all that jazz?
I host. I didn't always. while we were stationed in Hawaii I hosted because we didn't know anyone and because my Hubby wanted a place for his Soldiers who had no family to be able to go. Once we came back to the mainland, we used to travel to family or visit but my Hubby wanted to start our own traditions and family time so I began to host maybe 3 years ago.
10. Last, but not least- What are you most Thankful for this year?
My Family. I think that is my most thankful thing every year. I grew up floating from house to house because I never felt like I had a true family. Now that I have my Hubby and Kiddies I feel complete and I will forever be Thankful for them and the life we have been blessed with.
Be A Part of The NEW #AskAwayFriday!
Swap With Us…
Be sure to check out our NEW Facebook Page "

AskAwayFriday

" for a great place to meet up and send out a #BuddyRequest and you can be a part of a great Family of Bloggers who love getting to know each other better 10 questions at a time!
Join The #AskAwayLadies As A CoHost…

By adding your email to this link up, you will be added to email correspondence that may be sent by one of our hosts, you may opt out at any time.
Host's reserve the right to remove any links that do not pertain to the #AskAwayFriday theme.
Lifestyle Blogger, Brand Ambassador, YouTuber & Media Influencer
at
TheMrsTee
Tiffany is the ' Tee' behind TheMrsTee - a Lifestyle Blog created as a place to share her love of all things Faith, Family, Fashion, Food, Fun, Tech & Travel. Tiffany has established her influence within both the Blogging & Vlogging Communities. As a Brand Ambassador, Tiffany has the opportunity to promote and support the brands she loves the most with her own unique perspective. Tiffany has extended her presence beyond her URL to Television as a Panelist for the MomsEveryday TV Show for 2 Seasons and to the stage as a Cast Member of the Finale Season of The Listen To Your Mother Show. A 2016 BlogHer VOTY Award Honoree, Contributing Author with Modern Social f/k/a iBlog Magazine and BlogHer. Growing herself as a Brand and Influencer are always at the center of Tiffany's passion.
Latest posts by TheMrsTee (see all)