This week has been all about family for me. The Teenager is home for break, relatives are here to visit and we have time to spend together without interruption or distraction. That being said I decided to share a bit of that family time in this week's #AskAwayFriday. The Teenager is not an unfamiliar face in our little #AskAwayFriday exchange – last time he was asking a few questions about starting college. This time though we added a little twist.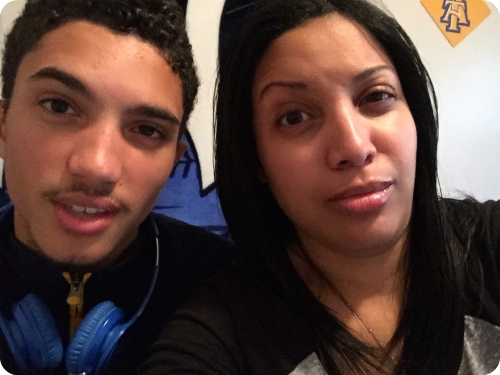 What is #AskAwayFriday? Well…
#AskAwayFriday was created by the amazing
Penny from Real Housewife of Caroline County
who will again be joining us from time to time, as a way to connect with other bloggers with a great Q & A session of 10 questions and 10 answers, between two bloggers! This is a wonderful opportunity to get to know others while allowing others to get to know you and of course there is also the added bonus of making great friends along the way which is one of the best parts of this online world!
Now to welcome our wonderful #AskAwayFriday hosts…
Tamara from Tamara Like Camera,
Tiffany from Mrs. Tee Love Life Laughter,
Christy from Uplifting Families,
Stacey from This Momma's Ramblings
and
Amber from Bold Fit Mom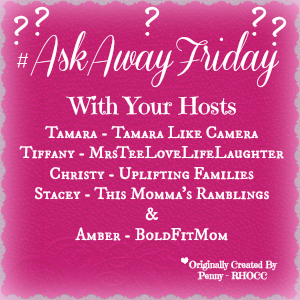 So grab our button, follow our amazing hosts and co-host, hop through the great link ups and make some amazing new friends!

This time around, my Teenager and I did a fun and quick Tag where he is answering a few questions to about me. Before we even started I had to ask him: Do You Think You Know Me? He said yes. What do you think? Did he answer well enough to be able to say: That's My Mom!!
I had a so much fun with this and can definitely see the possibility for a few more Teenager cameos
on the Channel
.

The Questions…
1. What is my favorite food?
2. What do I say the most?
3. What is my favorite drink?
4. What is my favorite thing to do?
5. What game do I like to play?
6. What makes me upset?
7. What do I do that makes you happy?
8. If I was a Disney Princess,who would I be?
9. How old am I?
10. What food do I make the best?
11. What is my job?
How well do you think your Kiddie could've answered these questions?
Be A Part of The NEW #AskAwayFriday!
Swap With Us…
Be sure to check out our NEW Facebook Page "

AskAwayFriday

" for a great place to meet up and send out a #BuddyRequest and you can be a part of a great Family of Bloggers who love getting to know each other better 10 questions at a time!
Join The #AskAwayLadies As A CoHost…


By adding your email to this link up, you will be added to email correspondence that may be sent by one of our hosts, you may opt out at any time.
Host's reserve the right to remove any links that do not pertain to the #AskAwayFriday theme.
Lifestyle Blogger & Media Influencer
at
TheMrsTee
Tiffany is the ' Tee' behind TheMrsTee. Tiffany is a BlogHer VOTY Award Honoree as well as a Contributing Author with Modern Social f/k/a iBlog Magazine and BlogHer. Growing herself as a Brand and Influencer are always at the center of Tiffany's passion. As a Brand Ambassador, Tiffany has the opportunity to promote and support the brands she loves the most with her own unique perspective. Tiffany has extended her presence beyond her URL to Television as a Panelist for the MomsEveryday TV Show for 2 Seasons and to the stage as a Cast Member of the Finale Season of The Listen To Your Mother Show.
Latest posts by TheMrsTee (see all)