Press/Media Coverage Disclosure Brand Ambassador Disclosure
The night was here! I was super excited, a bit nervous and truly anxious. A Night For Empowerment A Fashion Show was starting in a few hours and I couldn't wait! I knew this was going to be the place to be this Friday night not only was it being presented by two amazing companies owned my some pretty amazing women but it's was to empower other women to make their own dreams come true. Win-Win I say!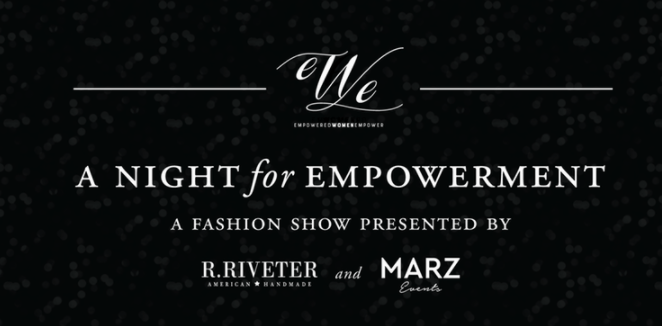 Empowered Women – Inspire
I am always inspired to see women who have found their passions, pursued them and accomplished their goals pass on that power to those around them. That is the purpose behind Empowered Women Empower a movement started by R.Riveter owners Cameron Cruse and Lisa Bradley.
I was blessed to attend the very first event under this title last year where the Speaker was Dr. Patrice J. Carter. Last year the day was focused on sharing the information and knowledge women need most to take their business dreams and bring them into reality. This year, the ladies the teamed up with Dr. Carter in the role of Emcee and another one of the women they helped empower – Brittany McNeal of MARZ Events who helped plan the night and succeeded in taking things to an entirely new level.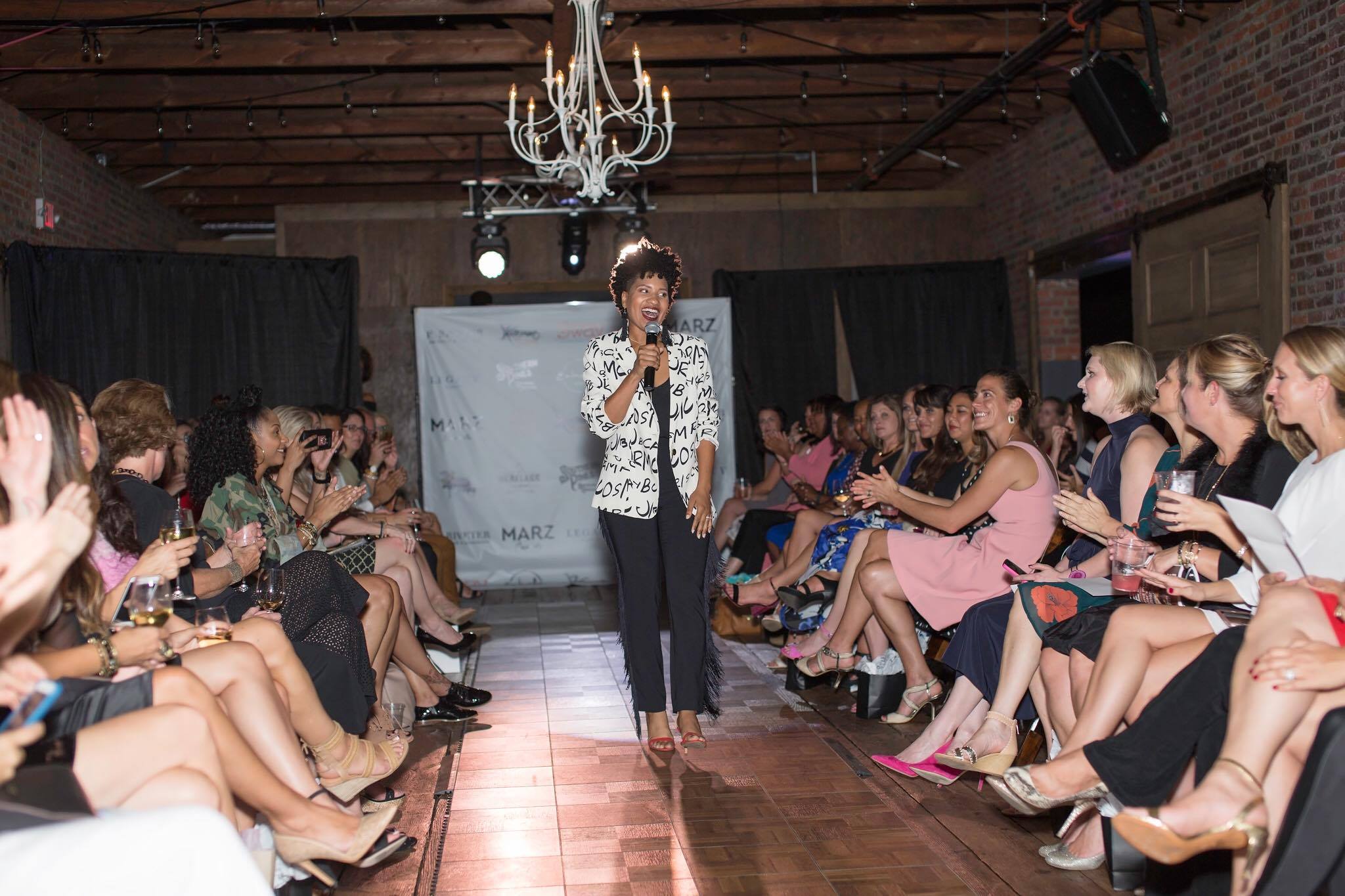 This time things would be a bit less teaching and learning with a lot more fun and fashion! That's right, fashion and that's where Brittany steps in . . .
Empowered Women – Empower
How do you empower others? That's something I think these three women have perfected. To empower others you need to be willing to not only share support, encouragement and knowledge but also opportunities. This night was created as an opportunity for women-owned businesses to have a place to showcase their businesses as well as interact with and connect with other women-owned businesses. That's Empowerment!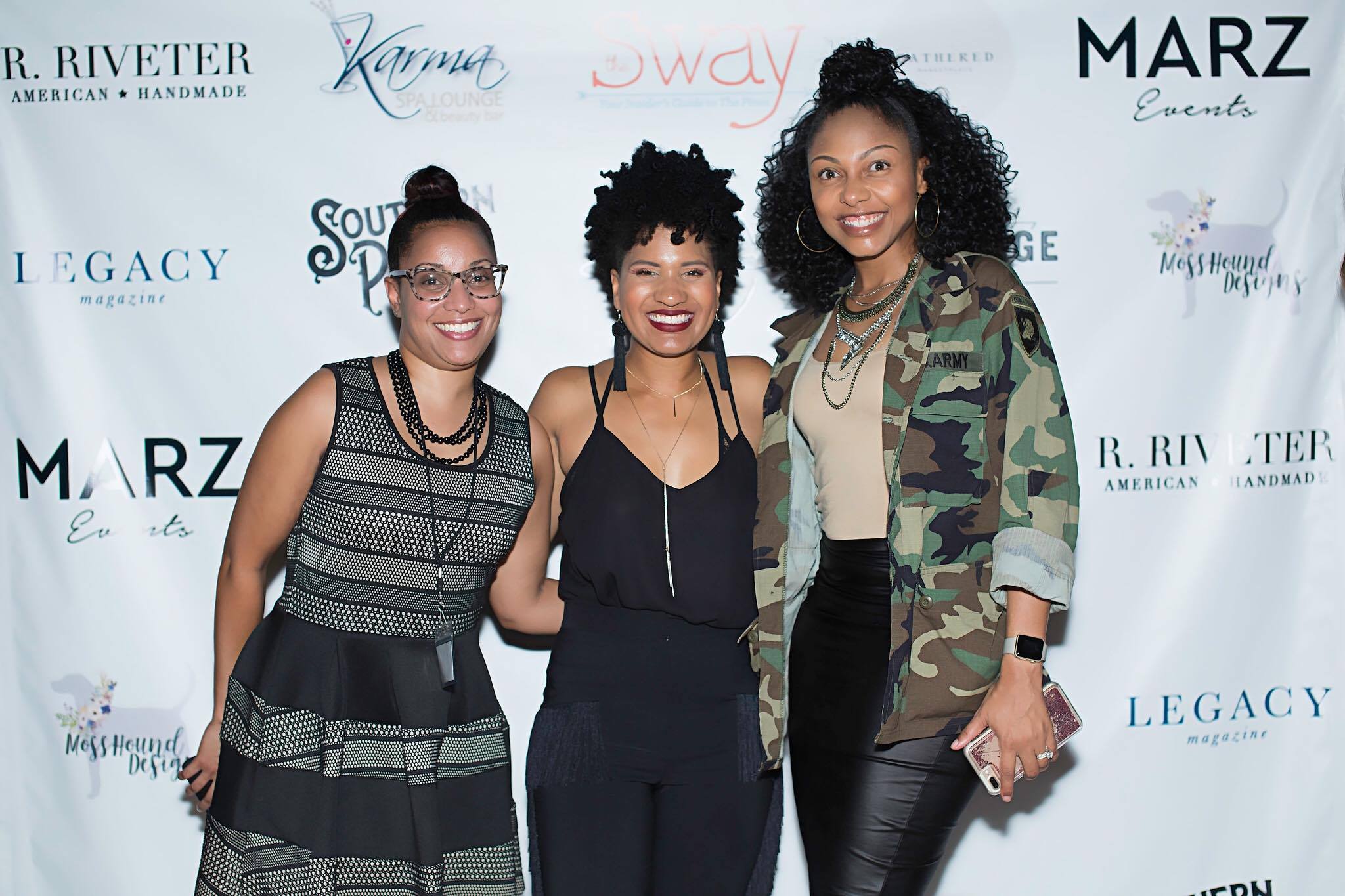 Brittany herself is the result of the empowerment shared by Cameron and Lisa. It was only three years ago that Brittany entered the R.Riveter location all ready for her interview to become a part of the Riveter family – an entire week early! Yes, she was that excited to be a part of a brand and company that she knew would make an impact!
Since then Brittany has grown her love for planning, decor, fashion and her skill for getting things done into a business of her own – MARZ Events. As I sat and listened to her story and the story of why Cameron and Lisa chose Southern Pines, NC to be the hometown for R.Riveter I realized that this cycle of empowerment was no where close to ending – it's just getting started!
A Night For Empowerment didn't stop with empowering the women closet to them – nope. R.Riveter took this night and made it a chance for everyone in attendance to help reach out and empower women we may not even know or ever meet. through The United Way Of Moore County and Friend To Friend a portion of the proceeds from the night went to help women who are victims of domestic violence and sex trafficking.
Empowered Women – Create
R.Riveter is first and foremost a business that creates quality, handmade and totally awesome (listen it doesn't take fancy words to say great) handbag and accessories . How do I know? Well besides being one of their amazing #BagsOnAMission Ambassadors let's just take a look at the history of things.
Otto, Grant, Patton – if you know R.Riveter then you know these names! This company has such an amazing history of quality that their bags take the term 'name brand' and give it a whole new meaning! I can't even tell you how many times I've overheard women calling themselves a Patton Girl, Grant Mom or Otto Chick. . . it's like a culture all to itself and I Love It!
This fashion show was the perfect platform to debut the R.Riveter Generation 3 Collection!! That's right R.Riveter classics like the Otto, Grant and Patton have all gotten makeovers to include a few new features as well as some pretty great improvements to the already beloved designs. Can you take a guess at which name fits me best?
This slideshow requires JavaScript.
Oooooh! Did you see those wallets? Yeah, they had me at wallet. I'm all about the details when it comes to my choice in accessories and R.Riveter has taken their details and given them all the attention a girl could ever want. From adding awesome little feet to the bottom of the Otto and the Grant so that sitting those beauties on the ground doesn't break your heart to giving the R.Riveter name a bit of shine on each bag with new gold lettering. This collection is going to be one you want to add to your own collection as soon as possible! There are even keychains now people – Keychains!
Empowered Women – Show Up!
What better way to show off a Brand NEW Collection than with some amazing fashion! That's where the local businesses of Southern Pines and the surrounding area came in for this show in the most amazing way. Stores like Kataphora Boutique and PATRICIA as well as Blush Bridal and Forte Fitness stepped up and showed out with looks that can take you from a day at the gym to the fanciest party in town!
This slideshow requires JavaScript.
Now what's a fashion show without an amazing venue? Our venue was 305 Trackside in Southern Pines, NC. Can I just tell you the first thing I thought when I arrived was – This Is So Cool! I mean it's like having a party on a train track. We even had the chance to watch the train go by during Intermission!
Empowered Women – Introductions
I love getting to know the woman behind the brand so I asked each of the empowered women of the night a few questions to help us get to know them a bit better. So as I close things out, allow me to introduce you to the women who empowered A Night For Empowerment.
Cameron Cruse & Lisa Bradley | R.Riveter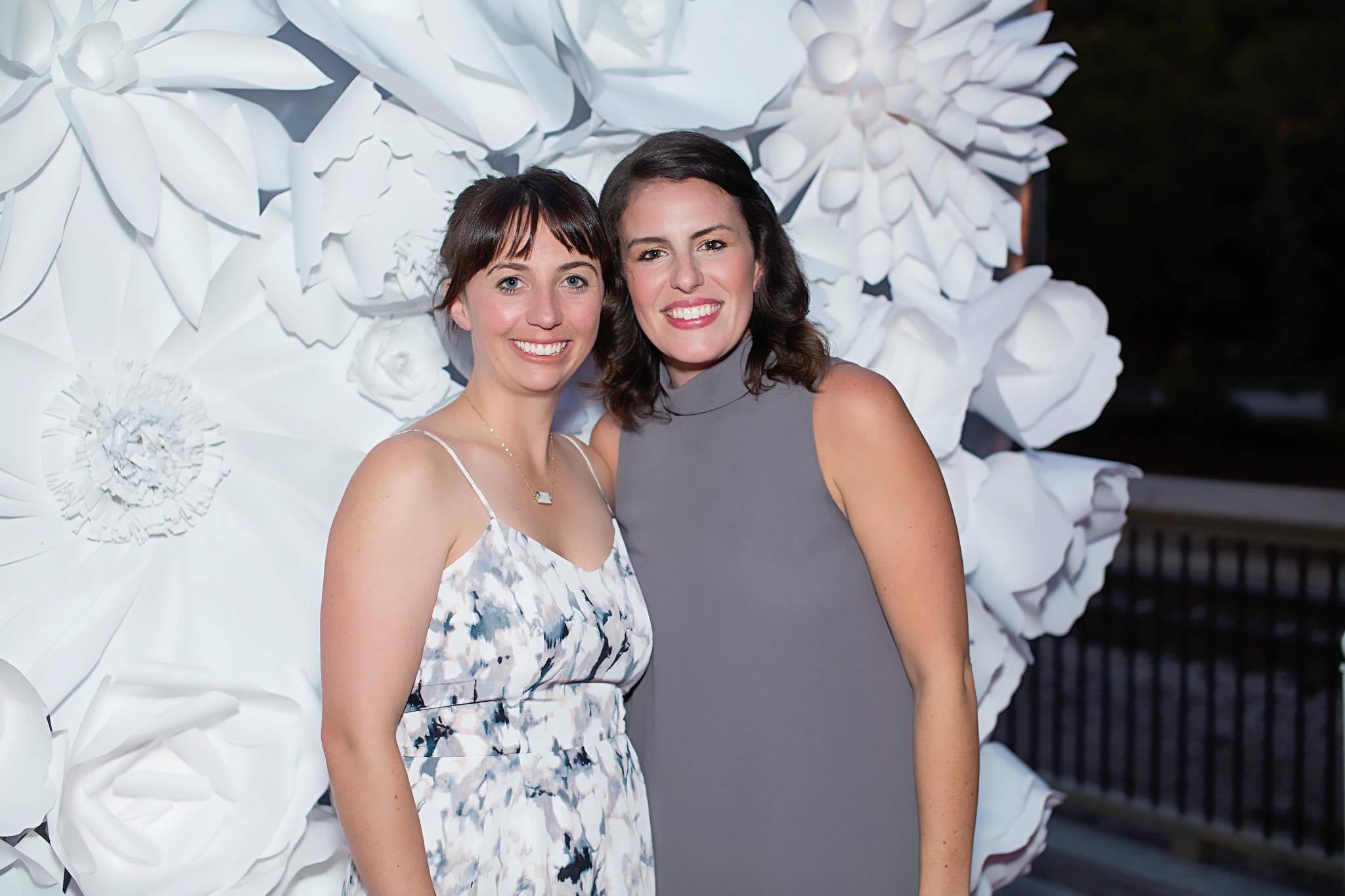 When did you first realize that you wanted your Brand to be more than a Business with a Vision but with a Mission?
CC: From the beginning. There was never a version of R. Riveter without a mission. It is and always has kept us going.

LB: We knew we wanted to provide income to military spouses across the country before we decided on making handbags as a product. Once we had the why identified, everything else fell into place naturally.
If you could give advice to your self when you were just starting this entrepreneurial journey, what would it be?
CC: Although it feels like it is not necessary now, you do need to have an idea of where you want the journey to go and what you personally want to take away from it. Even if it lasts forever (we can only hope) what fulfills you personally is important to prevent burnout.

LB: The best advice I've heard over the years is that being comfortable is the enemy. The times where we felt like we were in a groove, we were actually sleepy and weren't growing or pushing new boundaries. Our largest hurdles and learning curves were hard and uncomfortable, but they got us to where we are today.
What's your favorite R.Riveter Bag? Yes, you have to pick just one 😉
CC: The Patton has always had a special place in my heart. It was one of our earliest designs and still one of our best sellers many generations later.

LB: If I could only chose one bag, I'd pick up the Otto. I love the versatility in the multiple ways to carry this bag. There is the market handles that are convenient while shopping, but if I need to be hands free I swing it over my shoulder by the cross-body strap.
Brittany McNeal | MARZ Events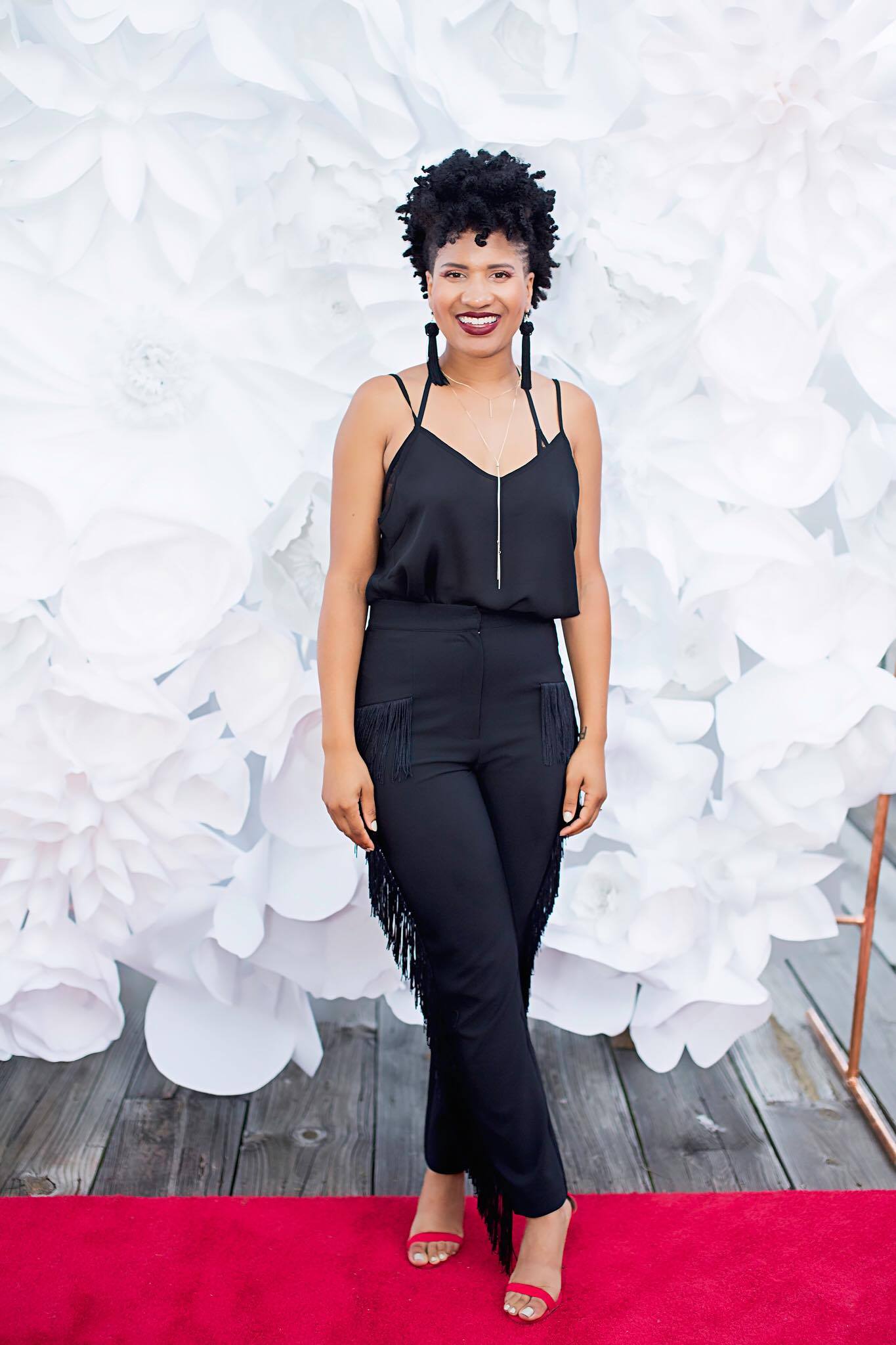 When did you discover your passion for organizing and planning?
My passion for event planning started when I was young. I was in 5th grade and I planned skating parties for our class every other weekend. I love the idea of bringing people together to enjoy one another, create connections, and grow relationships!
If you could give advice to your self when you were just starting this entrepreneurial journey, what would it be?
I would tell myself, to confident, be organized, and always stay poised.
What is your favorite design/decor style? Ex: Chic, Modern, Classic, Vintage, etc.
My favorite design style is farmhouse with mid-century modern accents. My favorite designer is Joanna Gaines. I dream of my house one day looking like one of her designs.
Dr. Patrice J. Carter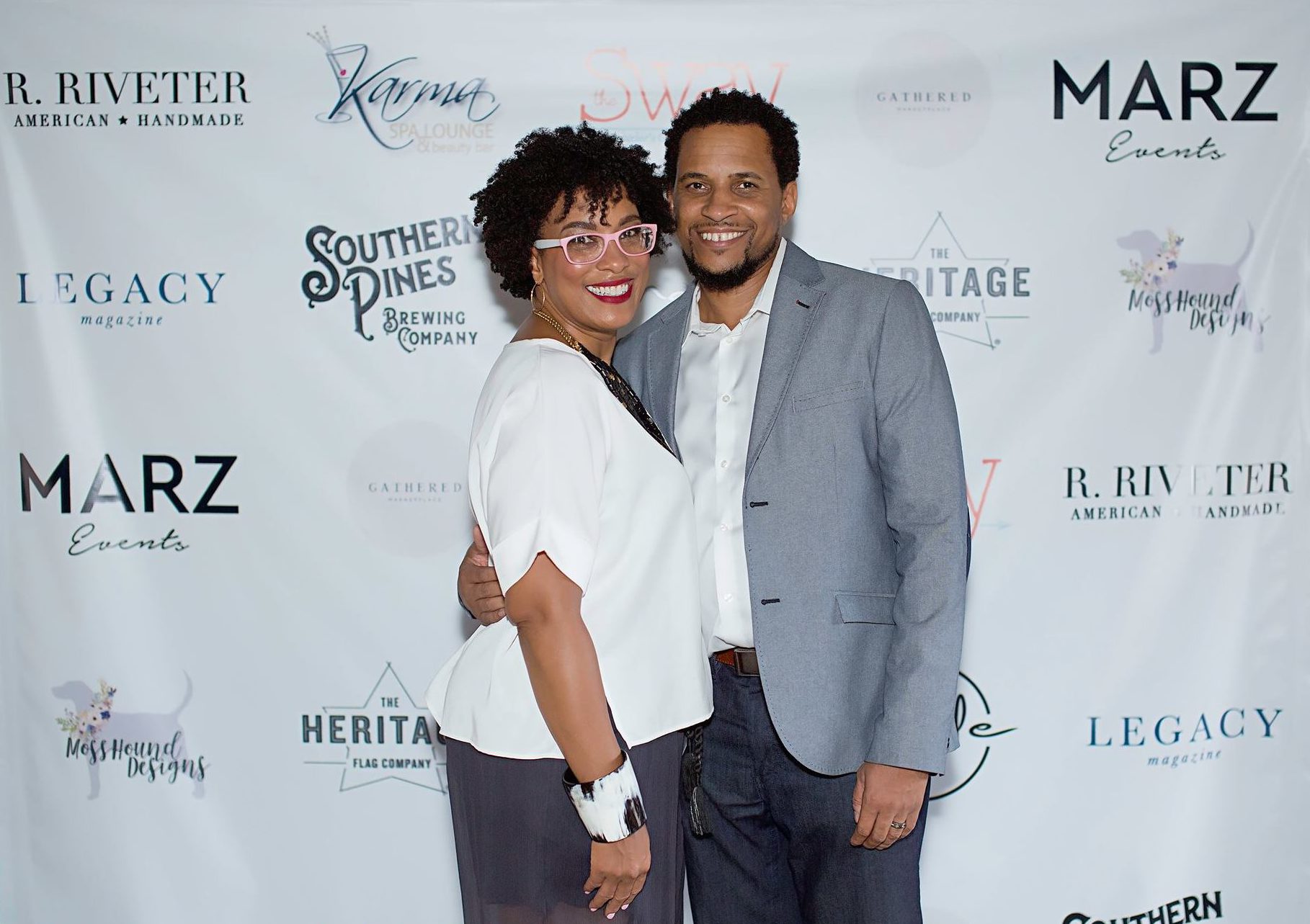 How do you define Empowerment?
I define empowerment as giving ourselves and others the grace to walk in the fullness and power of who we are and whose we are without pretense or fear.
If you could give advice to your self when you were just starting this entrepreneurial journey, what would it be?
Know that this is a journey, not a destination. There will be multiple pitfalls, glorious hills, peaks and valleys. You will know yourself better than you ever have and in each place REMEMBER to celebrate and to have fun!
If you could give someone 3 words to give encouragement what would they be? Yes, just 3 words.
RUN; SOAR and LAUGH (ALOT)

Jordyn Denny | Kataphora Boutique
Follow & Find Kataphora Boutique: Facebook & Facebook
How do you approach a customer when they arrive in your store? Do you let them look a bit or approach right away? Why?
When a customer first enters the store, I immediately give a warm, genuine "Hello, how are you?" Or "hey there!" I can't stress the word "genuine" enough – I want people to feel at home when they walk through the door and that I'm humbled and grateful that they chose to walk through mine. After the greeting I always give space – I let the customer take it all in; they need a few minutes to explore the store. After that I try to connect with the individual to see what brought them in and what they are shopping for.
If you could give advice to your self when you were just starting this entrepreneurial journey, what would it be?
If I could give myself any advice when starting out (since I've only been open for about 6 months) it would be to NOT buy so much inventory for the month of August – Where is everyone in this town in August?
If you could offer 1 Must Have piece for my closet – what would it be?
I'm a practical person, so if I could suggest 1 must have piece for your closet it would be a quality pair of denim pants. Seriously – just splurge on the jeans; you're actually paying for quality.
Patricia
Your store caters to the customer 'who's style doesn't change season to season… but is long lasting and classic'. How do you define classic style?
Classic style means a wardrobe of pieces that are well made, expertly tailored and thoughtfully purchased. We believe that every element of your personal style reflects you and your real life; not an obscure designer fantasy. Function, ease, versatility- these words guide all of our styling decisions.
If you could give advice to your self when you were just starting this entrepreneurial journey, what would it be?
Advice to self: Believe it. Do it. Learn and love it more every single day.
If you could offer 1 Must Have piece for my closet – what would it be?
I'm loving the feminine power of our new Satin Trench from Kallmeyer. It's awesome over distressed jeans and a turtleneck, or glamed up for a special night out. Super sexy.
Brandi Martin | FORTE Fitness
I love the name and meaning behind the name – Forte. When did you realize that teaching and sharing the power behind fitness was your passion?
Growing up in Pinehurst, my father had me in the gym and running on the trails of what is now "The Reservoir Park" for as far back as I can recall. From a very young age my parents instilled upon me the importance of health and fitness and that carried me though my younger years as a competitve dancer and athlete. I had such a passion for health and fitness but certainly never fathomed it could actually be a career choice. It wasn't until the finish of my first year in Optometry school that I realized where my heart wanted to be and at that time I took a life-changing leap of faith and didn't return back to school. I aquired my fitness certifications when I was 21 and took a job as a peronal trainer and group fitness instructor at a local gym while my boyfriend (now husband 🙂 was serving a 13month overseas deployment as an armor officer in the US Military. It wasn't long before they (YMCA of Coastal Georiga) needed a Fitness Director and (by some act of God 🙂 I applied and received the position. From that position, I was recruited as the Director of Fitness, Pools and Spas at The Landings Club, a six-golf course community in Savannah GA when I truely learned the "business of fitness". Military transfers never gave me the chance to own my own facility and in 2015 we were transferred to this area and with Mike retireing here and no chance of any more transfers, Forte Fitness was born! I LOVE helping people, especially those that feel they can't be helped, and seeing someone's body, as well as thier confidence, improve- is just the most amazing feeling! I want to make people STRONG "FORTE" in body, mind and spirit!
If you could give advice to your self when you were just starting this entrepreneurial journey, what would it be?
Don't get so caught up in your passion and in building your dreams that you forget about those around you- your friends, your family, even yourself. Time is precious and something you can never get back. Spend time with those you love and create opportunities to be that great friend, parent, spouse and daugther that those around you so need.
What is your Go-To way to fit in a workout when your day seems to have little to no time?
A "TABATA WORKOUT"! A TABATA defined simply means that you pick one exercise and complete 20 seconds of work followed by 10 seconds of rest for 8 rounds. Each TABATA will take you 4minuites to complete so if you only have 20minutes to fit a workut in you would simply pick 4 bodyweight exercises like squats, situps, pushups and walking lunges and compete a "TABATA" of each exercise providing a quick and effective total-body workout!
Empowered Women – Support
You know what's next! Now you get to take a look at the night – as I saw it! This year through this night, Empowered Women Empower has had an impact on my life and my business. I had the chance to take part not only a Brand Ambassador for R.Riveter but as Media/Press Coverage for A Night For Empowerment! I am so grateful to Cameron, Lisa and Brittany for sharing empowerment and support by giving me the opportunity to be a part of such an amazing night and experience and share it with YOU!

Lifestyle Blogger & Media Influencer
at
TheMrsTee
Tiffany is the ' Tee' behind TheMrsTee. Tiffany is a BlogHer VOTY Award Honoree as well as a Contributing Author with Modern Social f/k/a iBlog Magazine and BlogHer. Growing herself as a Brand and Influencer are always at the center of Tiffany's passion. As a Brand Ambassador, Tiffany has the opportunity to promote and support the brands she loves the most with her own unique perspective. Tiffany has extended her presence beyond her URL to Television as a Panelist for the MomsEveryday TV Show for 2 Seasons and to the stage as a Cast Member of the Finale Season of The Listen To Your Mother Show.
Latest posts by TheMrsTee (see all)
R.Riveter & MARZ Events For The Win!
R.Riveter Debut Generation 3 Collection

MARZ Events Fashion Show & Party