I am so excited to have the opportunity to exchange questions with the lovely Tamara from Tamara (Like) Camera for this week's #AskAwayFriday to share a few Tastes of Summer with you all. I have become a true fan of her writing, story telling and ability to wrap you into her words and take you on a exploration of her thoughts. Top that with her amazing photography and you always close the tab of her site feeling as if you just met her and experienced something she has been kind enough to share with you.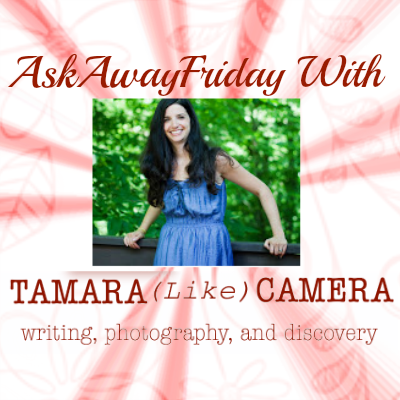 What is #AskAwayFriday? Well…
#AskAwayFriday was created by the amazing
Penny from Real Housewife of Caroline County
who will again be joining us from time to time, as a way to connect with other bloggers with a great Q & A session of 10 questions and 10 answers, between two bloggers! This is a wonderful opportunity to get to know others while allowing others to get to know you and of course there is also the added bonus of making great friends along the way which is one of the best parts of this online world!
Now to welcome our wonderful #AskAwayFriday hosts…
Tamara from Tamara Like Camera,
Tiffany from Mrs. Tee Love Life Laughter,
Christy from Uplifting Families,
Stacey from This Momma's Ramblings
and
Amber from Bold Fit Mom
Please welcome our co-host, the amazing…
Carol from Battered Hope
!
Carol from Battered Hope is an author, public speaker, health coach and so much more. She shares all those sides of herself with you on her site. Carol is always willing to share her story and her encouragement with anyone who may need it because as she says, "If I Can Overcome Tragedies, So Can You."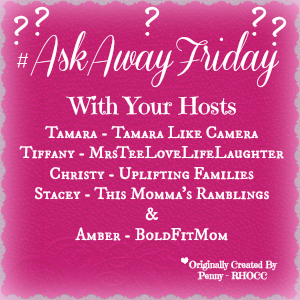 Grab our Button, Follow our amazing Hosts and Co-Host then Hop through the great link ups and make some amazing new friends!
Tamara and I decided to do this week's swap with a theme since we are both looking forward to a bit of summer vacation time and what comes with summer vacation? Food and well, all things summer!
1. Did you make a summer bucket list? If no, what are five things to put on there? There's still time! If yes, what is one thing on the list that you've already done? And what is something that you have yet to do?
Kinda. I did make a My Summertime Ten list for a recent linkup with TuesdayTen hosted by the lovely Rabia and Lisa. I included several things that I have never done. I had one that was already checked off, The Color Run! 😀 I plan on checking off a the Nutella one asap as well as although my wish to attend a Blogging Conference is not going to happen by the end of summer I am set to attend Bloggy Boot Camp coming up in October! Woot-Woot!
2. Would you rather take your family to a week in a beach house, like right ON the beach? Or a week in a cool cabin in the mountains? What about if it was just you and your husband?
Week in a beach house for sure! The closer to the beach the better. I am not the biggest fan of sand in all my nooks & crannies BUT I know for certain iw ould pick sand over bugs and mountain wood creatures any day…and so would my Kiddies! We love the south and being outside in the sun but if there were a way to eliminate bugs – yeah we would do that 🙂
If it were just the Hubby and I we would probably still say a beach. Hubby has down the whole woods thing but I would still be so worried about bugs and such I would definitely have a lot more fun on the beach.
3. If you were throwing a party and serving all of your favorite summer foods, what would you be serving?
Wow! You are going to just let my taste buds run free, huh? 😀
Potato Salad, Tossed Salad, Fruite Salad
Hamburgers, Hot Dogs, Steaks, Grilled Chicken
Macaroni & Cheese, Mixed Fresh Veggies
Watermelon, Strawberries
Lemonade, Fruite Punch, Iced Tea
Ummm…yeah there's probably more but hey, I don't wanna look greedy! 😉
4. What was the best, or one of the best, summers of your life like? What made it so memorable?
The best summer would definitely be the one where we were reunited with my Hubby after nearly 7 months of separation that moment of meeting his eyes across the airport and knowing that we were a whole family again was definitely the best moment since I met him. It was my Birthday that day and we went out to dinner and slept in our empty house on the floor but we were together and to me that was all that mattered. We spent that entire summer enjoying our new island home and making up for the time we had lost.
5. What is the best thing you have eaten..today?
My Hubby's Fried Chicken Wings! LOL…I just finished a whole plate and they were beyond yummy! We recent;y bought a deep frier and he has mastered his batter and seasoning so every weekend he has been treating us with a batch along with a side of seasoned fries and they definitely qualify as my best dish today. I just wish I read your question before I ate them to the bones so I could have a photo…LOL 😉
6. What's your favorite fast-food restaurant and how often do you go there?
Okay. This is so hard. I actually mix my Fast Food Faves. I know…what does that mean? Well we live not far from what I guess is a hub of the city so all the Fast Food places are within the same little circle. So I will head over to McDonalds for fries, Burger King for a Whopper, KFC for a biscuit and then sometimes (more often than I want to admit) I'll stop at Taco bell for Double Decker Taco.
Now let me say I usually eat this all in shifts but I can't pick a favorite because ether each have things I like more at one than the other. Please don't judge me – I'm taking advantage elf my high metabolism while I still have it 😀
7. What's one of your favorite summer activities to do with family and friends?
Honestly just gather together and have fun being us. We love to have family over and grill, eat and play music. It usually ends in a bunch of 'do you remember' stories and laughter and to me those are the best days/nights of any summer.
8. What's your all-time favorite meal, and how often do you get to enjoy it?
Easy. Chicken Parm (yeah I never say the whole thing…lol). I love this dish. My Hubby says I'm weird because I prefer to eat it over white rice with the sauce drizzled over it and he's says the normal way is with spaghetti. Who wants to be normal? LOL I don't get to eat it as much as I like because to make it how I do is rather long and most nights I just don't have the time or patience. I usually make it on special occasions and birthdays since it is one of my Teenagers favorite meals too.
9. What are your top FIVE favorite iced drinks? And I know there have to be five iced drinks you know! You can be very specific too, with brand or restaurant or syrup names!
Whoa! Hard on! I'm not sure I have 5 because I started my love affair with Starbucks during the Fall and I am only just finding my preferred Iced Drinks. Yet here are the ones I love so far:
Iced Caramel Coffee
Shaken Peach Green Tea Lemonade
Shaken Sweet Tea
Shaken Sweet Tea Lemonade
Very Berry Hibiscus Refesher
10. What is your favorite thing about summer, and what is your least favorite thing about summer?
Favorite Thing: More time to spend as a family together and outside (yeah I hate the bugs but I love the sun…such a conflict LOL)
Least Favorite Thing: It goes by way too fast. I still can't believe we're already half way through July!
That was so much fun! I loved having a theme and getting to just have light-hearted fun and Tamara gave me awesome questions to do just that…especially when she asks me about my favorite drinks 🙂
Don't forget to head over to
Tamara's
and check out her answers to my questions…
Be A Part of The NEW #AskAwayFriday!
Swap With Us…
Be sure to check out our NEW Facebook Page "

AskAwayFriday

" for a great place to meet up and send out a #BuddyRequest and you can be a part of a great Family of Bloggers who love getting to know each other better 10 questions at a time!
Join The #AskAwayLadies As A CoHost…
By adding your email to this link up, you will be added to email correspondence that may be sent by one of our hosts, you may opt out at any time.
Host's reserve the right to remove any links that do not pertain to the #AskAwayFriday theme.
Lifestyle Blogger, Brand Ambassador, YouTuber & Media Influencer
at
TheMrsTee
Tiffany is the ' Tee' behind TheMrsTee - a Lifestyle Blog created as a place to share her love of all things Faith, Family, Fashion, Food, Fun, Tech & Travel. Tiffany has established her influence within both the Blogging & Vlogging Communities. As a Brand Ambassador, Tiffany has the opportunity to promote and support the brands she loves the most with her own unique perspective. Tiffany has extended her presence beyond her URL to Television as a Panelist for the MomsEveryday TV Show for 2 Seasons and to the stage as a Cast Member of the Finale Season of The Listen To Your Mother Show. A 2016 BlogHer VOTY Award Honoree, Contributing Author with Modern Social f/k/a iBlog Magazine and BlogHer. Growing herself as a Brand and Influencer are always at the center of Tiffany's passion.
Latest posts by TheMrsTee (see all)